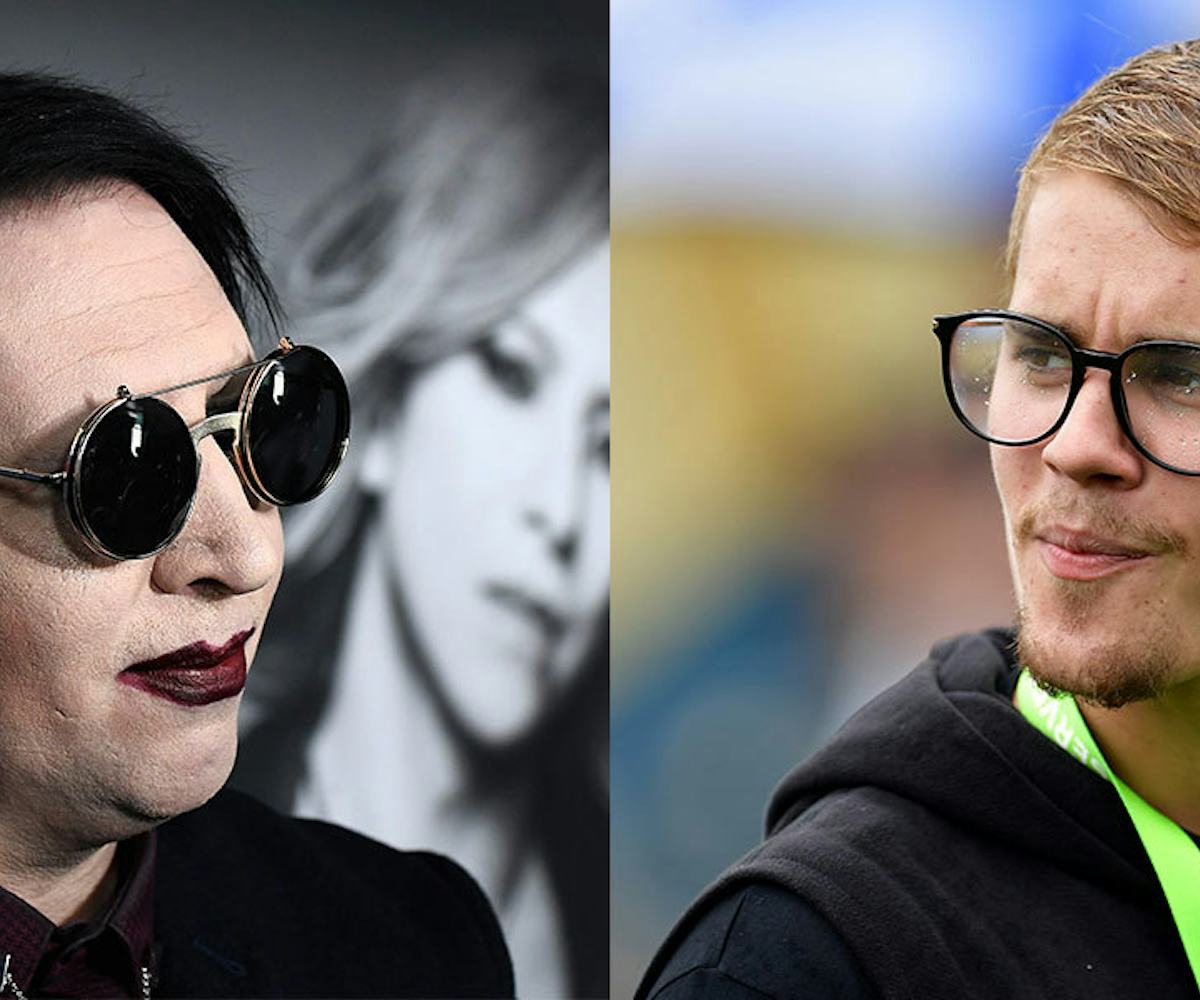 Photo by Stuart Franklin/Getty Images; Photo by Frazer Harrison/Getty Images.
Marilyn Manson And Justin Bieber Are Involved In The Lamest Feud Ever
Remember when music feuds used to be entertaining? An argument or disagreement or just general hate would manifest into diss tracks and, I don't know, dance-offs, or something? Now, it just involves musicians throwing insults at each other. And not even good ones.
Let's back up a little and mention that Marilyn Manson and Justin Bieber are, apparently, rivals and have been for some time. It started about a year ago when Bieber wore a Manson tee on his Purpose tour that featured an unauthorized image of Manson's face and read "Bigger Than Satan… Bieber." According to Manson, when the two met, Bieber told him that him wearing the shirt made Manson relevant again. "Bad mistake to say to me," he told Consequence of Sound during an interview. "He was a real piece of shit in the way he had the arrogance to say that." Stupid move on Bieber's part, yes, but that's sort of par for the course with the young pop artist. He says and does dumb things all the time! Should he be let off for his antics? No, absolutely not, but this seems like a silly incident for a grown-up man to go after him for. And yet, there's more.
During a recent radio interview, Dallas host Cindy Scull brought up the aforementioned "feud," and asked Manson what he thought Bieber was thinking when he used his image without permission. Manson replied with, "I don't know how to use the mind of a squirrel." Burn. Then, because to be a good host you also must be a good instigator, Scull noted that she still thinks Manson should kick Bieber's ass. To which Manson said, "I don't like to fight with girls." A response that, outside of being insulting to girls everywhere, is something a 10-year-old says when trying to get out of a brawl on the playground.
We're fans of Manson and respect his music and the fact that he's our last controversial artist. Beefing with Bieber, though, isn't controversial—especially given the fact that Bieber has stayed pretty mum on the subject and the two reportedly made up—it's just lame.