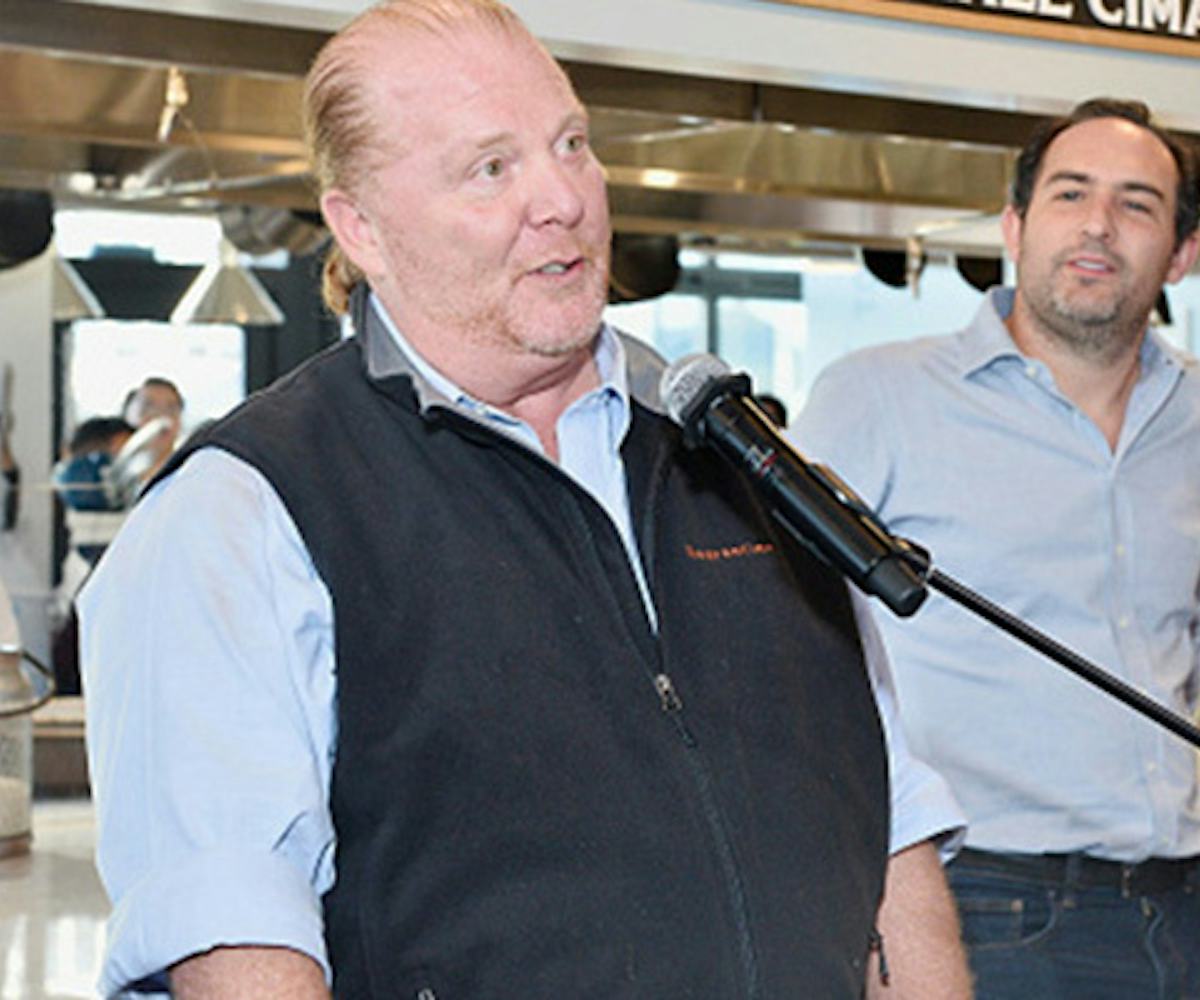 Photo by Stefanie Keenan/Getty Images for Eataly
Mario Batali Accused Of Sexual Harassment By Several Women
He's stepped away from his empire
In an exposé published by Eater, four women, who have not disclosed their names, have accused chef Mario Batali of sexual harassment in a pattern of behavior that spans at least two decades. He's since stepped away from his restaurant empire following the allegations.
About 10 years ago, one of the women, a fellow chef who didn't work with Batali, told Eater that he groped her at an after-party for a wine auction in New Orleans. "He just went to town, and I was so shocked," she said. "Jaw on the ground, I just stepped back from him in utter disgust and walked away."
The three other women who accused Batali of misconduct used to work for him in some capacity. One former employee claims that Batali would grab her from behind regularly, pressing her against his body. This went on for two years, she said. Another former employee alleges that Batali groped her and made her straddle him, and the third claims he grabbed her breasts at a party. 
Two months ago, the first official complaint was filed against Batali by an employee of Batali & Bastianich Hospitality Group, which provides support to the roughly 24 restaurants owned by, among others, Batali and Joe Bastianich. In October, the employee accused Batali of inappropriate behavior. He was reprimanded and required to undergo some kind of sexual harassment training, according to Eater. 
After the allegations came to light, Batali didn't try denying them, saying that they "match up" with his past behavior. "I apologize to the people I have mistreated and hurt," he said in a statement to Eater. "Although the identities of most of the individuals mentioned in these stories have not been revealed to me, much of the behavior described does, in fact, match up with ways I have acted. That behavior was wrong and there are no excuses. I take full responsibility and am deeply sorry for any pain, humiliation or discomfort I have caused to my peers, employees, customers, friends, and family."
He also said he's stepping away from the day-to-day operations of his business for a period of time. ABC, which airs The Chew, a show Batali has co-hosted since 2011, asked the chef to step away "while we review the allegations that have just recently come to our attention," a spokesperson said. 
"I have work to do to try to regain the trust of those I have hurt and disappointed," Batali continued. "For this reason, I am going to step away from day-to-day operations of my businesses. We built these restaurants so that our guests could have fun and indulge, but I took that too far in my own behavior. I won't make that mistake again. I want any place I am associated with to feel comfortable and safe for the people who work or dine there."
Some of the incidents described by the women involve a drunk Batali lunging at them at a party. "In that moment I realized, 'I'm just a body [to him],'" one woman said. "When I've seen him over the years, I don't have a sense that he even remembers. I haven't spoken to him about it." Other instances of misconduct took place sober in the workplace. "He would breathe on me — and sometimes take a deep inhale, like he was smelling me," a former employee said. 
A lot of Batali's accusers are left with mixed feelings about the chef. On one hand, they feel they've benefited from his influence, but they recognize that that in no way excuses his behavior. "I feel very complicated feelings toward him," one said. "In some ways, he was very supportive and he used his power and influence to connect me." Another added, "I definitely felt way more reverential about him then than I do now." 
Batali is one of several famous chefs to recently be accused of sexual misconduct. John Besh was accused of rampant sexual harassment and former Jean-Georges pastry chef Johnny Iuzzini has been accused of sexual harassment by four women.
The women who've come out against Batali feel it's taken this long because they'd made excuses for his behavior in the past. "I think it says so much about how we just accept it and move on, and I think for a long time, I just thought, 'Well, he didn't rape me,'" one accuser said. "But I remember it vividly, it impacted me, and I feel uneasy recalling it. I just feel this major sense that I'm not the only one. I feel really grateful for the cultural reckoning that's happening."