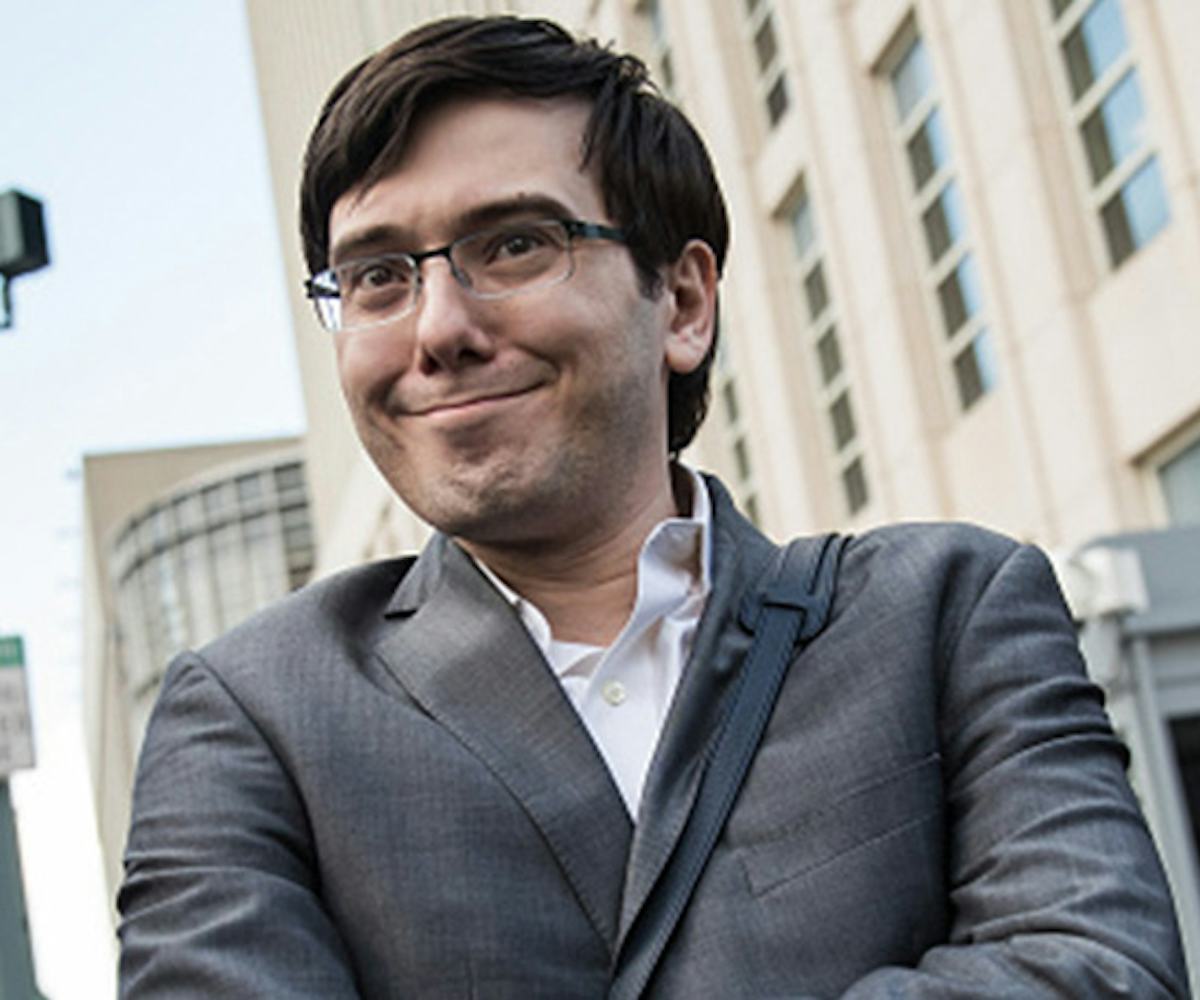 Photo by Drew Angerer/Getty Images
Garbage Human Martin Shkreli Faces Jail Time For Securities Fraud
Weasel-faced bag of trash Martin Shkreli was found guilty of securities fraud Friday, The New York Times  reports. This means that the former CEO of Turing Pharmaceuticals, who once hiked the price of life-saving drugs to exorbitant amounts in order to benefit his shareholders, faces up to 20 years in prison. And nobody feels bad for him! 
Shkreli is known for harassing female journalists online, once to the point of getting kicked off Twitter. He once tweeted that 50-100 women tried to sleep with him daily. "The human body cannot have that much sex," he lied to SeriouslyTV. He purchased the only copy of a legendary Wu Tang album for $2 million and then couldn't find any friends to play it with so he live-streamed himself alone. He also lives like a rich college student and gets around his house on a hoverboard.
After his conviction, Shkreli said at a press conference he was "delighted by the verdict," according to Business Insider, because he wasn't found guilty on a charge regarding his former drug company Retrophin. "This was a witch hunt of epic proportions," Shkreli told the press. "Maybe they found one or two broomsticks, but at the end of the day we've been acquitted of the most important charges in this case, and I'm delighted to report that."
Shkreli is so widely disliked that the court had difficulty finding unbiased jurors and his lawyer began his opening statement with, "You may not like Martin Shkreli, and you may have reasons to hate Martin Shkreli, but that is not a basis on which to convict."
The pharma bro was accused of losing money in two hedge funds he ran in 2009 and hiding those losses from investors, later paying them back with money from Retrophin. While he'll likely get less jail time than the maximum sentence, Bloomberg notes, he is "almost certain to go to prison." And all is right with the world.