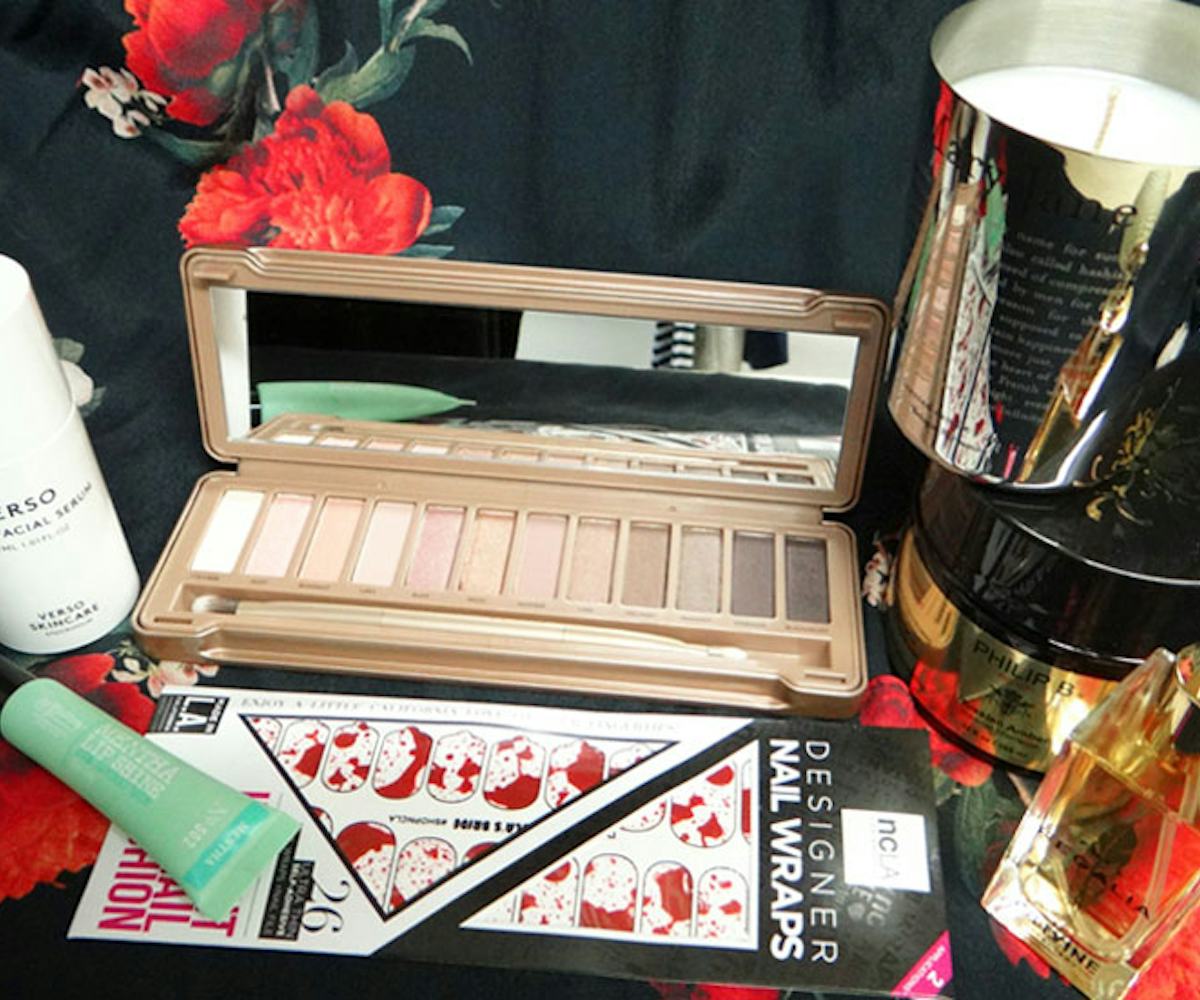 photo by jade taylor
vanity case
from a mary jane candle to dracula nail wraps, our fave beauty products this week!
OLFACTORY GIRL
WHAT IS IT
:
Olivine Atelier Full Regalia Eau de Parfum
WHY I LOVE IT
: The words "Full Regalia" may not evoke a mental image of a racehorse, but for Julie Wray, creator of Olivine Atelier, that's exactly what she had in mind. Inspired by her grandfather's racehorse named Full Regalia, Wray crafted a scent dripping with sweet vanilla, Egyptian jasmine, Moroccan red rose, musk, blackberry, and a sprinkle of patchouli in memory of Full Regalia's spirit. Added bonus: the vintage-inspired atomizer and glitter-tipped feather that come with the fragrance.
FOR THOSE
: Who want to unleash their inner spirit animal.
FLAMING LIPS
WHAT IS IT:
C.O. Bigelow Mentha Lip Shine/Breath Freshener
WHY I LOVE IT
: Maintaining flawlessly-moisturized lips and yummy-smelling breath may seem like an uphill battle for most, but can I get an "amen" for two-in-one life saver products? Enter: C.O. Bigelow's Ultra Mentha Lip Gloss, a hybrid lip balm and breath-freshener made from natural peppermint oil.
FOR THOSE:
Who have a date tonight.
EYES WIDE SHUT
WHAT IS IT:
WHY I LOVE IT:
Finally (!!!) Urban Decay has released their highly-anticipated (this is an understatement) Naked 3 palette to complete their eyeshadow trifecta. While the original Naked palette is filled with bronze hues and Naked 2 with taupe neutrals, the Naked 3 is equipped with rose neutrals--arguably making it the prettiest of palettes. Standout shades for me include Strange (pale neutral pink matte-satin), Mugshot (metallic taupe shimmer), and Blackheart (smoky black matte with rose red micro-sparkle), but I'm sure I'm sure I'll pick a new batch of favorites next week.
FOR THOSE:
Who want to complete the trilogy.
CLAWS OUT
WHAT IS IT
:
NCLA Dracula's Bride Designer Nail Wraps
WHY I LOVE IT:
Drippy, bloody nails may seem horrifying--but when they're done in jest for Halloween or re-watching the first season of
American Horror Story
with your girlfriends, they can be really awesome. But often times, painting your nails and then attempting to do the "drip" look with a nail art pencil can turn out more terrifying than the blood splatter you're actually trying to achieve. I love the Dracula's Bride nail wraps by NCLA because not only are they totally creepy, but they're super easy to apply and last up for two weeks. Enough time to hide the evidence-- am I right?
FOR THOSE:
Who want to channel their inner Sharon Needles.
BODY ELECTRIC
WHAT IS IT:
Juliette Has a Gun Mary Jane Candle
WHY I LOVE IT
: Following on this streak of slightly inappropriate and majorly humorous beauty picks, here's a candle called Mary Jane. Oh yeah, I'm going there. Mastered by one of my favorite fragrance brands, Juliette Has a Gun, the candle is inspired by hashish, or hash, a plant used for many different purposes throughout the years. The good thing about this candle--besides the fact that it smells dope as f***? It's totally legal.
FOR THOSE
: Who want to watch
Dazed & Confused.
FACE TIME
WHAT IS IT:
WHY I LOVE IT:
Over the years, I've heard about a fair share of "super," "miracle," and "game-changing" skincare products--some of which live up to their praise, and some that fall flat and make my skin breakout/freak out. So naturally, when I started hearing about how amazing the Verso Skincare Super Facial Serum was, I was hesitant. But let me just say this now--it totally lives up to the buzz surrounding it. Formulated with retinol 8--a stabilized vitamin A complex that's 8 times more effective than standard retinol sans upping the dosage--it also re-plumps skin's natural levels of collagen, thus, reversing the clock on aging. Despite having retinol in it, this stuff is so gentle it's suitable for even the most sensitive of skin.
FOR THOSE
: Who want to be forever young.
HAIR METAL
WHAT IS IT:
Philip B. Russian Amber Imperial Shampoo
WHY I LOVE IT:
To be totally honest, I've never been too picky about shampoo. It hasn't been until recently--when I double-processed my hair and then dyed it purple--that I've been more considerate of what I lather onto my strands. I'd heard great things about this Russian Amber Imperial Shampoo, but it wasn't until I tried out the honey-like formula for myself that I really understood why so many beauty editors favor this as their shampoo of choice. Opulent smells immediately heal and smooth your mind, body, and hair, while the wheat and soy proteins kick in for the silkiest hair you've ever felt. Seriously. 
FOR THOSE:
Who listen to "Blue Velvet" by Lana Del Rey while they shower.