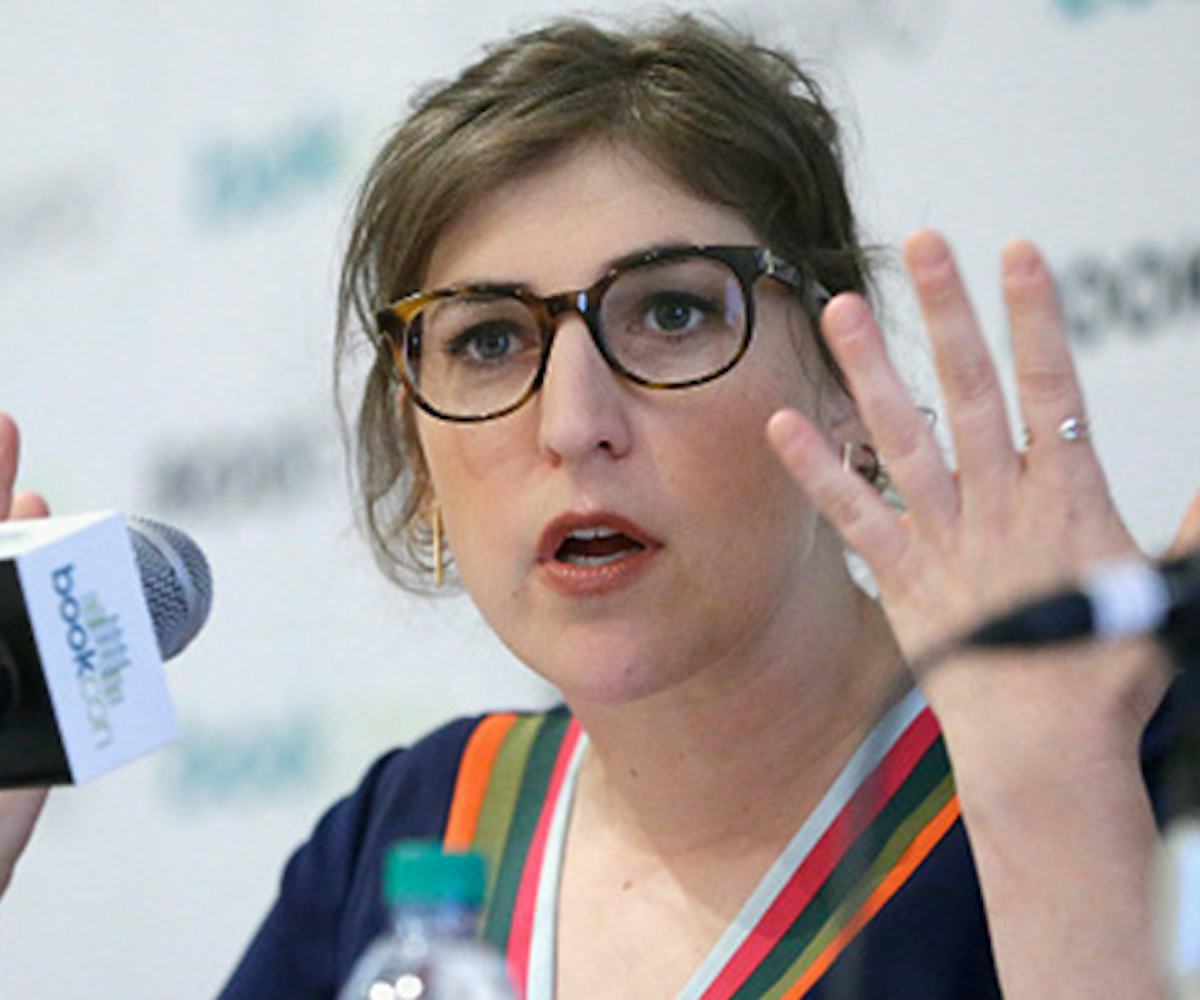 Photo by John Lamparski/Getty Images
Mayim Bialik's NYT Essay Gets Backlash For Placing Blame On Weinstein's Victims
"We can't be naïve about the culture we live in."
In an essay for the New York Times, entitled "Being a Feminist In Harvey Weinstein's World," Big Bang Theory actress Mayim Bialik seems to argue that women can avoid sexual assault if they dress and act a particular way. Bialik says she's never personally dealt with sexual harassment during her time in Hollywood because she makes "self-protecting and wise" choices.
"I have decided that my sexual self is best reserved for private situations with those I am most intimate with," she writes. "I dress modestly. I don't act flirtatiously with men as a policy."
She acknowledges that "young feminists" will see her choices as oppressive, because, "Women should be able to wear whatever they want. They should be able to flirt however they want with whomever they want. Why are we the ones who have to police our behavior?" she writes. "In a perfect world, women should be free to act however they want. But our world isn't perfect. Nothing—absolutely nothing—excuses men for assaulting or abusing women. But we can't be naïve about the culture we live in."
This was a take that, a lot of people feel, didn't need to be written. She seems to imply that assault is about sexual desire rather than power and control, and that she somehow has avoided being harassed because she's made herself less attractive to men. People immediately responded to her essay. 
"I have to say I was dressed non provocatively at 12 walking home from school when men masturbated at me," Patricia Arquette tweeted at Bialik. "It's not the clothes." She also pointed out that it's "not outrageous for anyone to expected to be treated in a professional [manner] by anyone in a professional relationship."
"Mayim Bialik is suggesting that Weinstein's targets—many of whom were children at the time of his offenses—could have avoided being harmed if they were good girls like her who didn't get manicures," author Eve Ewing wrote. "Which is both offensive and flat-out wrong." 
"This is a terrible and dangerous opinion," author Adam Koebel wrote. "'You wouldn't get assaulted if you weren't so pretty.'"
"Sad it still needs to be said: people who look, dress all kinds of ways are also sexually assaulted or harassed," author Irin Carmon wrote. 
Bialik has responded to the backlash, claiming that critics have taken her words "out of the context of the Hollywood machine" and "twisted them to imply that God forbid I would blame a woman for her assault based on her clothing or behavior."  
"Anyone who knows me and my feminism know that's absurd," she continued, "and not at all what this piece was about. It's so sad how vicious people are being when I basically live to make things better for women."  
She added that she'll be doing a Facebook live with the Times Monday morning.