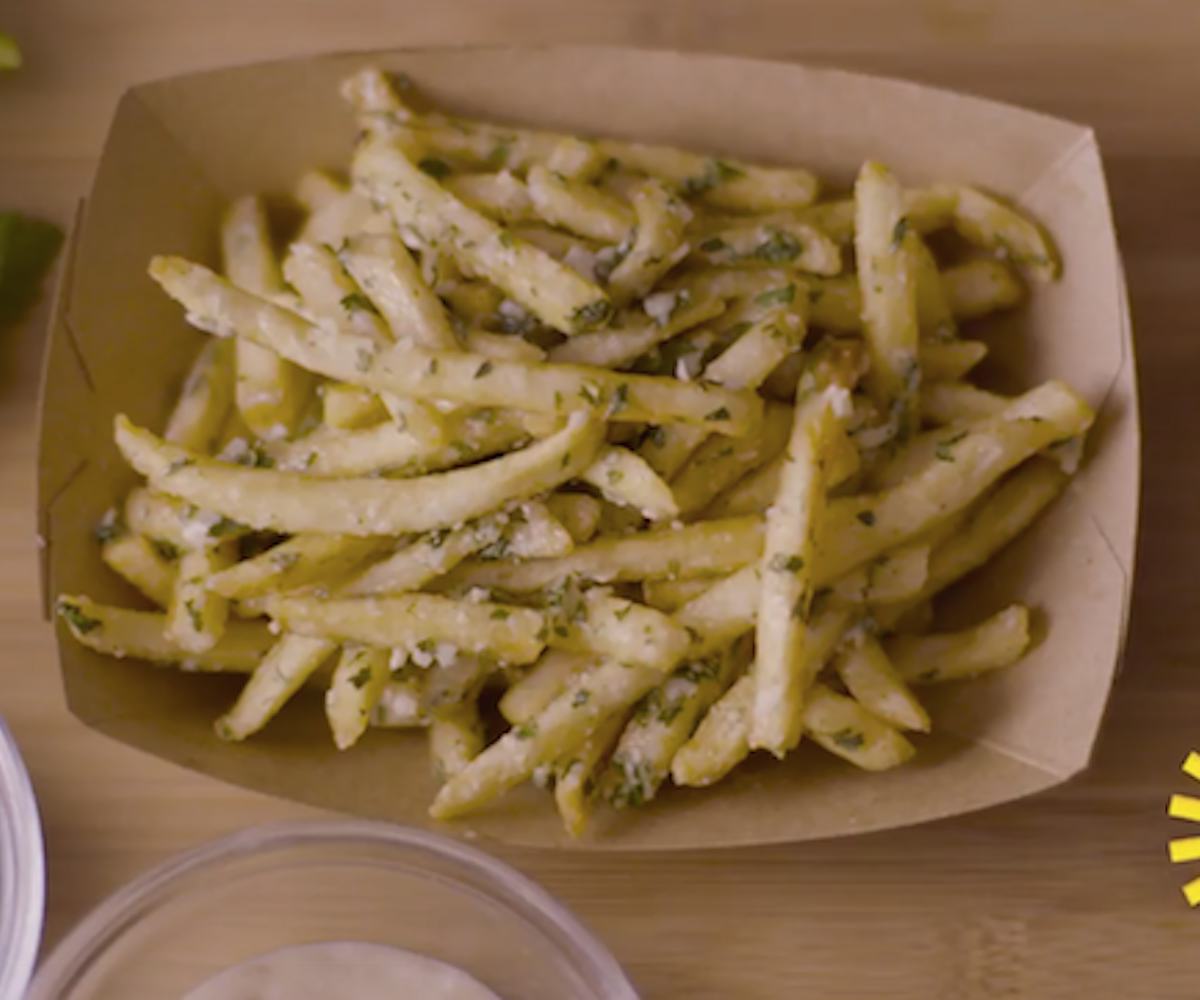 Photo courtesy of McDonald's
McDonald's New Garlic Fries Are Here To Wreak Havoc On Your Beach Bod
(if you live in the bay area)
McDonald's hates messing with its iconic fries, but in a bid to make both news and money, the fast food giant has begun testing a new version of them. Just in time for summer, Gilroy Garlic Fries have begun selling at four locations in the Bay Area, but are still firmly in test mode. They're named after the garlic grown in Gilroy, California, which dubs itself the Garlic Capital of the World.
The fries are tossed with garlic, olive oil, parmesan cheese, and salt. They're a take on the more traditional Greek fries, which use feta cheese instead of parmesan. If the garlic fries are successful—and you're delusional if you think they won't be—they'll expand to 250 restaurants in the Bay Area, and then the world. But what does McDonald's have to say about their revolutionary new product? Let's go to the tape: "The new fries are made-to-order in McDonald's kitchens, where restaurant employees toss French fries in stainless steel bowls with a purée mix that includes ingredients, such as chopped Gilroy garlic and olive oil, parmesan cheese, parsley, and a pinch of salt."
Michael Haracz, the company's manager of culinary innovation, issued a public statement on this controversial new endeavor, saying that "McDonald's is committed to listening to our customers as seen by All Day Breakfast. We're proud of the work done by local franchisees and the regional team to create this menu item with locally-sourced garlic and we look forward to introducing Gilroy Garlic Fries to the customers in the Bay Area."
An early review of the fries was good, but not great.
According to CNBC, McDonald's is planning to roll out other regional products around the country with the intent of expanding them based on their success. Johnsonville Brats (those are sausages) will be sold at 125 stores in the Milwaukee area, and smaller and larger version of Big Macs will be sold in stores in Texas and Ohio. Do with that information what you will.