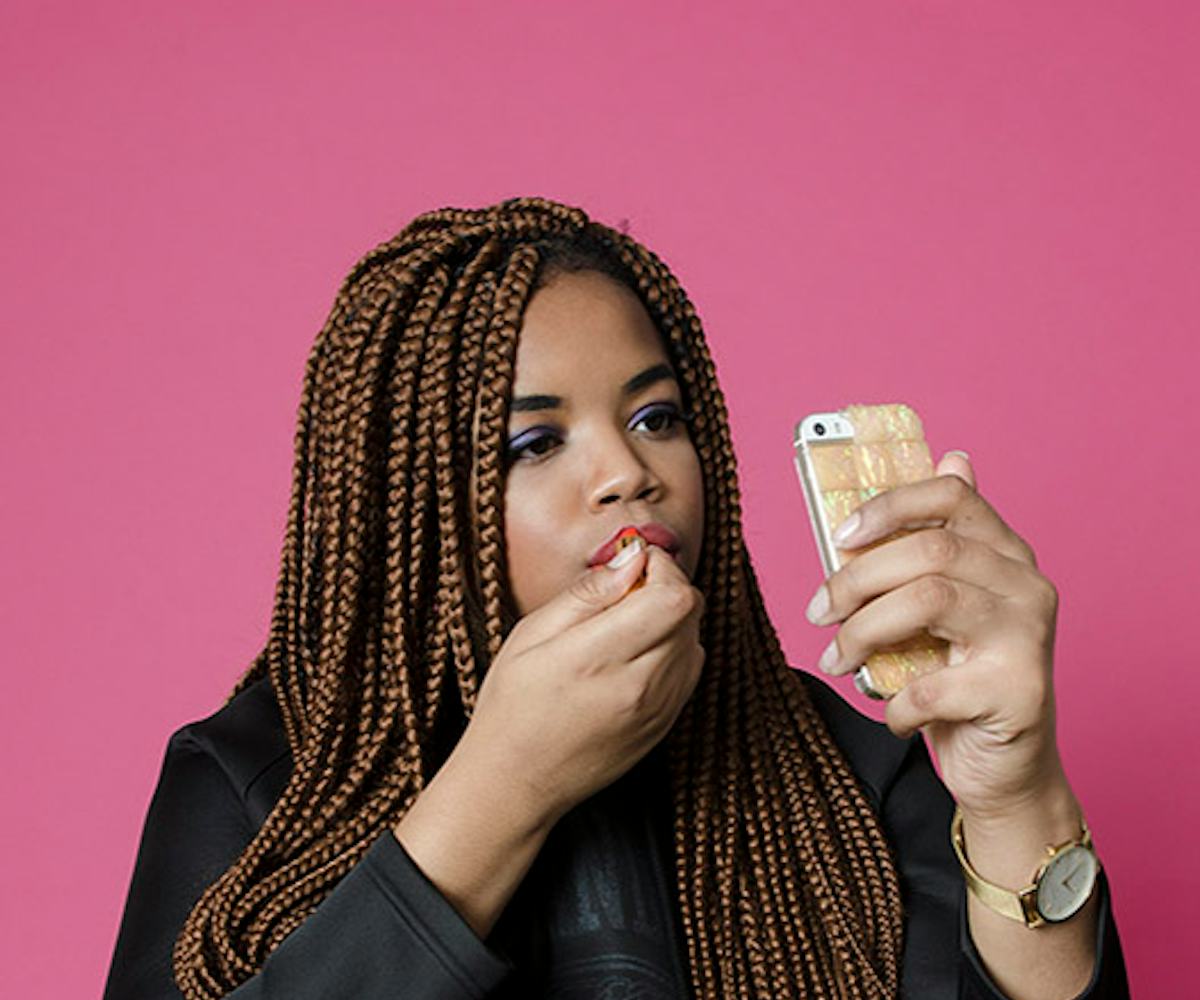 Photo by Heehyun Oh.
Ladies Who Hustle: Lipsticks By MDMflow
If you're looking for a new lipstick to add to your beauty repertoire, look no further than MDMflow, the brand known for offering unique colors to women of all different skin tones. From deep blue shades to light pastel pinks, each lip color gives off its own one-of-a-kind vibe. Created by Florence Adepoju, the line was built on embodying her own lifestyle and ideals, while adhering to the various skin types that weren't represented well enough in the beauty industry and using the latest color technology. The line is comprised of all of Adepoju's obsessions: black and gold colors, beauty, fashion, and, of course, science, and is deeply influenced by the glamour associated with mid- and late-'90s hip-hop culture.
We sat down to chat with Adepoju about her inspiration, the lack of diversity in the cosmetics industry, and how to make lipstick. And don't forget to check out her stuff at NYLONshop.
What is the full meaning of the acronym MDM in the brand name, MDMflow?
It stands for Madame Flow, a nickname for Florence.
How does your brand set itself apart from others?
We're really loud and bold. Our packaging is black and gold; it's a flashy, confident, and bold brand. It's hip-hop inspired lipstick you can match your chains with [laughs].
MDMflow was a result of the lack of product diversity for all skin shades in the cosmetic industry. Do you feel the industry has improved since the launch of your brand?
It has improved but whenever the industry comes out with a new product, they tend to make it limited. There's still more [ways] to go, more to do. When makeup companies come out with new products that can satisfy a lot of people, it should stay and not just last for the summer.
Since MDMflow is inspired by the hip-hop culture, who are your favorite artists and icons?
Ah, this is so hard! Well, my all time favorite is Notorious B.I.G, especially his Ready to Die album. Nicki Minaj and Foxy Brown inspire me. I love J. Cole, best rapper ever. Pusha T, even though he's been around for a long time, I've been listening to him recently. I believe he's like the rap version of Pharrell. Oh! Lil' Kim, how did I not mention her first? Also, Angel Phase, who's a young rapper, she's really cool. I should name a British rapper too: Stormzy. 
The basement of your parent's home was where it all started for MDMflow, what are your parents' reactions to the success of the brand?
At the very beginning they thought, "Oh, she's just finding herself." Now whenever someone comes over for dinner, they show them my press clippings. They're super supportive, they let me do my own thing. But now it's time for me to leave [laughs].
How did you feel when your brand was not only acknowledged by but also inspired Lena Dunham? 
That was crazy because she's so inspiring and confident, which is what the brand is all about, so it must be attracting the right type of attention.
MDMflow focuses primarily on lipstick, however, would you consider expanding the brand with other makeup products?
Definitely, I want MDMflow to have a whole makeup collection but haven't pushed on it because I don't want to put too much pressure on myself. I don't care how long it takes. I envision a girl in the club, doing her makeup in front of the mirror with a purse filled with of black and gold MDMflow products that attract another girl to come up to her and be like, "What brand is that?" I think it will happen. There's going to be a full face of MDMflow products since I'm a scientist with the right technology and ingredients. It'll be a waste if I didn't do more products. 
What is your current favorite shade from the line?
Ah, you can't ask me that! They're all my children. But I would have to say "Vamp." It's a deep burgundy, really confident. It's a color that's really badass that you can wear to the club or to the office. "Vamp" is kind of Azealia Banks inspired, as in like being a loose cannon—I'm going to do whatever I say and what I want.
Tell us about the creative process in making lipstick.
In the lab, I try to listen to a new hip-hop album I've never listened to before. It definitely inspires me with the colors, the names, or just my mood. Like Pusha T's latest album, King Push, gets me inspired. He raps about the hustle of selling drugs. I don't sell drugs but I hustle, so listening to him gets me fired up. Of course, B.I.G's Ready to Die. Recently I've been listening to Action Bronson, he's really fun and really different. I like to listen to different artists and have different playlists. Drake obviously. But I like to listen to Drake's older mixtapes because his love songs don't get me going. Big Sean's Finally Famous album. I listen to mostly hip-hop because it's very real. They're honest about their lives.Tumblr also gives me a lot of inspiration, especially the subcultures of Tumblr, like C-punk and digital art. I also like going to art galleries to get inspired, like I would be looking at artwork and think, "I have to make a collection from these shades of pink!" I get really inspired in L.A. I'm modern; I get very inspired by the Internet. I save all my inspirations in files. I consider my brand to be digital, if that makes sense. 
Being an entrepreneur at the age of 24 is a great accomplishment. What words of encouragement can you share with young women?
It doesn't matter how long it takes you, as long as you get there. Something my girlfriend said that stuck with me was, "Work on every tiny idea until it makes you sick, because it'll either make you sick of it or you'll make something out of it." So, I had this tiny idea to make a brand with crazy colors and now it's become the brand that it is. So yeah, work on it, don't stop, and take your time.
Photo by Heehyun Oh
Interview by Christine Yeom
From left to right: MDMflow, Sweet Escape Lipstick, $20, available at NYLONshop, MDMflow, Vamp Lipstick, $20, available at NYLONshop. 
Not shown: MDMflow, Mass Marina Lipstick, $20, available at NYLONshop.com, MDMflow, Di La La Lipstick, $20, available at NYLONshop.com.