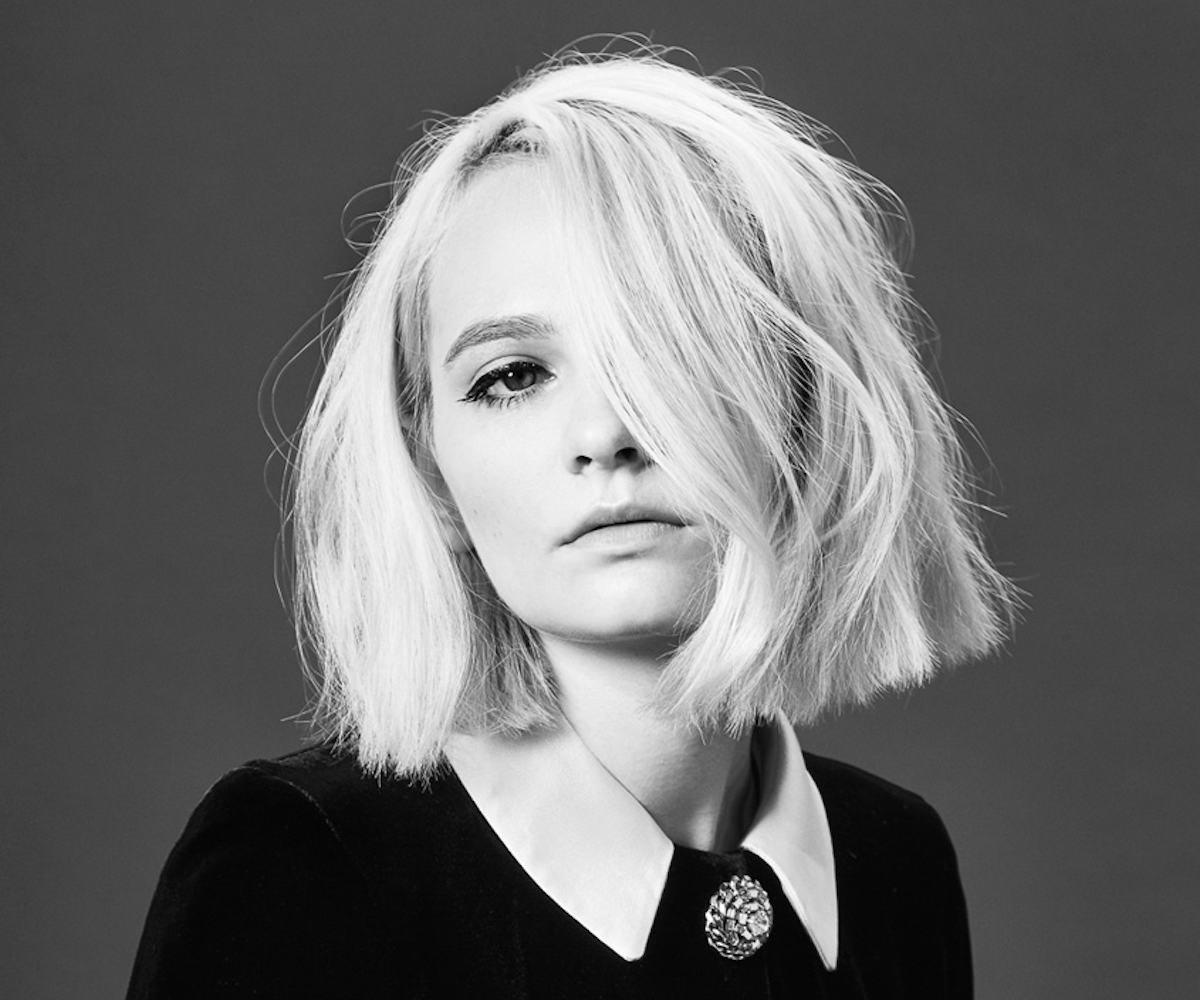 photos by John Michael Fulton
Meet Clementine Creevy, America's Raddest Teen Rockstar
18 years old and killing it.
Remember the name Clementine Creevy. First of all, it's an awesome name, and second of all it belongs to a prodigious 18-year-old L.A. girl who knows what she wants and is on her way to getting it. Creevy is the guitarist and lead singer of the band Cherry Glazerr, and is built in the mold of feminist rock saviors like Kathleen Hanna and Corin Tucker. Last year, Saint Laurent Creative Director and arbiter of cool Hedi Slimane tapped Creevy and her band to write a track specifically for his women's fashion show. Their creation, "Had Ten Dollaz," is straight proof that Creevy is a legit rock star, full stop. Here, to go along with some exclusive pics shot by photographer John Michael Fulton, we ask Creevy questions about art and life. Her answers are great. 
How would you describe your aesthetic?
Black leather neo-grunge.
How did your career get started?
When I was fifteen, I started making pretty low fidelity demos in my room on GarageBand and uploaded them to Soundcloud under the name Clembutt. Tracks started getting passed around, and the label directors at Burger Records stumbled upon them. The guys told me they wanted to put out my album, so I formed Cherry Glazerr and then we started recording and playing shows.
Where do you hope to be professionally in 5 years?
I want to travel the world playing music. Hopefully in five years I will be preparing to release our 3rd or 4th record. Hopefully we'll be gearing up for a world tour with a huge tour bus and roadies!
l What's your next project?
Right now I'm writing our second album and playing locally. The record will be quite the project. Recording is very stressfubut completely rewarding.
What are you most proud of so far in terms of your career?
I'm proud of my ability to balance school and the band. We started playing shows about two years ago, and in the beginning when we started gaining traction, people in the music industry kept saying, "What are you still doing in school?! Drop out or graduate early!" That was certainly tempting because I manage my band, along with my friend and drummer (she's also a senior in high school); we play shows every week and go on tour frequently; I'm a (very very minor) character in the TV series Transparent; and I dabble in modeling. So it has been extremely tough to stay in school and do well, but I did it because I appreciate my education immensely and go to a wonderful school with wonderful teachers. I'll finally be finished on May 1st.
What famous person dead or living do most wish you could have as a roommate?
Bell Hooks. Annie Clark. Meryl Streep. I can't choose between the three.
What is your favorite driving music?
Haha I don't listen to anything specific when I'm driving, but lately I've been jamming on Blonde Redhead a bunch.
Whose career would you most like to emulate?
Carrie Brownstein fucking kills it. She's a fantastic writer, brilliant comedian, and she shreds on guitar in Sleater Kinney.
If you had to live in a past time, what do you think would be the most fun era and why?
The '70s had a great vibe. Obviously I can't speak firsthand, but it feels like there was a sense of freedom that we've lost due to rapidly advancing technology. I would participate in the 2nd wave, go see Sly and The Family Stone, and see Angela Davis speak.
What activities do most enjoy doing alone?
Drinking. No I'm just kidding. I like listening to podcasts when I'm alone. I've been listening to a lot of WTF with Marc Maron and that makes me really happy. I went and saw him last week at the Largo in LA and he was insanely hilarious.
How do you wind down before bed?
I'm kind of a night owl so I'm usually out pretty late until I'm exhausted, so when I get home I just flop on my bed and crash out.
When are you most relaxed?
When I'm watching movies at my boyfriend/bass player's house.
What kind of person were you in high school?
Lol I'm still in high school.
Do you have any phobias?
I have an irrational fear of revolving doors. I really don't like them. I feel like it's way too easy to get a limb stuck and chopped off in there. It's a death trap, man.
What's a serious side of you that people are unlikely to know about? Either in terms of interests, hobbies, or personality?
Well I definitely identify as a feminist and I take a women's studies class. I'm passionate about spreading awareness about gender inequality and all that jazz.
What are some new hobbies you would like to take on?
I'm way too ambitious. I'm all talk and no walk. I literally want to do everything. I really want to learn how to surf, play sax and paint. I want to put on a photography exhibit and I want to record a pop album and I want to skateboard.
What are some of your favorite Internet "memes" of all time?
My friend showed me a meme of this goat on the top of a mountain and the goat is like "Where's Derek? He said he'd be here..." then it zooms out and you see that the goat is on an impossibly narrow, high mountain that you wonder how on earth he climbed up, and it says "Man Fuck Derek".
How do you hope to grow as a creative person?
I want to learn from and grow with my peers. There are a lot of really talented, creative musicians that I need to mingle with more. That will help me grow, and playing with experienced musicians who will challenge me.
If there was a phrase that you think best sums up your approach to life what might it be?
In it to win it, motherfucker.
Photography: John Michael Fulton
Talent: Clementine Creevy of Cherry Glazerr at Vision Los Angeles
Styling: Henna Koskinen
Makeup: Amy Strozzi for TMG-LA using Nars Cosmetics
Hair: Johnny Stuntz at Crosby Carter Mgmt using L'Oréal Professionnel
Retouching: John Michael Fulton
Photographer's Assistants: Joe Gunawan and Kristen Wong
Backdrop: Erin D Garcia
Silk velvet dress, Saint Laurent by Hedi Slimane.
Silk velvet dress, Saint Laurent by Hedi Slimane.
Silk velvet dress and mary jane pumps, Saint Laurent by Hedi Slimane
Silk velvet dress, Saint Laurent by Hedi Slimane.
Blouse, Rag & Bone.
Shirt, Cerre. Bow stylist's own. Leather pants, Cerre. Hat, Gladys Tamez Millinery.
Shirt, Cerre. Bow, stylist's own. Tuxedo jacket, Agent Provocateur. Hat, Gladys Tamez Millinery.