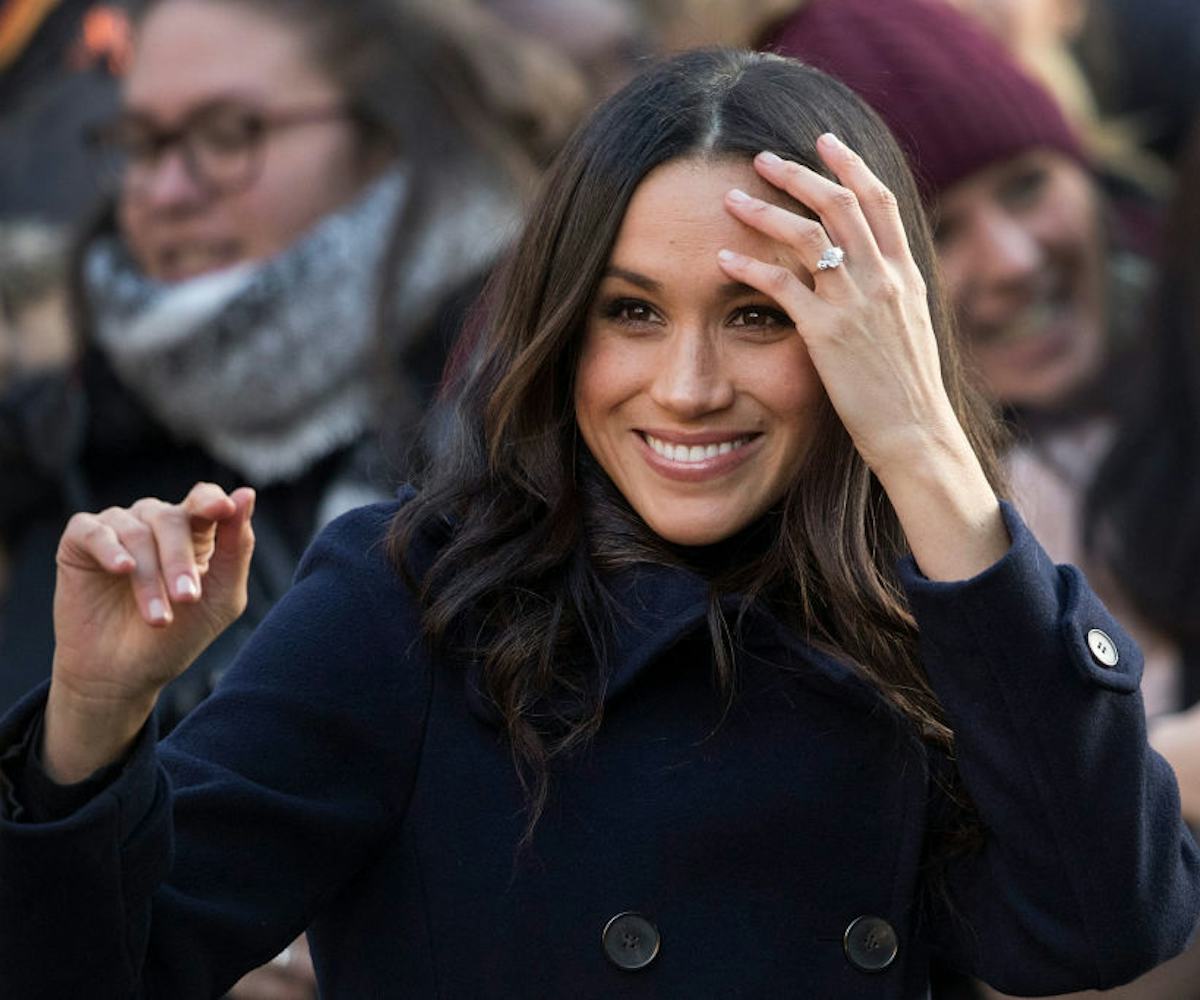 Photo by Christopher Furlong/Getty Images
Can We Please Just Let Meghan Markle Wear A Sheer Dress In Peace?
Most of us fashion-focused plebes remember the original Engagement Dress. You know the one: that simple navy wrap Kate Middleton wore in her engagement photos. The one that thousands of women clamored to scoop for themselves (which eventually contributed to the downfall of its designer's brand).
Well, now we have a new Engagement Dress to admire: Meghan Markle's striking $75,000 Ralph & Russo gown. (Which appears to only be available by custom order, which should save them some of the headache that Kate's dress caused its designer.) 
Markle's dress isn't just remarkable because of its many ruffles and sparkles. (Though those are pretty great.) What's most striking is how sheer it is, like, "you can see underboob" sheer. 
According to the New York Times, there's likely lining under her particular gown, but it's still rather satisfying to see Markle shaking things up. She's going to be the first biracial British royal in modern history, and is clearly not positioning herself to fill the traditional roles of the monarchy. According to the Times, this is making old white people freak out a bit, which is also pretty great:
She represents, simply by background, a completely different kind of royal. This has both raised expectations for reform and made traditionalists nervous. The engagement photo doesn't shy away from either reaction; it underscores both. It also demonstrates that she is perfectly aware that everything she wears is going to be under the social media spotlight, so she might as well make it work for her.
Now, let's remember that Markle marrying into a family where some find it okay to wear racist jewelry. A sheer top really shouldn't be a problem here. Let Markle continue to look amazing and be a representative of a new, more progressive era of royalty. As the Times so succinctly puts it: "The destuffing of the House of Windsor is entering a new stage. This is going to be fun."