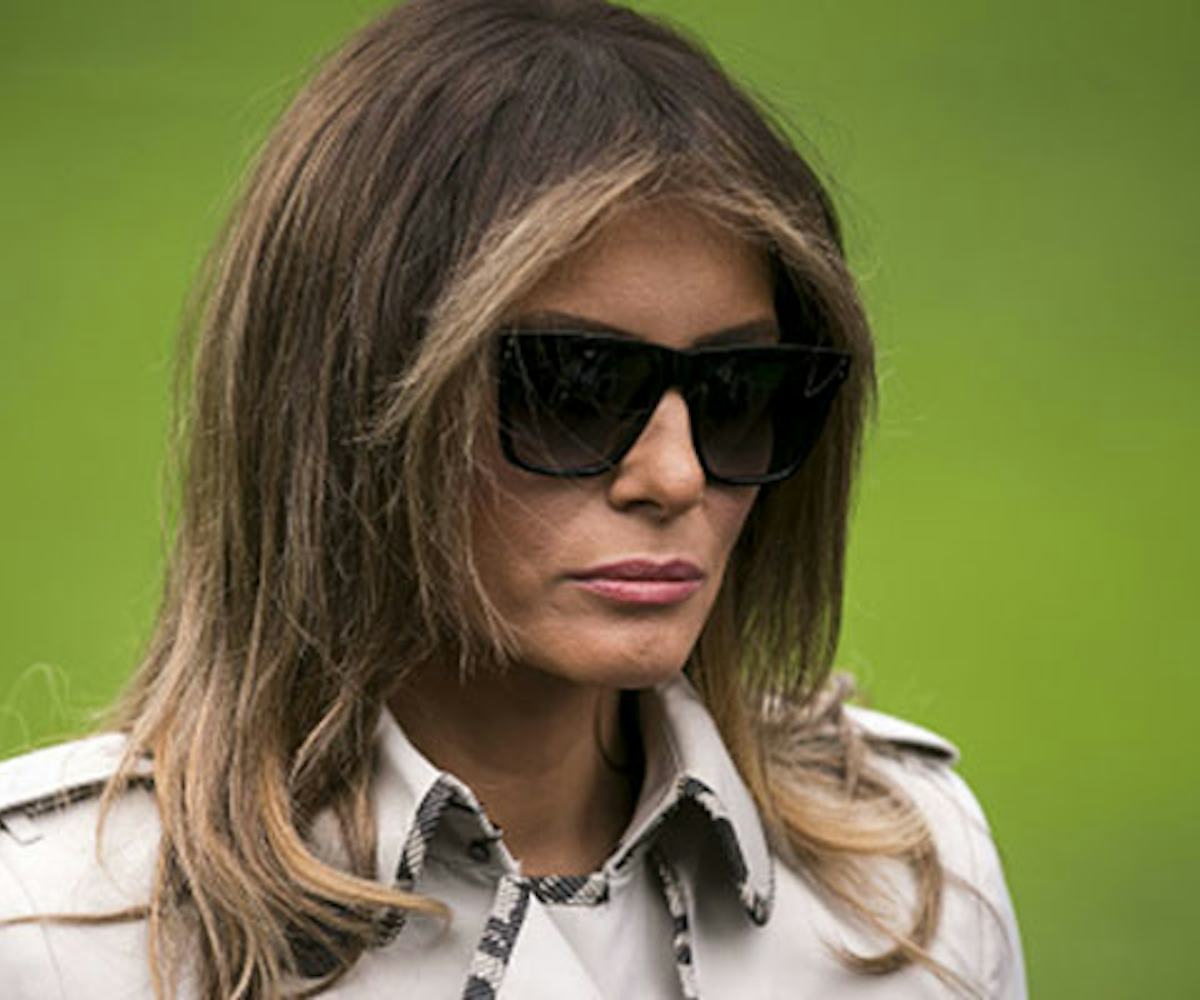 Al Drago/Bloomberg via Getty Images
No, Melania Trump Is Not Trolling Her Husband
She just hates him like the rest of us
New York Times columnist Maureen Dowd writes in her latest piece that Melania Trump is constantly trolling her husband, Donald. She claims the First Lady has learned "from the master," referring to the president. First of all, Donald Trump is not good at trolling. He's good at firing off angry tweets full of misspellings and petty ramblings about things nobody cares about. In fact, he's a pretty shitty troll. And Melania hasn't learned anything from him, aside from how to almost successfully emulate a human being at parties.
Referring to Melania as the "Slovenian Sphinx," Dowd says she "has her moments." For instance, Melania wore a "pussy-bow blouse" to the presidential debate following Trump's comments about grabbing women by the pussy. One could actually read this as Melania trolling the women whose pussies her husband grabbed, rather than him, considering she still showed up to support him, despite the fact that he's been accused of sexual assault and harassment by at least 19 women.
In what Dowd calls a "master stroke," according to her, Melania trolled Trump by choosing cyberbullying as her focus as First Lady. This could possibly be seen as a troll if she ever actually did anything to combat cyberbullying other than remind the UN of what the golden rule is. 
Dowd also cited the time Melania swatted Donald's hand away when they arrived in Israel, and a bunch of other times when he's tried to touch her. That's not really trolling so much as it is just pure disgust. 
Melania also said her ideal Christmas would be spent on a "deserted island," which Dowd says was a jab at Donald. Only, Melania added that she wanted to be "with her family" on the island, so that's not a troll, that's just everyone else's idea of hell. 
The First Lady also visited the Holocaust Museum without her husband for Holocaust Remembrance Day. Dowd called this a troll because the president thinks Nazis are kind of okay. 
And then after the news broke that Donald allegedly paid ex-porn star Stormy Daniels $130,000 in hush money after she spanked him with a Forbes magazine, Melania canceled her plans to meet him in Davos, Switzerland, for the World Economic Forum. That's not so much a troll as it is Melania getting too tired to even pretend to like her husband anymore. 
Dowd also referenced a photo Melania posted on Instagram to commemorate her first year as First Lady that noticeably left Trump out. Basically, nobody wants to look at Trump's face, even the woman who chose to marry him. 
Clearly, none of these instances are good examples of trolling, they're just further evidence that Melania hates the president as much as everybody else does.