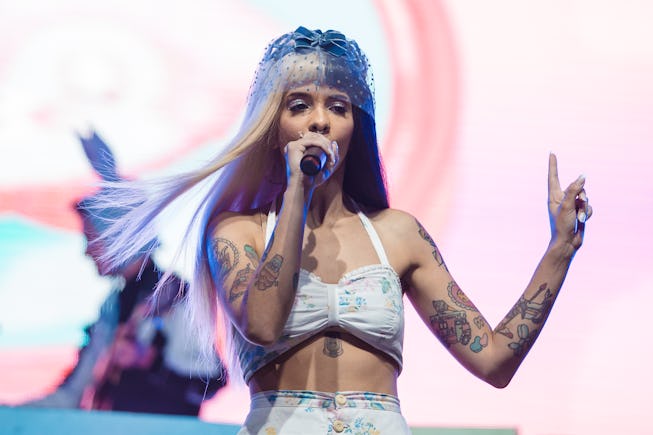 Mauricio Santana/WireImage/Getty Images
Don't Forget The Allegations Against Melanie Martinez
Last year, The Voice alum Melanie Martinez was accused of sexual assault. And though the initial response to the allegations was a victim-blaming nightmare, the way Martinez's fans continue to defend her a year later is troubling.
Over the weekend, Martinez announced via her Instagram that she had a new album and movie hopefully coming out early next year. However, as seen in the responses to a viral tweet about the announcement, Martinez's fans have primarily responded to the news by going on the defensive and using it to talk about her innocence. 
"INNOCENT QUEEN," one fan wrote, while another declared her the "Queen of pop." And while there were a few commenters who responded by reminding others of the allegations against Martinez, the overwhelming majority of fans seems determined to support Martinez, no matter what. Some even went so far as to ask naysayers to "leave that in 2017." But it's not that simple.
Last year, Martinez was accused of sexual assault by former friend Timothy Heller. Heller initially came forward via social media to allege that she was assaulted by her "best friend," who was later revealed to be Martinez. Describing two nights in which she "repeatedly said no" to sexual advances from Martinez, Heller wrote that Martinez had used their friendship to take advantage of her during a deeply difficult time.
"It doesn't matter that I didn't resist during the action. I had been broken down," Heller wrote, alleging that Martinez used a sex toy and performed oral sex on her without her consent. "She knew I didn't want to, I made that clear." Heller said she had held onto this secret for a long time, as she tried to convince herself "that it wasn't a big deal and I wasn't hurt by it." 
"The thought of accepting that my best friend raped me seems insane," Heller wrote. "But I began to get responses I wasn't expecting. Concerned ones. It's hard to say someone you loved raped you. Someone you STILL love." 
Martinez eventually issued her own statement in response, saying she was "horrified and saddened" by Heller's allegations. "What she and I shared was a close friendship for a period of time. We came into each other's lives as we were both starting our careers as artists, and we tried to help each other. We both had pain in dealing with our individual demons and the new paths we were forging, but I truly felt we were trying to lift each other up," Martinez wrote before saying that Heller "never said no to what we chose to do together." Following her initial post, Martinez also issued another statement in which she wrote, "I understand how hard it could be to see my side of the story, considering no one with a heart would want to invalidate anyone speaking up about this topic."
"I want to thank my fans who took the time to research the timeline, analyze past Instagram photos, and question the story being told, which reveal her false statements," Martinez continued. "Please know that my intentions with everything that I do in my life are always pure and I would never be intimate with someone without their absolute consent." 
Following all of this, a wave of Martinez fans descended upon Heller's Twitter to attack her, questioning Heller's credibility and even going so far as criticizing her for "not going to the police"—a statement that's eerily similar to our president's recent defense of Brett Kavanaugh. Some even took the victim-blaming a step further, arguing that because Heller didn't "force" Martinez off her, that the alleged assault was Heller's fault. Others said that if there was any merit to the claims, Heller would've sued Martinez by now—another huge misconception that assumes Heller has the means and desire to pursue the charges within a system that tends to dismiss the concerns of survivors. But the most disturbing part of all of this? Almost a year down the line and people continue to accuse Heller of doing it for the "publicity" or purporting that because Martinez was not charged with anything, she must be innocent. Not only that, but underlying all of this is also the insinuation that the allegations shouldn't have an impact on reception to Martinez's new work.  
Many victims whose alleged abusers are high-profile people, face judgment, ridicule, and dismissal. As evidenced by the onslaught of abuse Heller has endured in the wake of coming forward, it's unsurprising she was initially hesitant to tell her story, especially as she told Refinery29 that she didn't have the kind of "cold hard evidence" Martinez's fans were demanding to see. "Her fans see her as this angel who understands them," Heller told Newsweek, "I assumed no one was going to take me seriously if I explained what she did." But in a world where survivors continue to be chided and outright abused for "allowing" themselves to be victimized, we need to continue reminding ourselves that believing all survivors is incredibly important and that false rape allegations are extremely rare. 
More importantly, even if the accused are people whose body of work have had a profound impact on fans, that has no actual bearing on their guilt or innocence. Until we begin supporting survivors and taking their claims seriously, there's no way they will feel safe coming forward, and by continuing to drag Heller, Martinez's fans are just helping to perpetuate the silence.