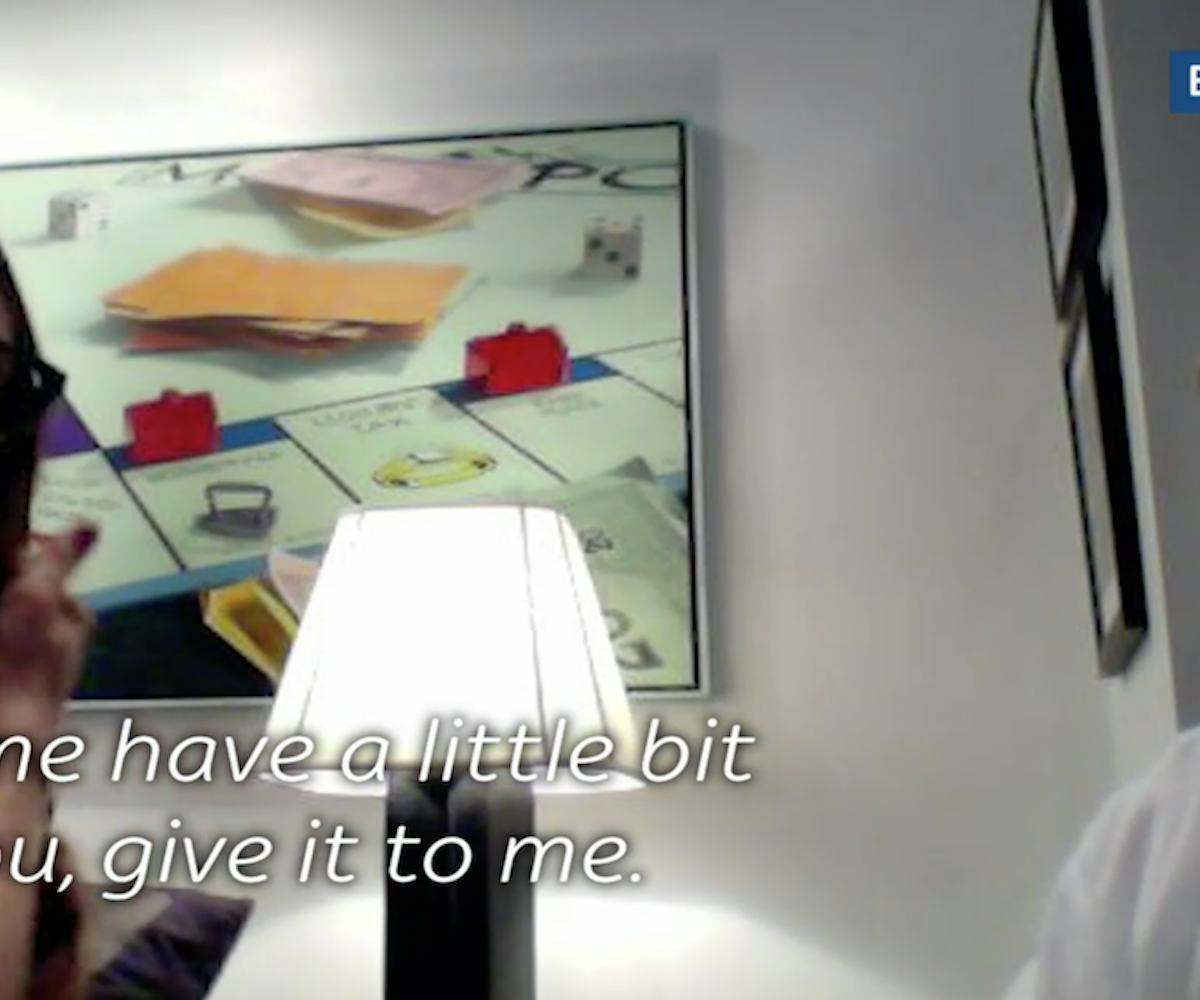 Photo Via Melissa Thompson/SkyNews
There's A Video Of Harvey Weinstein Harassing A Woman Who Alleges He Later Raped Her
"I had entered that fight or flight mode and I was scared of him"
Trigger warning for sexual assault and rape mention.
One of the three women who filed a class action lawsuit against Harvey Weinstein has released a video of him acting inappropriately during an initial business meeting. Melissa Thompson, who met with the producer to pitch her start up, filmed the meeting as part of a demo for her company's video platform. Thomspon met with Sky News for an interview, and to elaborate on her feelings during those moments and explain what she says wasn't captured on film. According to Thompson, she met with the producer to finalize the business deal in a hotel lobby bar, where he immediately led her to his room and raped her upon her arrival, a story similar to those of dozens of other women who have come out with allegations against Weinstein. 
"I had never met anyone that I couldn't handle until Harvey Weinstein," Thompson told the Sky News reporter, who had asked her a series of questions regarding the banter between herself and Weinstein. Thompson had attempted to volley, flip the conversation to something that felt safer each time Weinstein escalated his comments. When the two walked towards the kitchen to grab water, she turns the camera. "I had entered that fight or flight mode and I was scared of him," she explained. 
Regarding her demeanor in the exchange caught on camera, Sky News asked if Thompson thought she was encouraging Weinstein. (Hey, Sky News, demeanor doesn't equal consent, and your question was gross and uncalled for.) Of course, Thompson had considered this, as many victims do, saying, "I think there was a combination of confidence and naivety that led me to this dynamic that we see now, watching back." 
The moment Sky News was referring to occurs earlier in the video, when, after a joke from Thompson, Weinstein says, "Let me have a little part of you. Give it to me. It's okay, would you like to do it some more?" Thompson explained that, out of view of the camera, he was slipping his hand up her skirt, which is why she nervously replied, "A little bit high... a little high, that's a little high, that's a little high." 
Thompson is done with the narrative of excusing men for their actions, the boys-will-be-boys mantra that turns dangerous with powerful predators like Weinstein. She says, "We don't have to live with things that are illegal and abusive and... we don't have to live with being raped when we think we're going to a business meeting." 
Watch the entire video at Sky News.