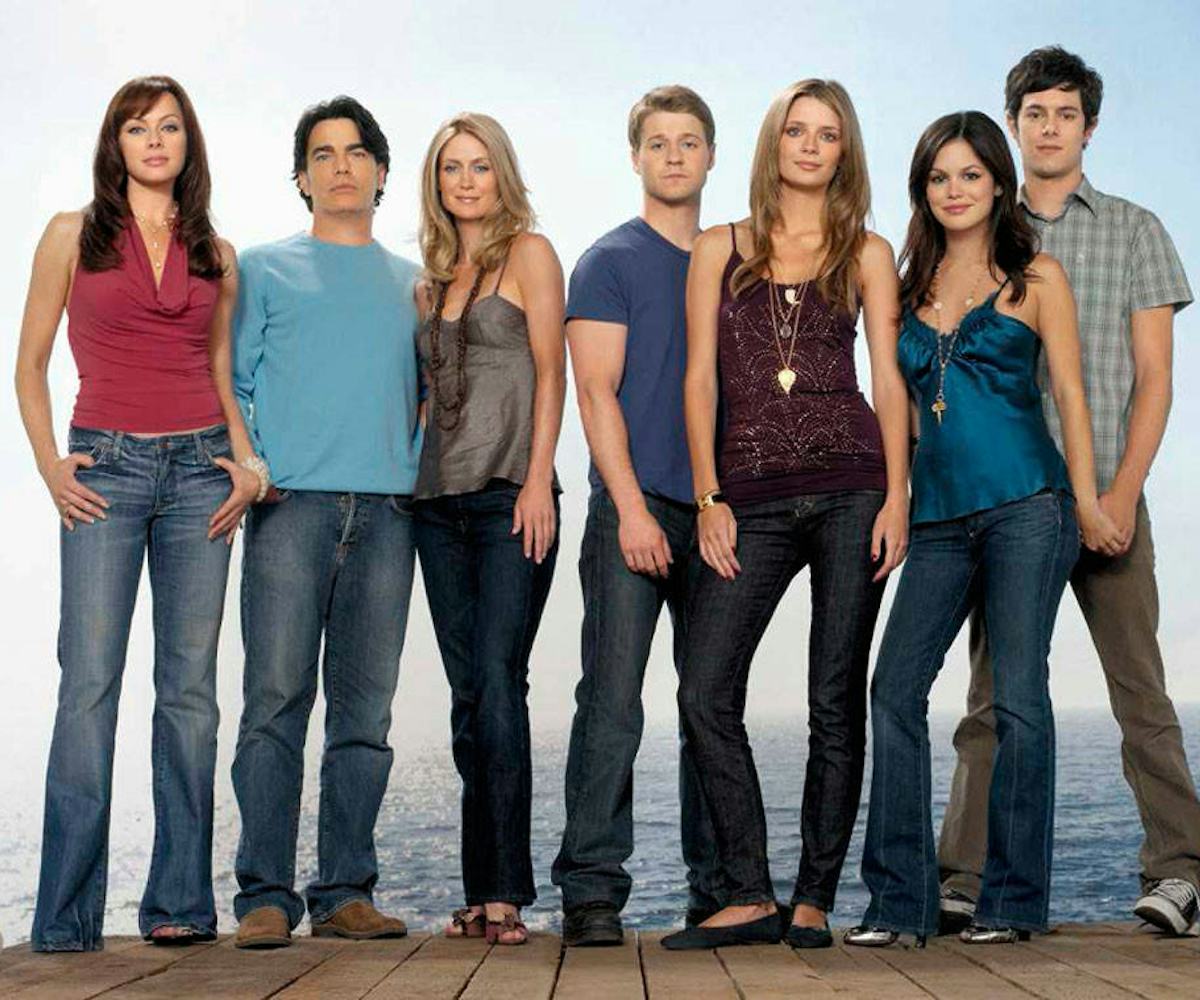 Photo via FOX
20 Most Memorable Music Moments On 'The O.C.'
In honor of the 10th anniversary
It's hard to believe it's been 10 years since we said goodbye to Ryan Atwood, Marissa Cooper, Seth Cohen, and Summer Roberts, but it's a fact. While teen soap The O.C. only lasted for four seasons, it became an iconic TV show of the early 00s. You wanted Kirsten and Sandy Cohen to adopt you, you had a crush on adorkable Seth or brooding Ryan, and you wanted to be as cool as the kids in Orange County.
While the plot of The O.C. was a big draw for viewers, the music that narrated key scenes fostered quite a following for the show. And that was on purpose, thanks to creator Josh Schwartz who wanted music to actually present itself as a character on the show. He enlisted the music supervisor of all music supervisors, Alexandra Patsavas (Grey's Anatomy, Supernatural, Gossip Girl), to showcase under the radar bands on his show.
Because music was such a big focus of The O.C., six soundtracks full of indie music were released during the show's four-season run. From Imogen Heap to The Killers, we went down indie-rock memory lane to find the most iconic musical scenes from the series. 
"California" – Phantom
Having a theme song to a cult teen soap is definitely one way to have your band get noticed; having Jason Schwartzman as a member is another. Phantom Planet's "California" began each episode of The O.C.'s four seasons making California seem like the coolest place on earth, but the song first appeared when Ryan first met his public defender (later surrogate father), Sandy. Even now, it's hard not to associate this song with The O.C. 
"Hide & Seek"- Imogen Heap
It's hard to forget one of the most defining songs of The O.C. In season two, Ryan's brother Trey Atwood tries to rape Marissa. While she hangs onto the secret for some time, she eventually tells Ryan. In the epic season finale, Marissa arrives at the scene to find Ryan strangling Trey after he finds out about what Trey did. To save Ryan, Marissa shoots Trey, and the unforgettable vignette of the shooting and aftermath is set to Imogen Heap's "Mmm Whatcha Say." For this moment, cry-worthy is an understatement. 
"A Lack of Color" – Death Cab For Cutie
Death Cab For Cutie had its shining moment thanks to The O.C. as Seth's favorite band. You probably noticed the poster hanging in his room. The song appears in a scene where Seth is talking to Anna Stern about her move back to the East Coast. During the second season, Death Cab would even end up playing at the Bait Shop (but Seth would sadly miss the show).
"Dice" – Finley Quaye with William Orbit
In an episode titled "The Countdown," Ryan rushes to meet Marissa at midnight on New Year's Eve after she confesses she loves him, but he responds with "thank you." They don't commit to spending New Year's Eve together, but Ryan plays the hero and the couple gets their midnight kiss. "Dice" is the song that plays, leading up to one of the most romantic gestures on the show.
"If You Leave" – Nada Surf
Originally performed by OMD, Nada Surf made an even more notable cover of "If You Leave" that was highly popularized thanks to the Orange County crew. In an "almost" romantic moment, Seth rushes to the airport to tell Anna not to leave because of him. It ends up being a sweet moment between the two who agree to be friends. She leaves him with the sage advice: "Confidence, Cohen."
"Smile Like You Mean It" – The Killers
The O.C. was known for breaking bands, and The Killers were one of them. At the fictional Bait Shop, Seth and Ryan are on the world's most awkward dates with Lindsay Gardner and Alex Kelly, while the band plays "Smile Like You Mean It." It's one of those moments where you can't help loving Ryan and Seth's bromance but can't stop cringing at the awkwardness of their dates. 
"Hallelujah" – Jeff Buckley
The end of season one is a case of déjà vu for Marissa and Ryan that takes them back to where they met on the side of the curb, but this time it's solemn. Ryan is on his way back to Chino with his pregnant childhood girlfriend Theresa, while Marissa is on her way to move in with Caleb and Julie Nichol (who just got married). Devastated by the loss of his friend, Seth goes on a sailing expedition alone. "Hallelujah" plays in the background to make the season finale extra somber. 
"Forever Young" – Youth Group
In season three, Ryan looks for an excuse to get out of town and goes on a road trip with a new lady in The O.C. named Sadie. In typical Ryan fashion, he gets into a fistfight and contemplates his relationship with Marissa. When he gets back to Newport, he calls Marissa while "Forever Young" is playing and the two decide that "they have nothing left to say" and end their relationship. Marissa cries at the lifeguard stand (totally not over the breakup), where Volchok appears, while Ryan seems to have moved onto Sadie.
"Paint The Silence" – South
During season three, we see Ryan and Marissa longing for each other but living in separate worlds. While standing in the same model home that she accidentally burned down in the first season with Volchok, Marissa recalls when she helped Ryan hide out in Newport. At the same time, Ryan is in another setting, listening to "the model home mix" that Marissa made him when he was staying there (featuring "Paint The Silence"). Then, because she hasn't eaten all day, Marissa collapses down the stairs. 
"Eve, the Apple of My Eye" – Bell X1
"Eve, the Apple of My Eye" plays as Valentine's Day comes to a close in The O.C. It's on this episode that Marissa and Alex share an infamous kiss on the beach on their first date, while Seth and Ryan reflect on their lack of romance. And maybe the worst part of this episode is how Sandy disappoints Kirsten. But the beautiful melancholy of Bell X1 makes you want to be a part of it all.
"Champagne Supernova" – Matt Pond PA
At the airport, Summer ends things with Zach Stevens, who tells her "you can't fight fate," when she realizes she's still in love with Seth. "Champagne Supernova" is the perfect climactic song that plays when Kirsten and Sandy reconcile, Marissa meets Ryan in the rain, and Seth and Summer share an epic Spiderman kiss after Seth falls off his roof. The music truly makes the ending of the episode unforgettable.
"Maybe I'm Amazed" – Jem
During Caleb and Julie's wedding, Jem performs "Maybe I'm Amazed" as The O.C.'s favorite couples get on the dancefloor. It's Ryan and Marissa who steal the show as they have a final dance before Ryan has to leave for Chino to take care of his baby. It's a tender moment as Marissa cries while telling Ryan she understands why he has to leave. While the song is melancholic, it does leave room for hope (and spoiler alert: Ryan does come back).
"I'm Shakin'" – Rooney
California band Rooney got their big break thanks to a little bit of help from The O.C. Because of their performance of "I'm Shakin'" at the Bait Shop, the band's fan base began to grow. During the scene that's narrated by the song, The O.C. crew is watching the performance. Ryan is in full brooding mode as he watches unstable Oliver try to snake his way into Marissa's life. In a dorky moment, it also turns out that Luke is Rooney's biggest fan.
"Not for All the Love in the World" – The Thrills
The Thrills made quite a few cameos on The O.C., but one of the most beautiful moments is when they play "Not for All the Love in the World" at the Bait Shop while Summer is contemplating if she wants to be in a relationship with Zach while hitting their six-month anniversary. During the same period of time, Seth and Alex call it quits, so the song hurts like a bee sting during this particular scene.
"The Way We Get By" – Spoon
Spoon narrated several scenes during The O.C.'s tenure, but one of the most memorable was "The Way We Get By," which played during the first season showing off the beachy scenery of Newport. Lyrics like "We get high in back seats of cars/we break into mobile homes" pretty much sum up the mischief that Ryan, Marissa, Seth, Summer, and every guest character get into on the show.
"Honey and the Moon" – Joseph Arthur
The first episode of the series ends with Ryan leaving the Cohen home and Marissa waiting by the curb for her then-boyfriend Luke while Sandy drives Ryan back to Chino. "Honey and the Moon" is the bittersweet ballad that plays in the background while Ryan departs Orange County. Once they get to Chino, Ryan finds his home deserted by his mother and her boyfriend, so Sandy takes him back to Newport.                                     
"Orange Sky" – Alexi Murdoch
"Orange Sky" plays in the background as Ryan takes Marissa on a trip to Chino to visit his brother Trey in jail. Trey says goodbye to Ryan and tells him to take his chance at a better life. However, it won't be the last time we see Trey. Murdoch's track is one that ushers in a new beginning for Ryan and Co. in Newport.
"Hallelujah" – Imogen Heap
The most painful moment of The O.C. is when Ryan tries to rescue Marissa from a car crash. She's barely holding on and ends up meeting her demise while in Ryan's arms. Paralleling the episode where Marissa shoots Trey and Imogen Heap plays in the background, Imogen Heap's "Hallelujah" plays as Ryan loses the love of his life.
"Fix You" – Coldplay
During season two, Summer wins prom queen alongside her ex, Zach, who wins as king but isn't there. Seth comes to rescue her onstage as Ryan saves Marissa (after saying he wasn't going to prom). Coldplay's "Fix You" epically plays in the background to color the scene, but it climaxes when Caleb has a heart attack and falls into the pool with Julie trying to save him. The O.C. sure did know how to make drama.
"Something Pretty" – Patrick Park
One of the most iconic TV relationships of our time started with one of the biggest romantic gestures. It's awkward, cute, and peak Seth Cohen, as he stands on the table where Summer is working the kissing booth and declares his feelings for her. In this scene, "the emo geek" and the "popular girl" share their first instance of PDA (and pretty much set the standard for romantic gestures) all set to the country-rock tune by Patrick Park.