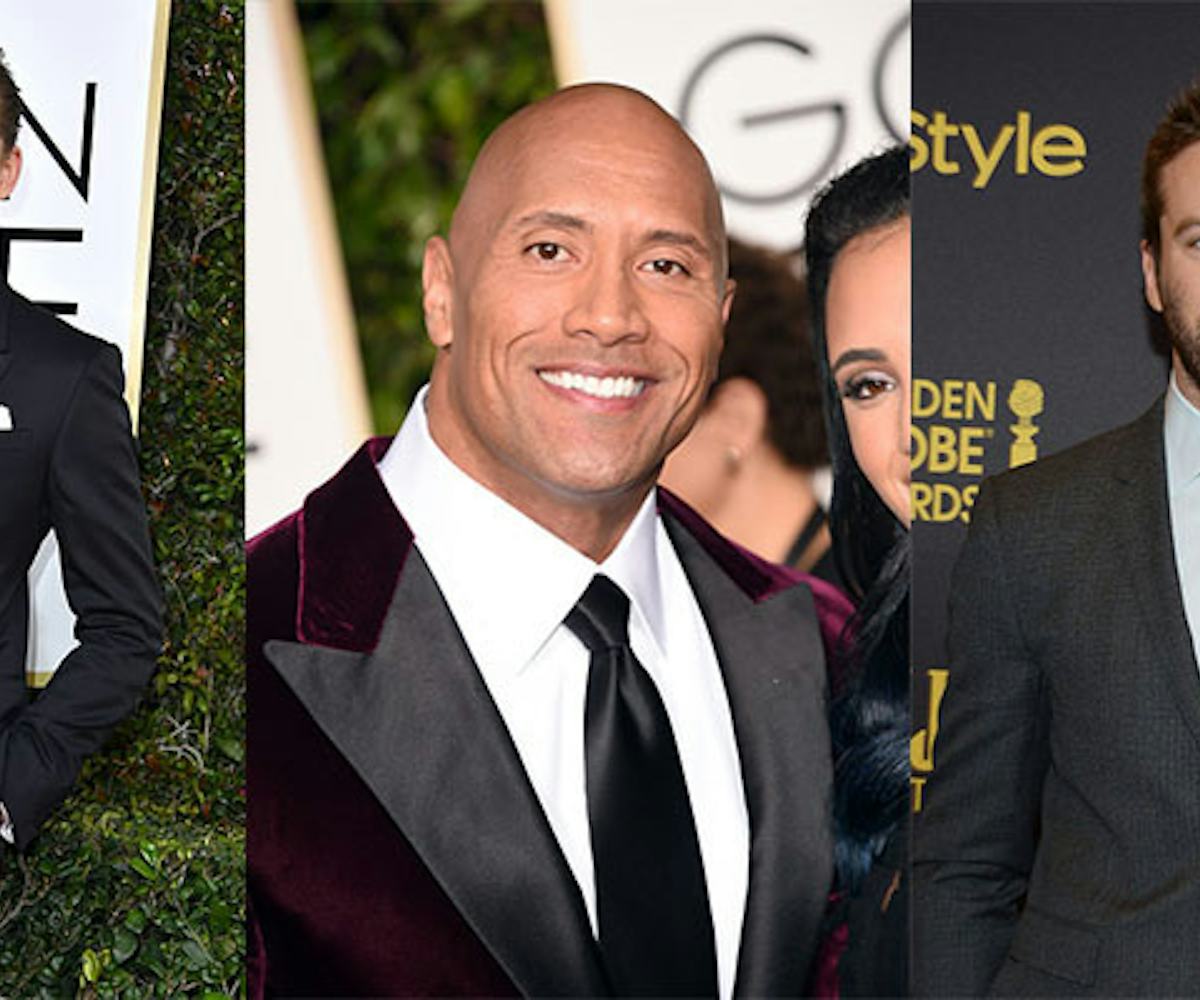 Photos by Matt Winkelmeyer/Getty Images, Steve Granitz/WireImage, Jason Merritt/Getty Images
Actors Plan Laziest Protest Of All Time For Golden Globes
They're wearing all black to a black-tie event
At least 30 actresses have vowed to wear black to the upcoming Golden Globes to protest rampant sexual assault and harassment in the entertainment industry. And now, some men are getting in on it, too. Only, a lot of people have pointed out that the Globes is a black-tie event that most men wear tuxedos to anyway, so they're literally doing the least they can do.
Celebrity stylist Ilaria Urbinati posted on Instagram that her clients, including Tom Hiddleston, Armie Hammer, Dwayne "The Rock" Johnson, and Garrett Hedlund, will wear black to the Globes in solidarity with their female colleagues, according to People. "Because everyone keeps asking me… YES, the men WILL be standing in solidarity with women on this wearing-all-black movement to protest against gender inequality at this year's Golden Globes," Urbinati wrote. "At least ALL MY GUYS will be. Safe to say this may not be the right time to choose to be the odd man out here… just sayin…"
The Rock confirmed he's wearing black to the awards ceremony on January 7, commenting, "Yes we will." While it's nice to hear that actors are supporting the cause, we're not about to give a standing ovation for men who are wearing what they would likely wear anyway. There are more productive things these guys could be doing. As Jezebel's Hazel Cills suggested, instead of tuxes they could wear jumpsuits with their salaries written on them. 
They could also wear sweaters that say "Why Is Casey Affleck Still Here?" or hats with "Fuck Woody Allen" on them, just to offer a few more outfit suggestions. Basically, we appreciate the solidarity, but men need to make sure they're doing a whole lot more in 2018 to actually eradicate gender inequality. For starters, they should be speaking up when it's difficult, not just when it's a good PR opportunity. 
It's definitely a good thing that people want to continue the conversation around sexual harassment, but everyone, especially men, needs to go beyond just color-coordinated protests. We can't let the wave of allegations this year become one big blur of hashtags. We have to do a lot more than dress up if we're actually trying to burn the patriarchy to the ground.
The other downside to the men-wear-all-black protest is we won't be able to distinguish the douchebags from the allies, because most men will be wearing black. The Matt Damons of the world will get credit for a protest they didn't even know they were participating in. Needless to say, this isn't the most daring form of protest.
Mic's Rachel Lubitz suggested men could make a bolder statement by wearing a ribbon for an organization that works against sexual harassment and assault, "then not only raise awareness of sexual harassment, but encourage people watching to contribute to that organization."
Really, anything more than this would be good. You can do it, guys! We believe in you! 
Here's to not praising men for doing the bare minimum in 2018.