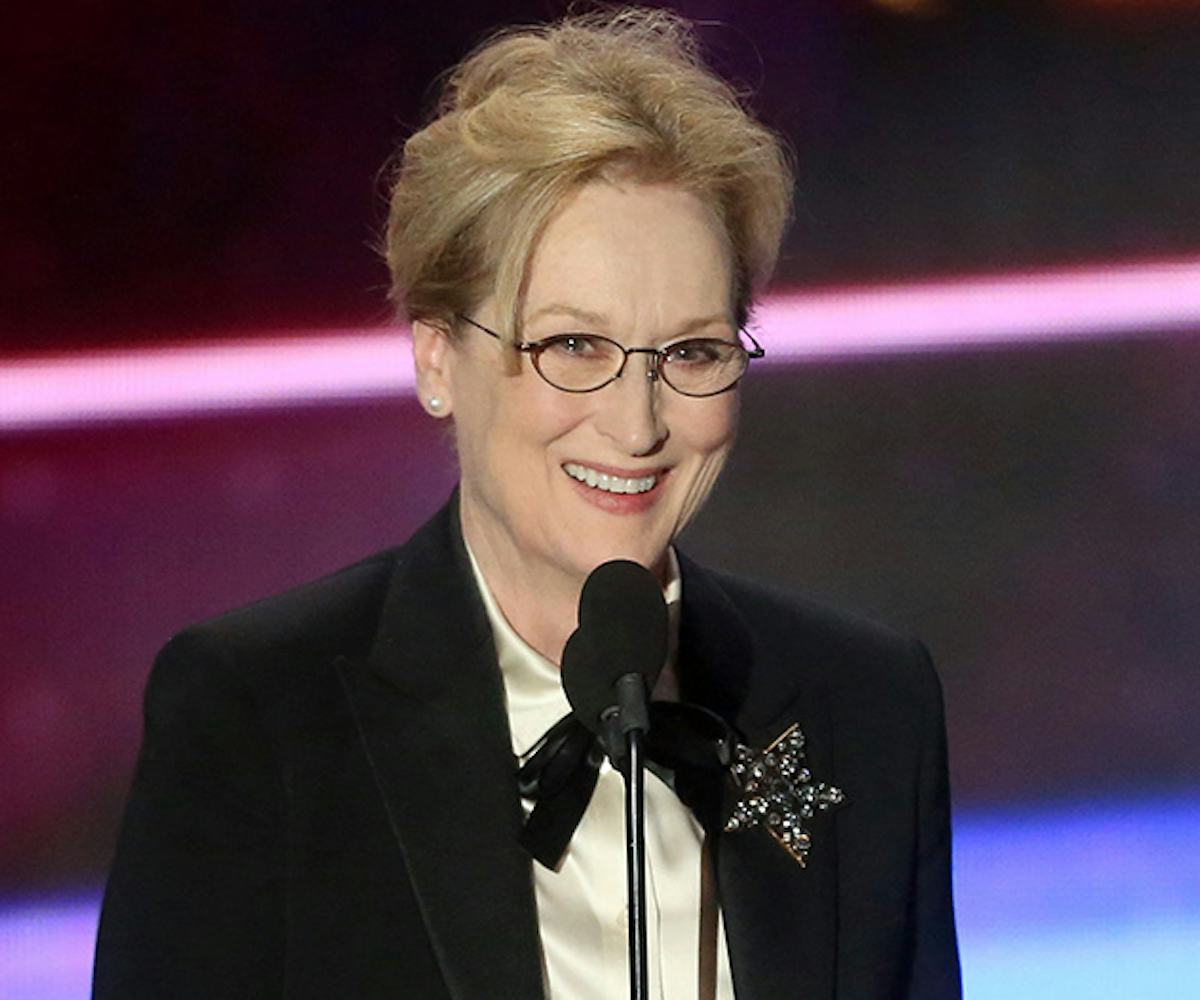 Photo: Frederick M. Brown/Getty Images for BAFTA LA.
This Meryl Streep Mic Drop Is Too Good To Be True
it's not not true, though…
UPDATE: The fan page and post have since been removed. You can view a copy of it here.
There's a photo of Meryl Streep riding the subway making its way around the Internet again. It's a nice photo of the actress, taken during what is probably the dog days of a New York City summer, and captures the former grittiness of the metropolis' mass-transit system. (R.I.P. graffiti.) Unlike the previous times the photo surfed the Net, this time it's being accompanied by a caption that claims to be from Streep herself.
The Facebook account Meryl L. Streep shared the photo and quote yesterday morning, November 10. So far, it's garnered almost 1 million likes and nearly 150,000 shares. The number is only going up. What many people are failing to realize, though, is that the photo and caption do not belong together. Sorry to be the bearer of bad news, but Meryl L. Streep is not Meryl Streep's Facebook page. It's a fan page and clearly states so in its About section. As much as we'd love to hear Streep humble brag about her "18 Academy Awards"—which, for the record, she only has ever won three and been nominated 19 times—this simply is not the truth.
What is true, though, is Streep was deemed too unattractive for the role, by the producer of King Kong, in 1976. While visiting The Graham Norton Show earlier this year, Streep recounted how Italian producer Dino De Laurentiis asked his son, who thought the then-unknown Streep would be perfect for the role, "Why do you bring me this ugly thing?" Streep, obviously, spoke Italian and responded, "I'm sorry I'm not beautiful enough to be in King Kong." (The role went to Jessica Lange.)
Oh, also, the subway photo wasn't even taken in 1976. It was taken in the 1980s by Ted Thai. So, there. Be careful of what you share. [Politely puts mic on the ground.]