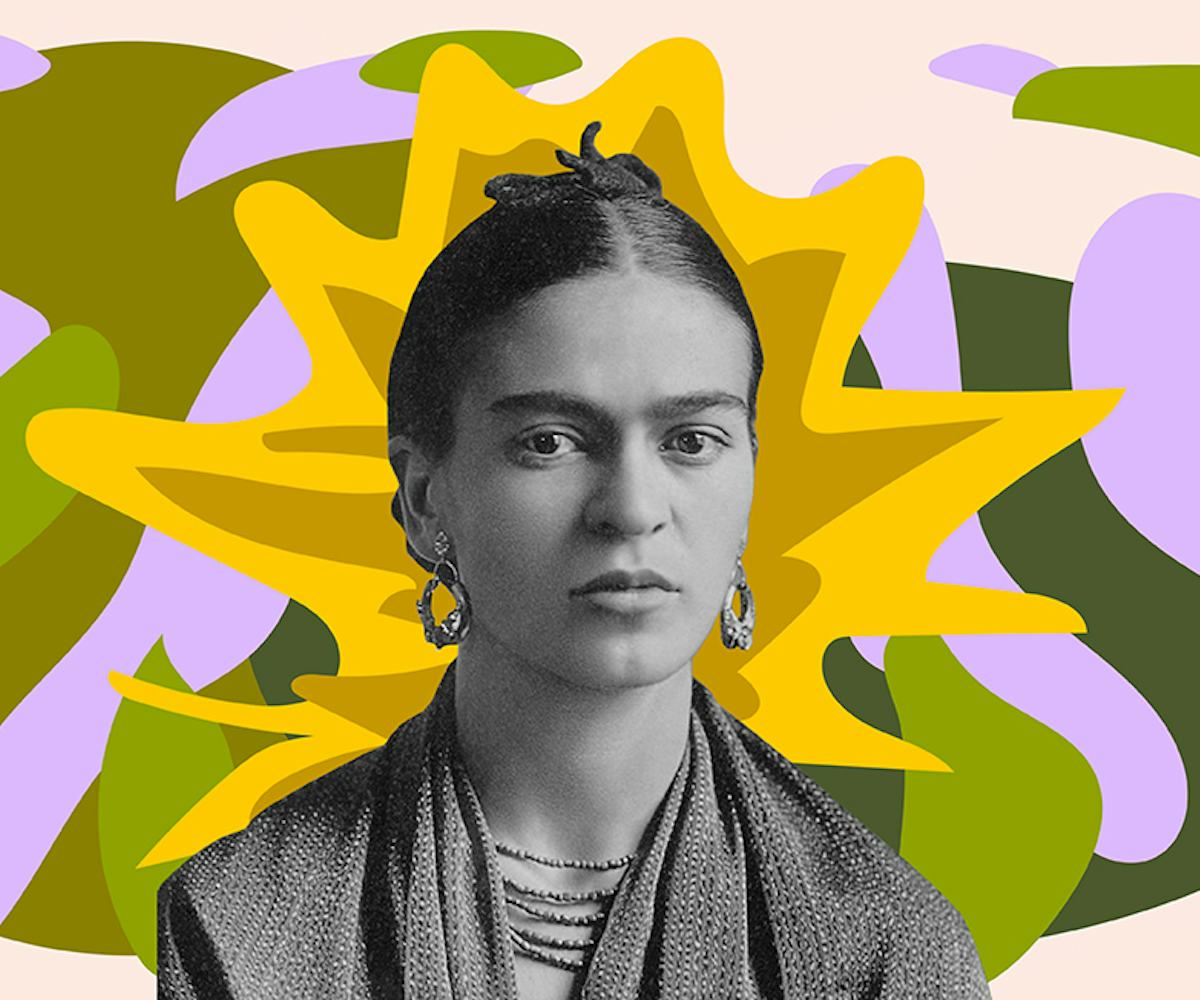 Photo Via Wikipedia Commons.
7 Mexican Artists On How Frida Kahlo Inspired Them
In honor of the painter's birthday
In the decades since her work first started getting international recognition, Mexican artist Frida Kahlo has become an icon to countless people around the world, both for her work and for the way in which she lived her life. And while she's an inspiration to all, her influence resonates perhaps most intensely with young female Mexican artists.
Of course, influence can be a tricky thing; whereas it is an undeniably powerful thing when individuals are inspired by Kahlo, there can be something disconcerting about some of the "Frida-mania" we are currently experiencing, particularly as it applies to branded products. Painter Yanin Ruibal told us there's a current fad in Mexico of commercial brands hiring women artists to create Kahlo-esque designs for products. They have good intentions, Ruibal thinks, but something gets lost in the execution. "They want to scream the message that women are great and strong, but visually the designs are stereotypically feminine: pink and flowery," she says. "And many have simply adopted Frida as their mascot." One example of this, recalls Ruibal, was a box of feminine hygiene products, stamped with Kahlo's face: "It made me mad, the commoditization of an already fetishized image, completely divorced from her art."
Illustrator Fher Val has a somewhat different take. "Maybe 80 percent of the people that [use Kahlo's iconography] don't know about her art or her life; maybe another 15 percent research her and discover my lovely country; and maybe the other 5 percent really want to know more and go to Mexico," she says. "I'm the kind of person that likes to see the glass half full, so, if Frida is a hook, even though it's mainstream, for me it doesn't matters. Let the people know Frida, let them know her art, and let them know the incredible country she was proud of."
No matter how exactly you feel about the branding of the late artist, Kahlo's ubiquity has inarguably had a huge impact on the generations of artists who followed her. And so, ahead, we chat with seven talented illustrators, painters, and sculptors about how Kahlo has affected their life and work. Read, in their own words, what the artist means to them.
Hilda Palafox, illustrator
"My high school was in the heart of Coyoacán in Mexico City, so I used to walk by La Casa Azul [Kahlo's home] almost every day. Later, when I started my own artistic path, I felt very inspired by her and her work, along with some other great Mexican artists such as Guadalupe Posadas or Nahui Olin.
"I think what inspired me the most is that she was a woman with a lot of character, who developed such a unique voice by not following or trying to fit in any art movement of her time. Also, the fact that, even after all her physical limitations, she kept a very strong soul and continued painting until her death. I think she was one of the first Latin-American woman artists to be recognized worldwide; the first woman to show femininity mixed with Mexican folk culture in such a personal and poetic way."
Arantxa Rodriguez, painter, performance artist, and sculptor
"I was born and raised in Mexico City, Mexico, so I have been familiar with Frida Kahlo since I was a little girl. Before coming to NYC I worked as a tour guide in the Museum of Modern Art in Mexico City; as part of their private collection, they have one of Frida's most important paintings "Las dos Fridas," so I got to see how many people were moved by her work. Many came to the museum only to see that one piece (even becoming angry and upset when it wasn't on display). I think what most moves people about her work is that her paintings are deeply personal and intimate self explorations, even though they appear very surreal.
"Frida is an inspiration because, as a woman and an artist, she broke a lot of barriers. People think she is only an icon because she defied society's beauty standards, but she was way more than that. She gave us a lesson in resilience when she did not stop after the terrible accident she had when she was 18. Instead of her trauma and pain being an obstacle, she used it to drive her self exploration and art. She was openly bisexual at a time where this was very controversial, and a member of the communist party. Despite all of these radical, controversial things about her, I think all Mexican women admire her strength and feel proud that a Mexican woman achieved international acclaim. In a recent survey of Mexican women, one of the questions was 'which woman you consider an inspiration' and 70 percent of the women wrote Frida.  
"Personally, I also think it's interesting that Frida had this complicated relationship with Diego [Rivera, her husband]. He was a much more accomplished artist when they met, and therefore, really opened the doors for her initially and made her first opportunities as an artist possible. And yet, she is much more popular and well known today than he is."  
Erika Harrsch, painter, photographer, and sculptor
"When I was starting my career as a young painter in Mexico, Frida was an unquestionable reference, sort of a Wonder Woman of the arts, she was a heroine for having expressed herself with such honesty and strength, among an implacably male-macho-oriented art time, surrounded by the masters-monsters-muralists. As a young female artist, what comes first is the self reference, the self-portrait; and Frida's own depictions and self-portraiture realm were fascinating and liberating for a young painting student, like I was when I discovered Frida. Her symbolism, her unrestrained figurative representations, the visual honesty in her paintings to express the most intimate aspects of a person's pain, love, life, and death. I did many self-portraits at the beginning of my career, filled with symbolisms and biographical representations. She represents the invincible female persona that was only going to be defeated by illness and death and, even so, she transcended her painful life experiences and turned it into art." 
Yanin Ruibal, painter
"I have a complicated relationship with Frida. I used to be such a hater and didn't like Frida at all; I thought she was overrated and was only famous because of her husband. But then, a couple years ago, I got diagnosed with Lyme disease and it got increasingly difficult for me to paint. I'm fatigued all the time and have joint pain everywhere. So, I got a bit depressed for a while, but I decided to adapt and started to illustrate and draw more and more with my iPad Pro from my bed. Having Lyme changed me in many ways, and I grew as a person and as an artist, and I started to feel a wave of affection towards Frida, and admiration because she painted from her bed and nothing could stop her. I started to read more about her, went to her house (now a museum), read her letters, and now I have no doubt she deserves her place in history." 
"When I started drawing from my bed, I thought of Frida. And while being paralyzed and being chronically ill are different, she motivated me to keep going and use the experiences to hone my craft. At that time, I also remembered her famous quote: 'I paint myself because I am so often alone and because I am the subject I know best.' That's when I started to make self portraits. Initially, it felt strange. I felt very vulnerable and exposed, but that's a good thing I guess." 
Indi Maverick, iIlustrator
"Frida's art inspired me to do a tribute to all of her fans using my unique style. All of the Mexican women are proud of what she did for our culture. I fight like she did to be recognized and have my own place like other Mexican artists and illustrators. 
"It's important to note that Frida Kahlo isn't the only one. It would be nice to make more Mexican contemporary artists popular, have more discussion of what we are doing, and make Mexican art great again."
Fher Val, illustrator
"When I was eight years old, my aunt took me to the Modern Museum of Art in Mexico City, and showed me for the first time "The Two Fridas" painting. I was shocked. First of all, she was a woman, a Mexican woman and an artist. Since then, I fell in love with Frida's work and history. She is one of my three muses: Frida Khalo, Remedios Varo, and Leonora Carrington. 
"When I grew up and started falling in love and having my heart broken, I started feeling like I was hooked with Frida's life and love story. She wasn't afraid to show herself as broken, she was resilient, independent, a dreamer, proudly Mexican, a little bit crazy (in a good way), and madly in love with her art. I admire some paintings for their technique and others for the way she caught aspects of her life.
"For me, she was the inspiration that I needed when I was young, when the internet hadn't come into my life, and the role models were a little more difficult to find. She made me believe that there was a space for women in the arts."