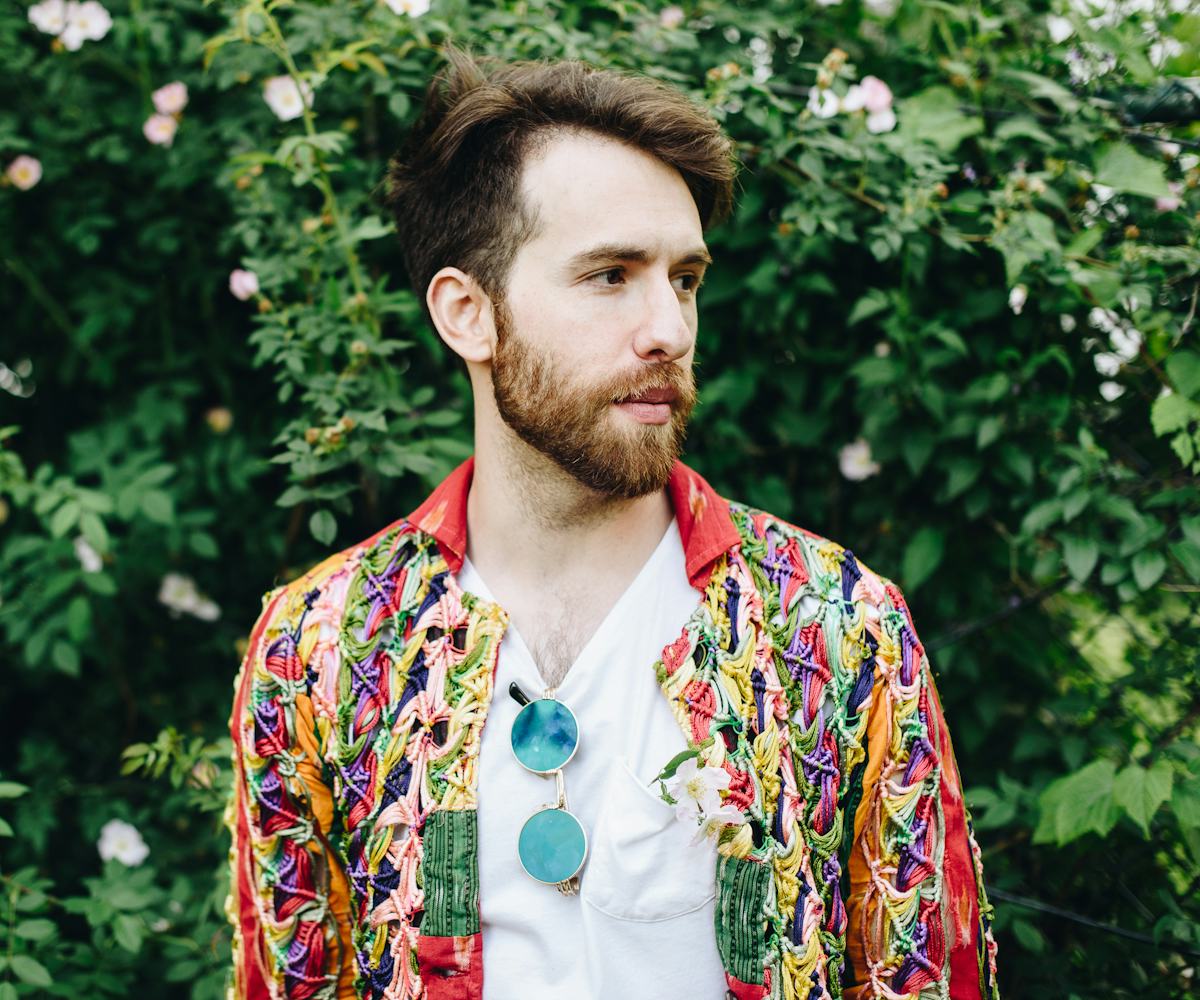 Photographed By Nina Westervelt.
How Michael Blume Went From Class President To Breakout Star
We catch up with the artist at Governors Ball
It's trippy seeing people you grew up with outside of your hometown. It's even more of a trip seeing them perform on stage in front of hundreds of people. Michael Blume is known as a singer, rapper, songwriter, and activist now, but he was very distinctly known as the president of my high school class almost 10 years ago. If he didn't win Most Likely to Succeed in the yearbook, he was definitely nominated. I'm pretty sure he delivered the valedictorian speech at our graduation. He went to Yale. He was the poster child for what a successful suburban upbringing looks like. All of this to say, the career he's chosen to pursue isn't exactly one a lot of people saw coming. But seeing him perform at Governors Ball this weekend, this journey is clearly one the boy with a penchant for riffing was meant to have.
Blume credits a couple of things for his shift away from academia. Toward the end of his time at Yale, a really good friend of his died in a car accident and he joined an a cappella singing group called the Whiffenpoofs, where he had the opportunity to perform in 35 different countries. Those two events, "along with some hallucinogenic experiences," he says, opened him up to the idea of pursuing music. Blume came out as gay his freshman year but likes to say that he had a second coming out as an artist. "I realized that what I'm supposed to do is not be the smart person or the politician, but it's actually to be the person that uplifts and facilitates community; facilitates conversation," he says. 
He moved to New York and made ends meet by tutoring for the SATs and taking on personal assistant jobs. Eventually, he started doing wedding gigs, which is where he connected with other musicians. Fast-forward to today where he's selling out shows at the Bowery Ballroom and performing in front of huge crowds at festivals. It's been a trippy journey for all involved.
"[In high school], I was overachieving, not truly confident, and overcompensating for my gayness, largely, I think. And the journey to this stage has been a spiritual redemptive personal moment of growth and expansion," he says, reflecting on his Governors Ball performance. "Just to be in a position where I'm curating this thing that somehow, in the last couple of months, has become bigger than me… that, to me, is crazy. I'm overwhelmed but in an emotional way. And it's just the beginning."
Indeed. He has Firefly and Lollapalooza next up on his docket, where he'll be performing his largely R&B and neo soul-inspired songs. He also has some singles coming out this summer and, depending on how people respond, an album or EP will follow. More than simply churning out songs with infectious beats, though, Blume says that he wants to make provocative, difficult music—music with a message. He does this through songs like "Fundamentalism," which explores racial injustices in the U.S., and making it a point to talk about his experiences as a gay man in the music industry. They're not light-hearted topics, but that's the point. "I want to make a career out of this, and the way I intend on doing that is by being honest about myself and about the world," he says. "And if I'm honest about myself and about the world, it's not all pretty. It's not all easy."
There's a Nina Simone quote he likes to drop in interviews, which is: "An artist's duty, as far as I'm concerned, is to reflect the times." That's the type of musician, he says, that he pushes to be. "Yes, I'm here to have a good time and have fun. But also let's be real. We have a lot to talk about," he says. "We have a lot of work to do as a community, as revolutionaries, as artists, as allies, as everything that we are." But, he also understands that a lot of people lean on music to escape the heaviness going on around them. They don't necessarily want to encounter that on their playlists. "My challenge is covering the medicine and sugar—getting people to be like, 'Oh yeah, this is fun, I love this song.' But then be like, 'Oh wait, he's actually saying something.' Let me stop and think about that for a minute." 
Blume is busy, and he plans on staying busy. His five-year plan looks a little like this: "Making work that I'm proud of, making a decent living, supporting myself fully on music, touring with my band, getting placements in movies," he outlines. "I want to be respected as a public intellectual and artist and musician." He mentions Frank Ocean and Chance the Rapper as artists who have managed to do just that; they're both independent artists, they more or less operate on their own timeline, and they've still managed to amass a huge following. "To me, that's when you know you're a dope artist. People fuck with you—not that song, not that hit—they fuck with you and your ideas and what you have to say and your perspective." 
He's very much in the early stages of his career, but, as far as I can tell, he's doing a damn good job of living up to that Most Likely to Succeed superlative.