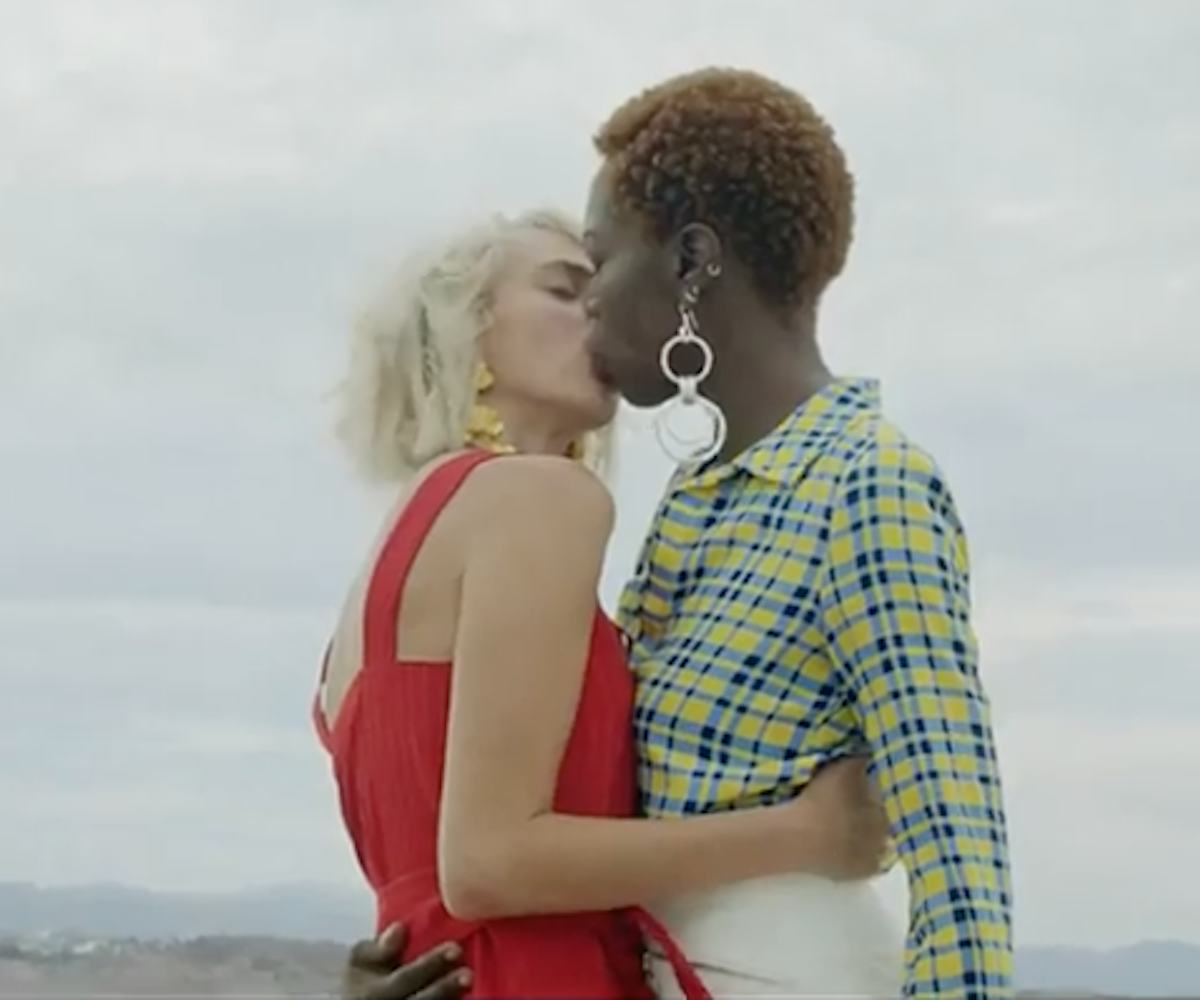 Photo By Olivier And Michel Gondry For Park MGM.
'Las Vegas Love Stories' Will Make You Fall In Love In Eight Seconds
From the director of 'Eternal Sunshine of the Spotless Mind'
According to scientists, 8.2 seconds is how long a man will look at someone with whom he's fallen in love at first sight. And while eight seconds may not seem like a lot of time for a meaningful interaction, for Academy Award-winning director Michel Gondry and his brother, Olivier, it's more than enough.
The result is Las Vegas Love Stories, an experimental whirlwind of a project that dares you to fall in love at a breakneck speed. Each of the shorts clocks in at eight seconds and aims to capture the essence of falling in love at first sight. And while definitely helped along with ample visual effects and dreamy shots of Las Vegas' Park MGM Hotel, above all, it's a series whose main aim is to defy the mores of conventional filmmaking and attempt to recreate a sensation, rather than a narrative.  
Honestly though, what else would you expect from one of the people who brought you Eternal Sunshine of the Spotless Mind? For now, all we have is a tiny trailer for the series, but you can watch it all via YouTube next Tuesday, September 25. But, in the meantime, read our Q&A with the Gondry brothers, below. 
Tell me a little bit about how these films came to life. What sparked the idea for them?
Olivier Gondry: The spark was from [a creative agency called] Virtue. Their desire [was] to create very short love movies, and they gave us [freedom] in writing them.
Michel Gondry: We liked the idea of casting people really in love and showing this on screen.
Did the Park MGM come to you specifically asking you to work on this together? If so, why do you think that was the case?
OG: I'm not sure. People are curious to see the chemistry between us. We have been making films together since we were kids.
MG: I think that Olivier and I have differences that serve the films. He works with an absolute honesty, and I am more twisted.
Most people would say trying to fit an entire narrative into eight seconds is ambitious—can you walk me through the process of storyboarding each of these vignettes?
OG: Writing them together, back-and-forth, made it simpler and more complicated at the same time. More complicated because it escalated a bit, simpler because [it's filtered through] both of us. But the films were always about one emotion—complicated yet simple.
MG: We had created an arc. Meeting, falling in love, kissing, ending up in a bed, then we mixed things up a bit.
A few of the people were real-life couples—what compelled you to cast "real" people for this project?
OG: Eight seconds is not long. Real love was helpful in telling their story.
MG: Real people, for instance, when they have to kiss in front of the camera, they show a slight shyness. Professional actors don't, they just kiss. That's one example of why we chose real people: for their chemistry and honesty. 
There are two camps of thought when it comes to people's views on the ways technology has affected real-life relationships—one thinks that technology has ruined meaningful interaction, while another appreciates its ability to facilitate it in the first place. What camp do you identify more with?
OG: Both. I wish we had social media and phones when I was 16. But today, I wish we didn't have cell phones. It's too much because you're always connected. Never on your own. I preferred the time we all had answering machines, and you could call to get your messages. [But] before, you would stay home waiting for a phone call. Nightmare.
MG: People said this same thing when the telephone appeared in houses in the '60s. It's pointless to think too hard of the changes technology brings, since it's there anyway. But emails, for instance, allow us to find old friends, write complex letters... That's positive.
What vignette would you say was the most personal or emotionally resonant for you?
OG: I lived what they live in the elevator in "Room 802." I felt like my body was sliding toward another body.
MG: For me, it's "It Is Decidedly So," the moment on the escalators. You see a girl that you'll never meet.
See the posters for each vignette, below.