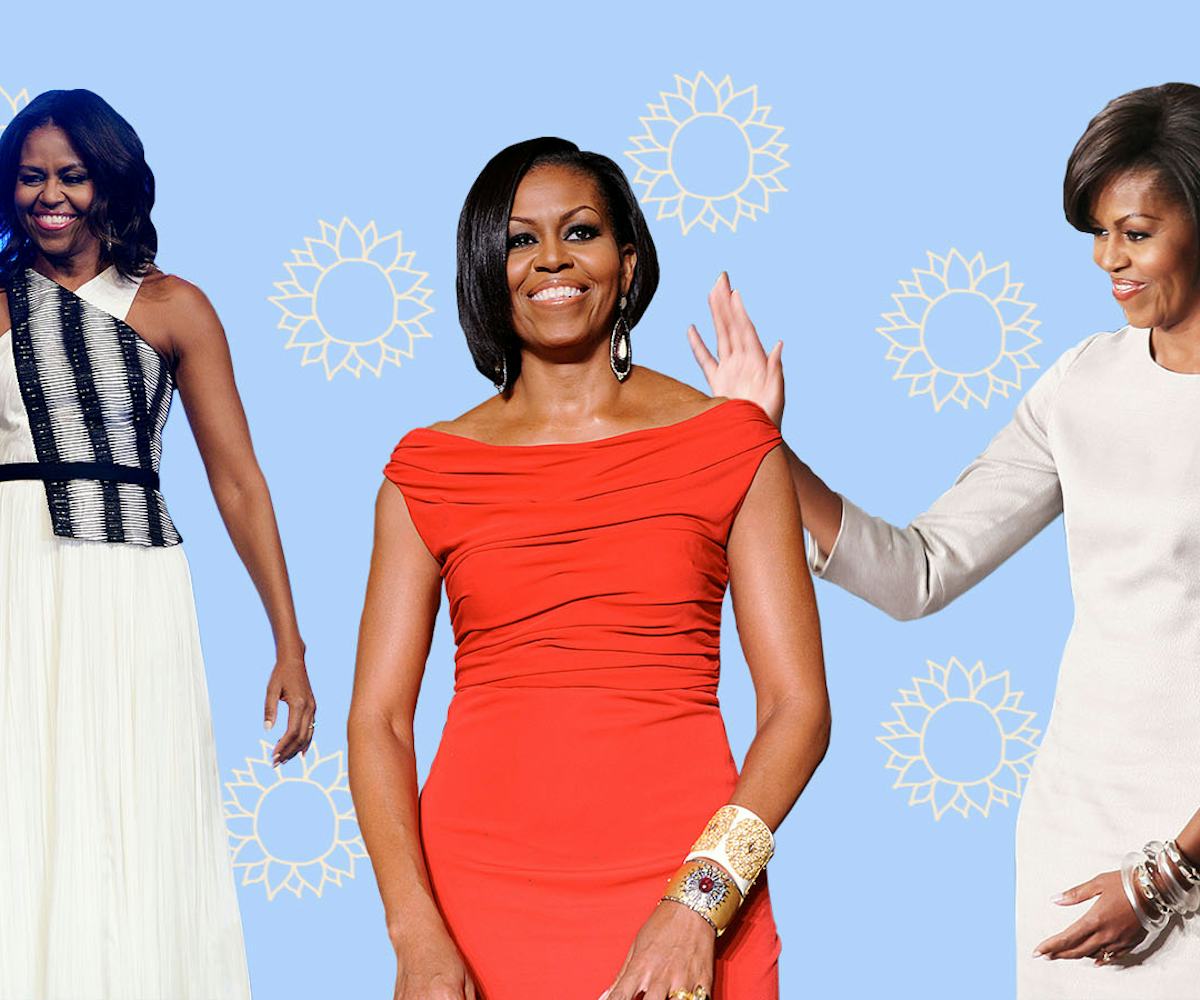 Photos via Getty Images
Seven Designers Reveal What It Has Meant To Dress Michelle Obama
FLOTUS' greatest fashion hits
Today marks the last day for the Obama presidency, an end to eight years that will be missed by many Americans. While it's for her many contributions to society for which First Lady Michelle Obama will go down in history and be praised, her fashion choices too deserve recognition, not least because they represented an entirely different direction than any FLOTUS has taken in the past.
Unlike the first ladies that came before her, who had their go-to designers (Oleg Cassini for Jacqueline Kennedy, Adolfo and James Galanos for Nancy Reagan, and Oscar de la Renta for Laura Bush), Obama sported looks by a wide-ranging roster of designers from various backgrounds and price points, a fashion melting point representative of the country her husband was leading. "It was exciting to follow a First Lady that did not pledge loyalty to just one designer. Instead, Obama embraced the diverse talents of many designers, cementing her role as a fashion icon," says Tadashi Shoji, who dressed her for both formal events as well more casual television appearances. 
And it wasn't just the variety of designers that set her apart from her predecessors. Obama's onstage and in-person relatability seamlessly translated into her fashion choices as well. Often mixing J.Crew, Ann Taylor, and Talbots with the likes of Reed Krakoff, Michael Kors, and Sonia Rykiel, she displayed a versatility and penchant for high-low mixing impressive not just for a first lady but anyone.
What's more, FLOTUS was never afraid to recycle a look, making her sartorially relatable to many. On numerous occasions, even those as prominent as her husband's 2012 reelection night, she proudly rocked dresses previously captured on camera. "As a brand, we value sustainability and design clothes that have a long lifespan, so to see the First Lady uphold this value is really incredible," says Prabal Gurung, whose Spring 2010 dress Obama wore three times over the span of three years. Entering the presidency at a time when the economy was fragile, wearing low-priced pieces and repeating outfits was a statement with a great deal of significance, one that surely wasn't coincidental on her part.
To honor the First Lady of Fashion, we spoke to seven fashion designers who dressed Obama in some of her greatest hits over the two terms. Ahead, what it has meant to them and the fashion legacy she's leaving behind.
I do love all of the looks the First Lady Michelle Obama has worn from us—they are all so close to my heart. She wore a white-and-gray floral dress from our Spring 2010 collection in May in 2010. It was the first time she wore our design, and it truly changed the path of my career, so that is, of course, a very special moment. I felt so truly honored. Since launching our business in February 2009, I was fortunate enough to have some stellar red carpet moments with beautiful women such as Zoe Saldana, Rachel Weisz, and Demi Moore. I'd call my mother excitedly every time we dressed another celebrity, and she'd always respond that I should call her back when I dressed the First Lady. To have my mother on the other line and be able to say, "I am dressing The First Lady Michelle Obama," now that is a moment of pride and humility. 
It means everything to dress her, to share in her history and our country's history. As a brand and a designer, her support has given us a credible voice and platform to advocate about issues we are passionate about, such as education and equal opportunity/women's rights. She was at the forefront of a glorious and impactful eight years, and I know that she will only continue to bring our country grace and honor. I'm ready for Michelle Obama 2021. 
My favorite look is the most recent one that she wore to the 2016 holiday party at the White House. It is a bit of a departure from the other designs she has worn—it is more structured and sleek—and I love how she fully embraced it with a new haircut. It felt very fresh. Seeing her in it filled me immense, immense joy and pride. Every time is like the first time, but this was especially exciting because it was my birthday. Working with Michelle Obama has been an absolute dream and the greatest honor of my career to date. 
My fav look of all the pieces FLOTUS wore is the Spring 2016 blue poppy print dress and coat ensemble that she showed as she emerged from the Air Force One in Delhi during the second state visit to India. It was the biggest dream coming true. I kept pinching myself. The media went crazy over that gesture, and seeing her in my design in my birth country was definitely one of highest points in my career. It is ultimate honor to collaborate with someone who inspires you. In the First Lady's case, she is a role model for me, and to have her support and endorsement meant a lot. My immigrant American dream came true.
We have created several beautiful pieces for the First Lady, from the purple feather motif embroidered tulle gown [pictured above] she wore to the state dinner in 2015 with the Prime Minister of Japan, Shinzō Abe, to the classic black-and-white collared dress she wore for an appearance on The Tonight Show. Our pieces from the core collection convey modern femininity and are really tailor-made to her style. As Jacqueline Kennedy before her, Michelle Obama's fashion legacy will forever be marked down in history. It has truly been an honor, and I am humbled to have played a small part in this historical moment. First Lady Michelle Obama truly encapsulates the strength and elegance of our stylish customers.
It was an honor to dress Mrs. Obama. She wore our designs many times, for momentous occasions like her first official portrait and for her daily life. As a designer, to have someone who is in the spotlight all the time trust me to help her look and feel her best, it means that I'm doing my job right.
I am honored to be a small part of the incredible legacy that Mrs. Obama created during her time in the White House. Her dedication to creating an environment of positivity, inclusion, and focusing on the well-being of children is inspirational.
We have done several pieces for the First Lady and she always looks elegant. One of my favorite dresses that we did for her was a Spring 2015 white bonded crepe off-the-shoulder dress. She wore it to BET's "Black Girls Rock" and looked absolutely stunning. Another standout moment was when she wore a beautiful suit of ours to the official ceremony for the British Prime Minister. The fit and tailoring was perfection. It was very exciting, happy moment for me and my team [when she wears one of Zac Posen pieces]! She wears clothes beautifully and has wonderful poise and posture. It has been an honor and pleasure to work with The First Lady, and I look forward continuing to dress Michelle Obama.