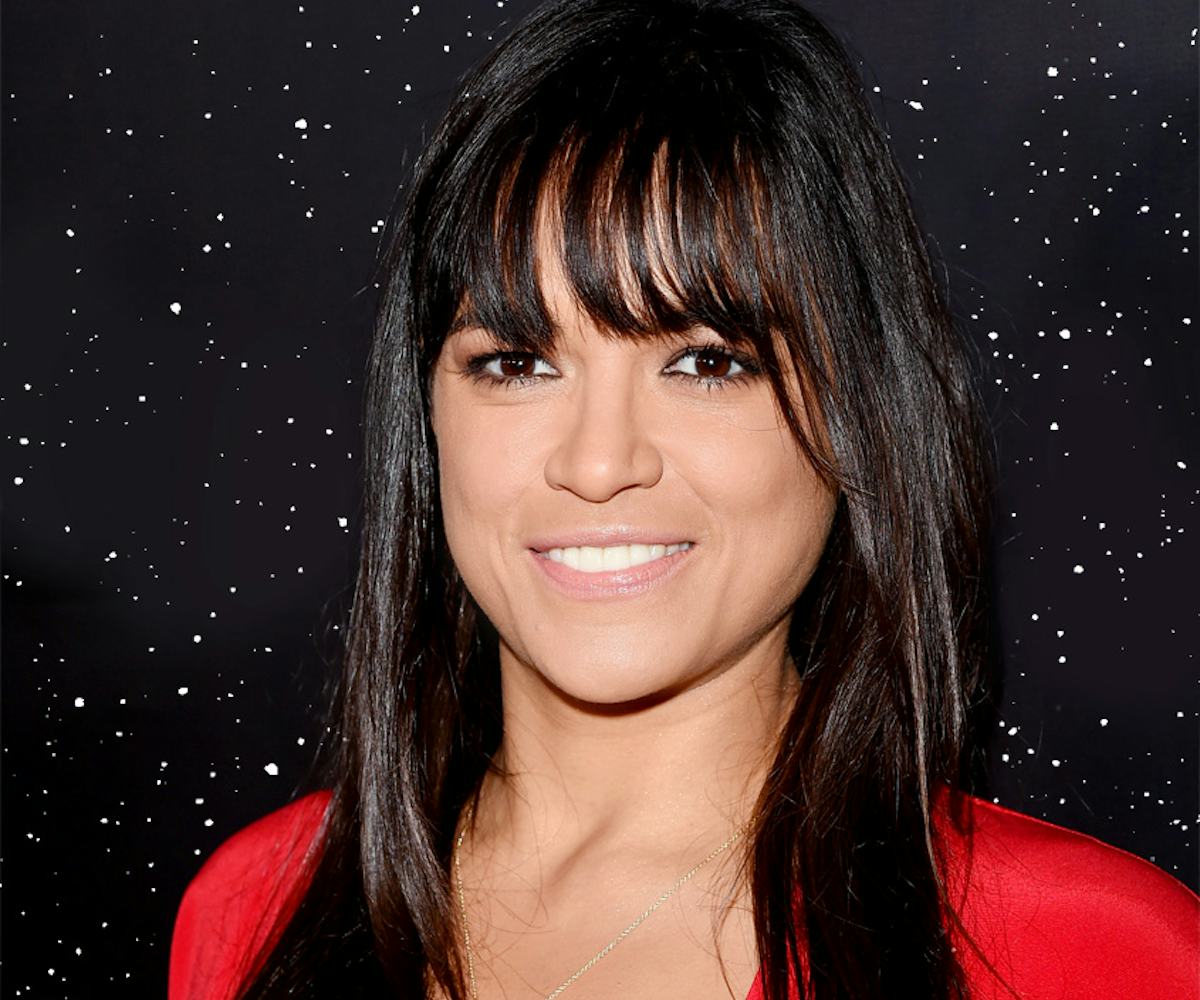 photo via getty images
michelle rodriguez is the ultimate badass
milla jovovich brings out the best in her.
In a new installment of Interview's celebrities-asking-each-other-questions schtick, Resident Evil badass Milla Jovovich is talking to Fast and Furious badass Michelle Rodriguez, and it's only fitting their conversation began by storyboarding their mutual trips to Mongolia and ended with Rodriguez's plans to direct a children's film that's "Jurassic Park-ish meets Jumanji." All pretty casual.
For even more examples of why Michelle Rodriguez is still our favorite female action star (tied with Milla, obv), let us denote some of the major takeaways from the sit-down below:
She drank "nasty-ass camel milk" in the desert:
"Oh, man, I was hanging out in gers [yurts] with these Kazakh sort of Bedouins. Drank nasty-ass camel milk. The drive [from the Southern Gobi to Ulan Bator] is insane. It's like 
The Road
."
She was raised Jehovah's Witness making her a bit of an existentialist (or just incredibly self-aware):
"Dude, for me to see this little 13-year-old girl from a Kazakh eagle-hunting family win the festival—she beat out all these 40- and 50-year-old men—it was priceless. All the young boys are heading over to the city to go make money, chasing the big capitalist dream. So for a guy who's Muslim to be open-minded enough to teach his beautiful little girl the ways of the eagle, I was just blown away. At least twice a year you should go in search of that feeling."
She can make you think about your daily vegetable intake and life lessons in the same sentence:
"I'm like a fucking onion, man; I'm always peeling. I never got attached to anything I was. I never fall in love with things that I believe in. I always leave room for it to evolve into something else."
She was almost one of us:
"Short stories. Some of them were erotic stories. [laughs] That was my hobby. I just loved storytelling. That's what I thought I would end up doing. I thought I would probably go to school and end up writing for a magazine or something."
She calls the shots:
"So when I looked at Letty, I told them, 'Either you don't make her [Letty] a slut—not make her a character that gets with both [Vin Diesel's character and Paul Walker's] and you respect her, or you're going to lose me. And you can sue me and do whatever because I'm from Jersey City, what the fuck do I give a fuck?'"
She doesn't have an agent:
"The only work I get is through friendships that I've already built."
She's her own worst enemy:
"I'm a picky little bitch. I hate everything. I say no to everything. That's my problem."
She's got something to say about women in film:
"I'd love to see four girls who actually get along in a movie that's not about chasing some guy or marrying somebody. [laughs] Like, where the fuck is our 
Pulp Fiction
? Where is our 
Reservoir Dogs
? Where's that cool shit with the chicks kicking ass, having some fun?"
She's still on the fence about mommyhood:
"One day I'm going to have to sacrifice that to bring life into the world. But the more I can hold off on that, the happier I'll be. It's scary for me. I'm a lone wolf. I run by myself on most things. I've got lots of really great friends, but the thought of being in a long-lasting relationship? Psh, I couldn't last more than six months with somebody, let alone have a father figure around for a kid."
She's in touch with her badassery:
"I'm hardheaded. I don't do what I don't want to do."
Cheers to you, Michelle, for inspiring women all around the world to continue being their unapologetic selves. Read the rest of the feature over at
.