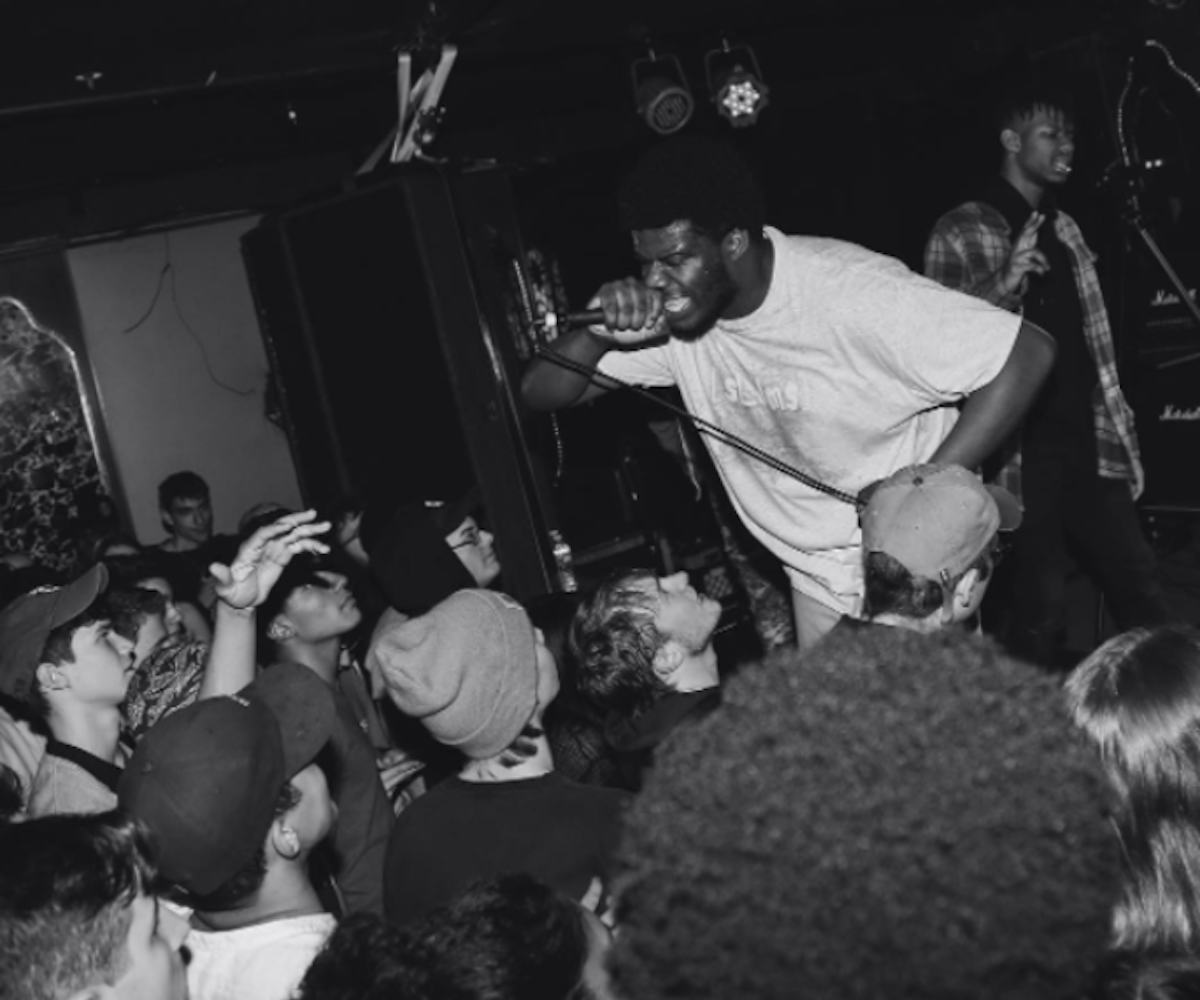 Photo via @mikelikesrap Instagram
Meet MIKE, The 18-Year-Old Rapper Who Isn't Afraid To Be Vulnerable
He's "off the wall like a wet sticker"
Eighteen-year-old New York rapper MIKE has a gravely baritone voice, an ear for otherworldly, pitch-shifted samples, and a penchant for inventive similes ("I'm off the wall like a wet sticker" is one such gem). He's the kind of savvy MC who is poised to get the triumvirate of music critics, young fans, and New York's old-school gatekeepers all behind him, bursting onto the scene not unlike how Joey Bada$$ and A$AP Rocky have done before him.
MIKE's looming vault into stardom makes it even more noteworthy that he's already using his music to broach topics that are still largely untouched in hip-hop. On his excellent mixtape, May God Bless Your Hustle, released in June, he gives listeners the kind of granular, unfiltered, slice-of-life bars that mark truly important rap. This authenticity means not only talking about hanging out in New York with his friends (the L train gets its share of shout-outs) but also about much grimmer topics, like the time he and his father got evicted from their home, as well as his own emotional and personal battles. MIKE says that he feels that level of honesty is essential for building the kind of relationship that he hopes to have with his fans.
"It creates respect between the people who listen to your music and you because if you're able to be vulnerable with something like that, I think your fans will begin to pick up on that and replicate that," he says.
On "GREEDY" he raps, "Lookin' in the mirror be the worst thing/ Bulky black body where the shirt hang," while on "PIGEONFEET," he says succinctly, "Depression isn't just a phase." This level of candor has grown more common as rappers have gotten better and more comfortable about speaking on mental health issues and anxiety, but it's still uncommon for a young MC to be so frank. 
MIKE began releasing projects on his current Bandcamp page in January 2015, and, shuffling through his records, you can hear how he's grown more skilled and confident as a writer and a lyricist. His flow has slowed down, and he's developed an unhurried mastery of his brassy voice that recalls two of his favorite artists and major influences: MF Doom and King Krule.
"The actual first rap song I ever recorded, I recorded it over the 'All Caps' beat by MF Doom [and Madlib]. Back then, I wasn't really listening to MF Doom; I'd just heard the beat. As I grew up, the people I was hanging around with fucked with Doom a lot," he says. "I always hung out with people who were older than me, and I guess that's what everybody was into, and I slowly got deeper and deeper into that shit."
MIKE, who also spent some of his early years living in England, says the visceral emotions of King Krule (specifically his Archy Marshall project) really struck a chord as he reflected on his own personal issues.
"During that time, I was dealing with depression, and hearing how King Krule would talk about it, inspired me a lot," MIKE explains. "Whenever I think about that time in my life, I can picture it vividly."
A major figure in MIKE's life is Earl Sweatshirt, and the similarities between the two artists, in terms of their heady, honest lyricism and understated delivery, are evident. The two became close after Sweatshirt bought one of MIKE's mixtapes through Bandcamp, which prompted the young rapper to shoot Sweatshirt, one of his favorite MCs, a thank-you email. They've since grown quite close, with Sweatshirt offering MIKE valuable advice as he enters this new stage of his career.
"Thebe's [Earl's real name] taught me a lot about knowing your worth and playing your own game," MIKE explains. "The same position I'm in right now was the same position he was in at one point, so he's been able to give me advice and direct me. And his music inspired me a lot, I feel like that connection and appreciation of who he was, was already there. I feel like he's playing the role of a big brother to me."
While MIKE's music deals with a lot of intimate issues, he's also focused on building a community wherever possible. He's part of a crew, [sLUms] NYC that includes fellow New Yorkers King Carter, Sixpress, and Jazz Jodi, among others. He credits Sixpress with teaching him how to make beats; he had a much bigger role in producing May God Bless Your Hustle than on any project before. He says getting out into the real world more was also a critical aspect of making this mixtape.
"With every project ever since I got started, I've always had the mindset that this project is going to make it happen. [For Hustle,] I got offline and was doing more music shit in real life with Slums and interacting with other musicians," he says. "One thing I have mad trouble with is trust. If I can't even trust somebody in real life, how am I supposed to trust them online?" 
Making those IRL connections has become essential to MIKE and is a major focus of his when performing live, which he sees as a key way to make deep, meaningful connections with his fans.
"We've taken a lot of influence from the shows we've done and tried to incorporate them into songs," he says. "It's very heartwarming to see our shows be like a community center for kids my age who might have been going through the same shit. By the end of the show, everyone's a little closer."
MIKE also focuses heavily on his family in his music. The phrase "May God bless your hustle," is something his mother often says to him, and the two have remained close despite her living in Nigeria for the past seven years due to, what's described in his Pitchfork interview as, "paperwork issues." He's close with his sister and father as well.
"My family is supportive as much as family could be supportive. Rap is hella weird, you know. Being a rapper, you have to do hella shows and weird meetings and shit, and none of it is like actually really essential," he says. "They never know what the fuck I'm really doing, but they have some sort of trust in me. They don't really know the full extent of what it is, which is pretty cool. The fact is that the people around me who are around my age are entertained by all that weird shit, but my family continues to be my family, so it's always cool to go back and just be able to be comfortable with them and not have them perceive me in any other way because of any achievements I might have made."
In general, having a stable base is something that MIKE has come to see as essential to his craft. Getting off the internet and focusing on the people around him is something he felt was essential to the strength of Hustle and his creative process.
"Support became way more important to me. With the online aspect, there are people that support your music that you don't necessarily see, and being able to see the people that support your music is a whole other type of feeling. I was just more hyped off the energy of the people around me at that point," he says.
To that end, MIKE hopes to channel his new level of success and exposure into creating more opportunities for his friends and other talented artists to get their voices out there. He hopes to establish both an incubator-style space and a platform for his people to get the opportunities they deserve.
"I'm just starting to realize the government is not for my people, this country is not for me people, but I can build a community where it is for my people. Me investing in my people is me investing in myself," MIKE explains. "Your love for people and the love that you express to your people will hold you down for like centuries."