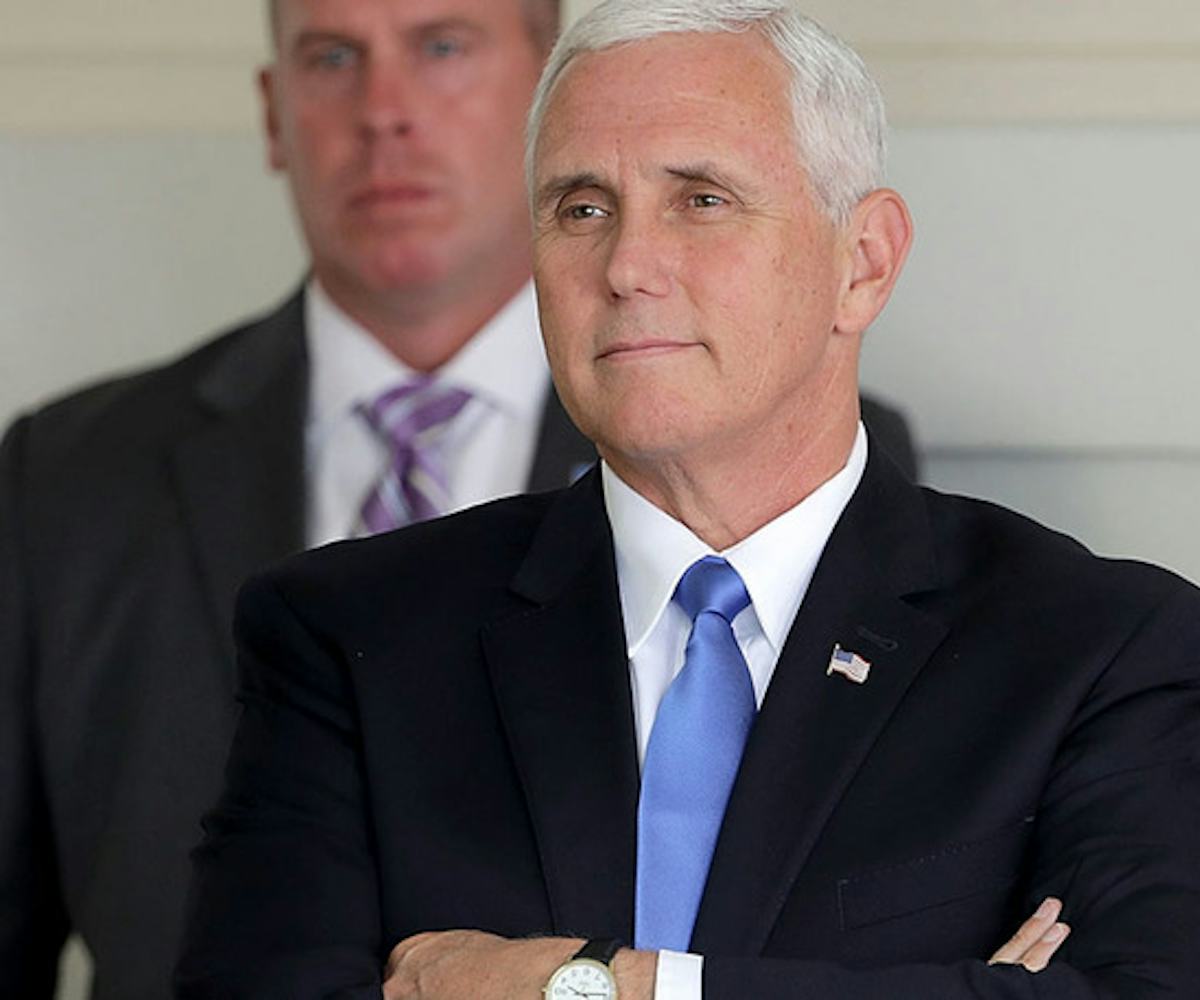 Photo by Chip Somodevilla/Getty Images
Mike Pence's Fake Website Is Brilliant
He loves mother's spaghetti and non-Swedish meatballs
For a brief period of time Friday afternoon, people thought Mike Pence's website had been hacked. On the homepage was an image of Pence, his hand on his heart, alongside the quote: "See you tomorrow, for tomorrow is now today." The categories listed at the top of the page include "Mother May I" and "What I Ate."
The website is actually a fake site, created by Funny or Die on April Fools' Day this year, that resurfaced yesterday. OfficialMikePence.com features everything you never wanted to know about our vice president. There's a page dedicated to "Mike's Story," where we learn that Pence's grandfather "emigrated to America from the non-Muslim-majority country of Ireland." 
In the "Mother May I" section, you'll find letters written by the fictional Pence to his wife, whom he calls "Mother" (in real life). When he asks her if he can buy a new pair of flannel pajamas, Mother suggests a thicker fabric since "holes in pajamas can result in unintended glimpses of the human body."
You can also find out what the VP eats on a daily basis. Egg whites with mayonnaise vinaigrette, unbuttered white toast, and Mother's spaghetti seem to be some favorites. He also enjoys a good ketchup popsicle for a late night snack, or sometimes an entire bottle of NyQuil. 
Under "Mike Facts," we learn fascinating details about Pence. For instance, he likes movies and his favorite technology is the radio. On the "Issues" portion of the site, Pence takes a hard stance on the causes that matter most, like "corn is our country, and our country is corn." He'd also like to replace currency with goat bones. 
Of course, you're only welcome to enjoy this intimate glimpse into Pence's world if you're straight. At the top of the homepage, it reads: "Are You A Homosexual? If Yes, Click Here." The link takes you directly to hell.com.