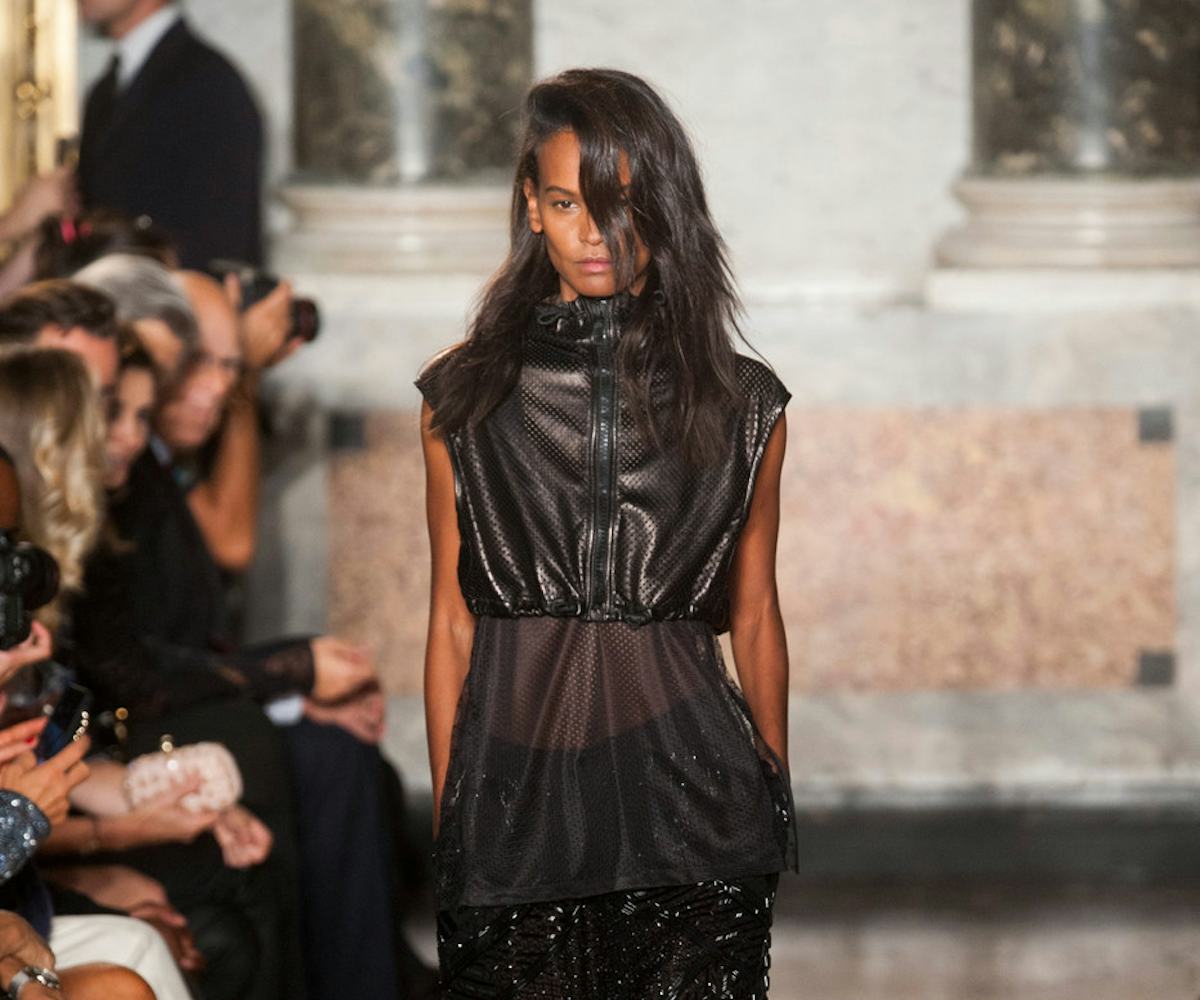 the milan fashion week report
our fashion director's 10 favorite pieces from the spring '14 runways.
NYLON's Fashion Director J. Errico is front row, backstage, and at the most exclusive parties during Milan and Paris Fashion Week--and reporting on it all. Here is his top 10 pieces straight from Italian runways.
The Look: Gucci
Why I Love It: When you think sexy, you think Gucci--and this look is a perfect example. The big idea here is sexy/sporty. I saw tons of mesh all over the runways (a huge trend for spring) and a fancy, tricked-out bra is also trending, so by combining the two, Gucci nailed it with this one.
The Look: Fendi
Why I Love It: This look is a perfect example of this "bra" trend.  Admittedly, a hard trend to pull off successfully, but the idea is that there's an importance to your underpinnings. They should be considered at all times, especially if you plan to work some of next season's sheer spring fashions. 
The Show: Prada
Why I Love It: I can't choose just one look here because the Prada show was everything, from beginning to end. Between Britney Spears' "Work Bitch" as the soundtrack and the clothing itself, it was transporting, thought-provoking, beautiful, artistic, colorful and challenging--all at the same time! J'adore!
The Look: Emporio Armani
Why I Love It: Here we see the Maestro himself touching on a tropical trip-hop surf story. We saw this tropical story first in New York (during resort in fact) and it has continued all the way through Milan--it continues to pick up steam in Paris. Here, Armani slips it into his repertoire as if it were the most natural thing in the world. 
The Look: Versace
Why I Love It: It's denim. It's sequins. It's Versace. It's ticking so many of the right boxes for me, seeing it I thought my head was about to explode! I'm thrilled! Brava Donatella!
The Look: Emilio Pucci
Why I Love It: Now, is it that it's Liya Kebede and that I'm in love, or is a mesh shirt with a perforated leather zip-up bomber and jet beaded jogging pants just divine? I died. 
The Look: Dolce & Gabbana
Why I Love It: The entire collection was based on ancient Rome, so it was all ancient ruins and Caesar head coins. You can catch a glimpse of them with this skirt, which is sheer with metallic leather applique fastened by jewels and coins. So sparkly! It's amazing. Money makes the world go round, right?
The Look: Salvatore Ferragamo
Why I Love It: What is better than this amazing cropped python jacket, delicately painted in soft pinks and mint greens. Both dusty pink and mint have been big color trends for next season, so both of those same colors on one jacket is pretty killer. (2 birds, one stone). 
The Show: Fausto Puglisi
Why I Love it:  At this moment, Fausto can do no wrong. He is the toast of Milan--and rightfully so (and since he designs Ungaro, the toast of Paris too)! This was his first official runway show in Milan, and it was a mash-up of pop star-meets-Park Avenue. The first look was Karolina Kurkova in a leather jacket and red leather skirt, and it's very biker bitch (love). Then the next passages get into bondage-meets-tropical, and as far-fetched as that sounds, the way he executed it was really amazing. Beautiful colors, fun silhouettes, killer leather jackets, a hit for sure!! 
The Show: Tod's
Why I Love It: This was the first full ready-to-wear-collection ever for Tod's.  Designer Alessandra Facchinetti--she was at Gucci and Valentino previously--set the look of the house exactly where it should be. Impossibly chic Italian holiday. It was really, really beautiful, with effortlessly stylish clothes that transport you to Capri and beyond. Oh, and the obi belts were amazing!
Gucci spring '14
Fendi spring '14
Prada spring '14
Emporio Armani spring '14
Versace spring '14
Emilio Pucci spring '14
Dolce and Gabbana spring '14
Salvatore Ferragamo spring '14
Fausto Puglisi spring '14
Tod's spring '14