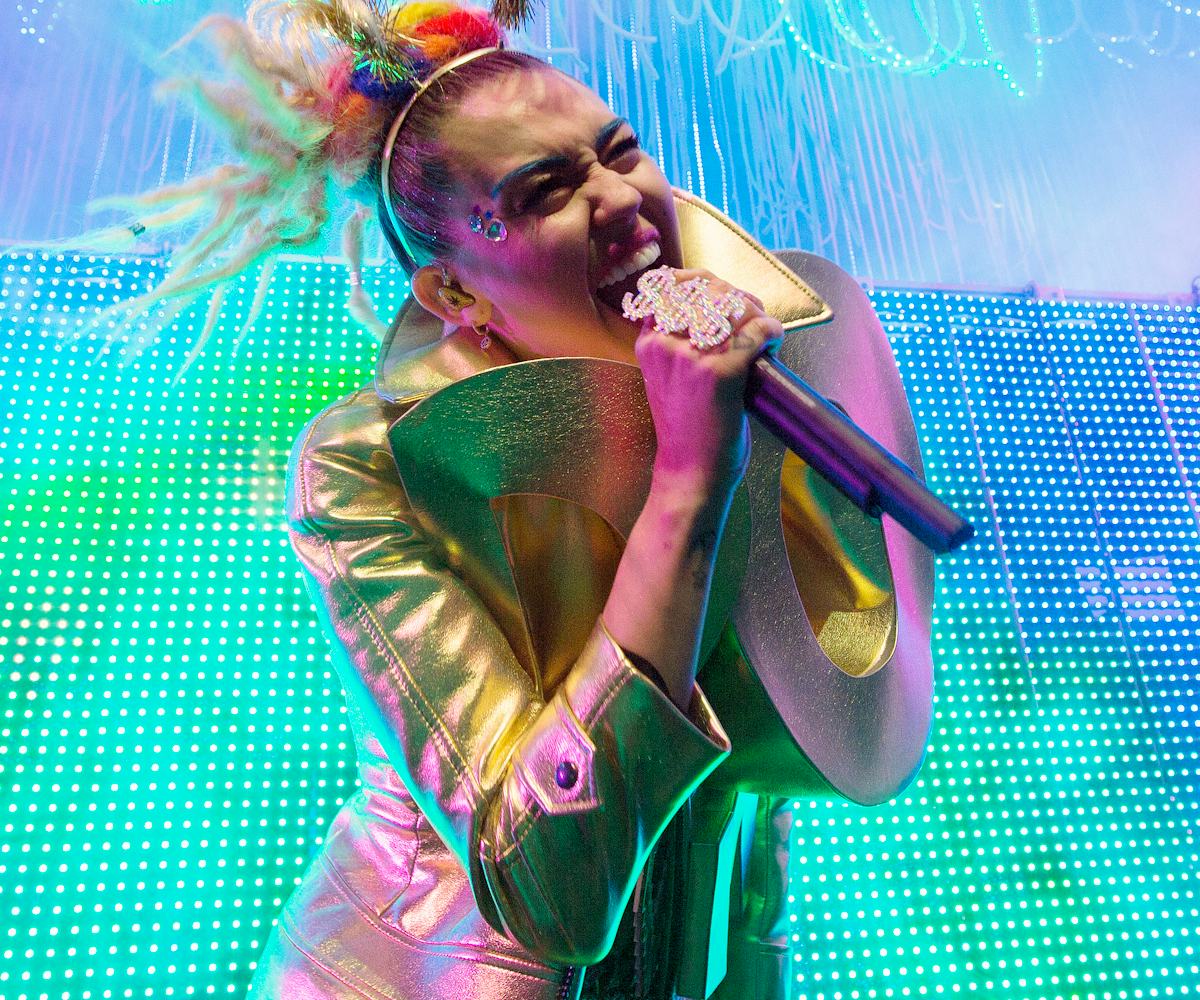 photo: tasos katopodis/getty images
Miley Cyrus' Dead Petz Tour Looks Wild, Weird, And Predictably Miley
Miley Cyrus is no stranger to controversial, bizarre, and NSFW outfits. While it's what we've come to expect it from her, Cyrus' costumes from her Milky Milky Milk Tour with her Dead Petz, that kicked off in Chicago on Thursday, are next level Miley. Seriously, there are no words that can properly describe it, but we'll try our best.
There was the typical barely-there outfits like gold leotards, a set of fake boobs, a prosthetic penis, and pasties. But then things get really weird. Cyrus also dressed up as a bedazzled stick of butter, milk, the sun, the moon, a unicorn, a disco ball—and a baby for good measure.The set is just as wacky and a clusterfuck for your senses with balloons, fog, confetti, neon lights as backdrops for tracks off her psychedelic indie album. (Which, if you haven't heard, is quite good.)
While the concert experience looks like it's Miley Cyrus' Instagram come to life, what does it all mean? Is she trying to tell us she's lactose intolerant? Is the unicorn her favorite new emoji? Or is there a deeper meaning to it all? 
Bangerz served as Cyrus' reclaiming control of her career, and now that she's driving, she's experimenting, learning, and expressing herself in a way that feels right to her. Whatever's going on, only she and her Smilers know.
Read on to get a preview of the Milky Milky Milk Tour experience. Prepare for a lot of whhaaaaat...
On the Bangerz tour, Cyrus stuck Miley money in her mouth so naturally the next step is real money. Duh.
We never thought we would ever live to see a rapping stick of butter; so, thanks Miley!
What DOES it mean Miley? Seriously we want to know.
This looks like the craziest party we've never been to.
According to Burnt Soul Clothing on Instagram, the disco ball outfit Cyrus is wearing in this video took "5 days and nights of work, 8,000 mirror tiles, £70 ($106.34) worth of glue, watching a whole season of The Hills, 10 plasters, 60+ cups of coffee, 4 Harry Potters and one hand super glued into the catsuit" to make. What have you done recently?