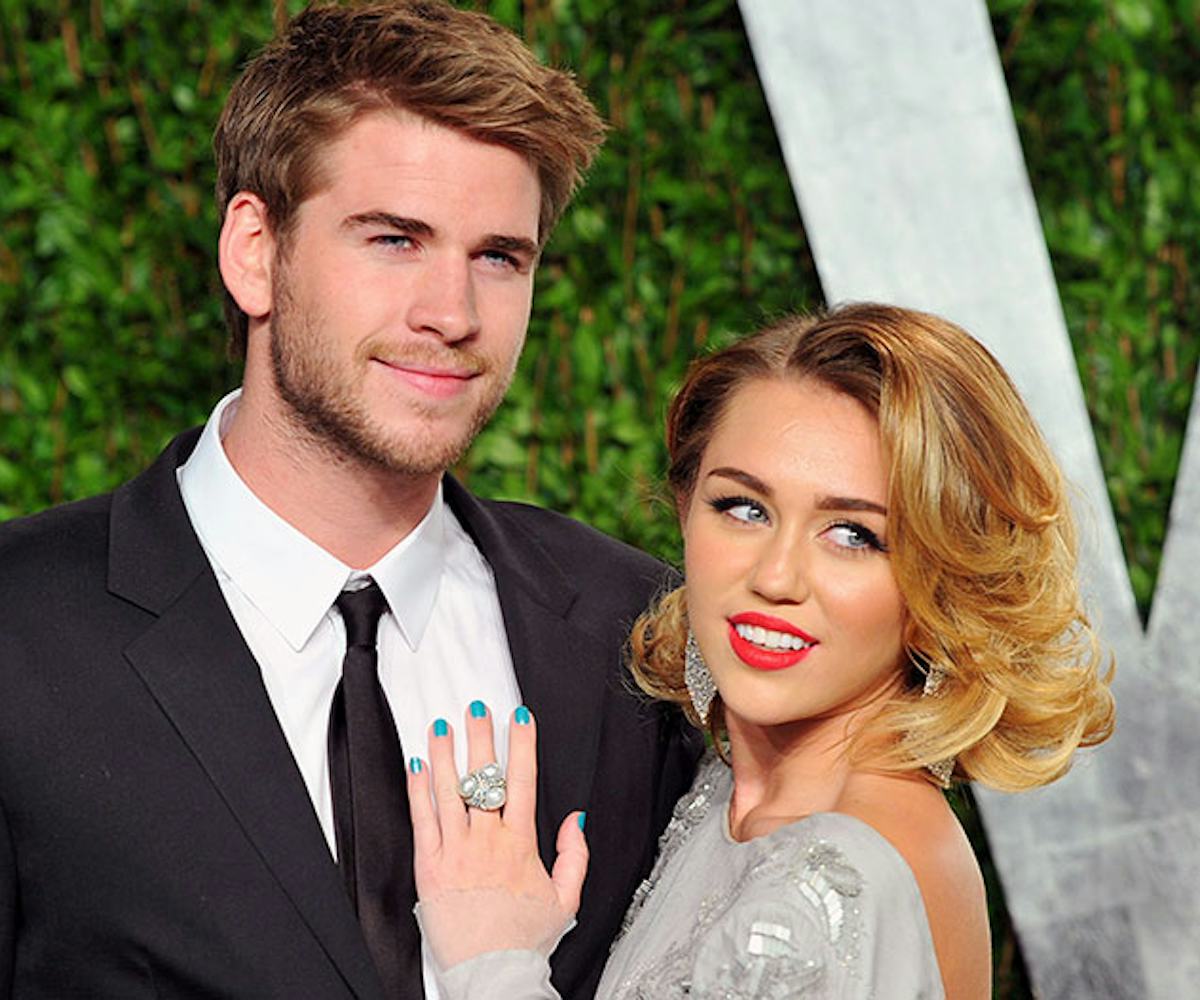 Photo by Alberto E. Rodriguez/Getty Images.
Is Miley Cyrus Wearing Her Engagement Ring Again, or Nah?
The last time we checked on the status of Miley Cyrus' engagement ring to Liam Hemsworth, it was "in the shower." Now it's apparently back on her finger. Do we even need to mention which finger it's allegedly back on? 
While walking through JFK, Cyrus was spotted, all Gossip Girl style, wearing what appears to be a ring that closely resembles her engagement ring. The paparazzi photos aren't clear enough to make out what the ring truly looked like, but a sleuth's eyes know the engagement ring when they see it. (Here are photos of the ring, taken during her engagement to Hemsworth in 2012.) Luckily, said sleuths didn't have to wait too long for Cyrus to add her own bit to the rumor: she posted an Instagram this morning clearly showing the aforementioned maybe-engagement ring on her left ring finger. (Though, a true detective would note that it also appears she was wearing something like it in another Instagram, taken a week ago.) 
Of course, Cyrus' Instagram isn't confirmation of anything. She could just be wearing an expensive-looking ring for kicks and really wanted to show her 34.8 million followers how to dress like a mom-approved strawberry outfit. (She really does nail the whole look…) Though it wouldn't come as a total surprise if the ring in question was her engagement ring, because, as we all know, Cyrus and Hemsworth have been rumored to be pretty friendly again. They celebrated New Year's together, and subsequently gave Smilers something new to believe in. One fan tweeted, "Liam Hemsworth and Miley Cyrus getting back together really gives me hope." You know what? In a strange, kind of embarrassing way, same. True love can't stop and it can't be tamed—wrecking ball or not.