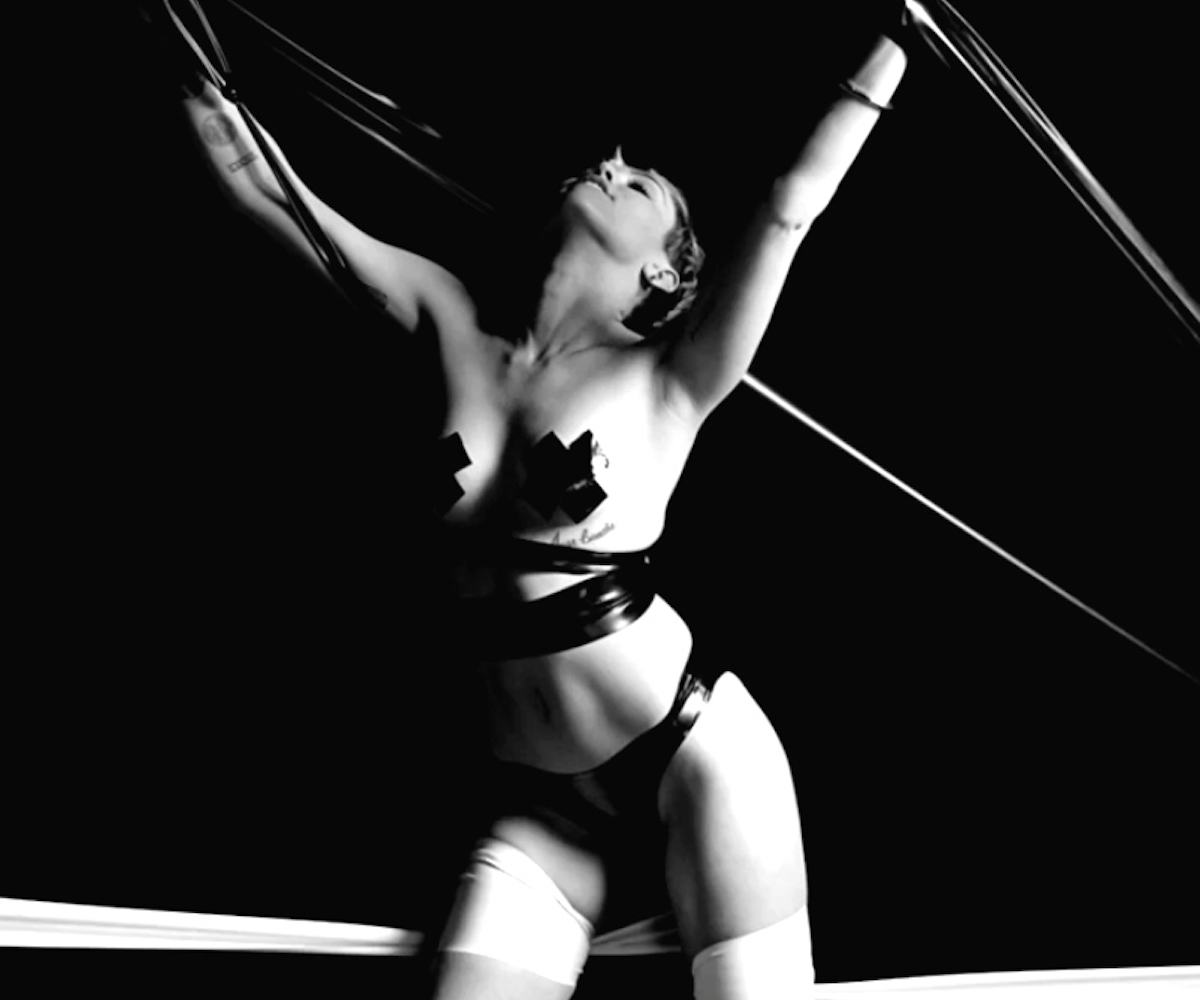 image courtesty of quentin jones & modern post
miley submits a film to a porn festival
it's actually less nsfw than you'd think
Remember Miley Cyrus's debut as an "artist" at last year's Art Basel? The self-identified dirty hippie is making another scene with Tongue Tied, a short clip by Quentin Jones, released in May of last year. This isn't your average aspiring art piece, though: Cyrus has submitted the film to the NYC Porn Film Festival, which will be aptly hosted in an "experimental art gallery" in Bushwick, Brooklyn. 
The film, which brings us back to the Wrecking Ball era in a swift two minutes, features Miley in some compromising positions, wearing just a few strips of black latex. With cool music in the background, she bats exaggerated lashes as she rubs herself down with unidentified black goo, whipping her tongue in and out. Jones has previously worked on similar projects for Kenzo and Louis Vuitton, so we're not surprised this features her signature cutout style. 
"It's a pop take on S&M. She's starting to become a contemporary artist," NYC Porn Film Festival founder Simon Leahy explained. While it's up for debate whether or not a five-foot sculpture of a bong and a vibrator makes someone a contemporary artist, the clip is definitely... interesting. Stay tuned for how it'll fare at the festival, and take a look at Tongue Tied below.
UPDATE: For reasons that remain unclear, the festival has pulled Miley's film from its lineup. In a statement, a reps said "Miley was proud to make a film with acclaimed filmmaker Quentin Jones. Neither she nor Quentin are participating in this 'festival' in any way."