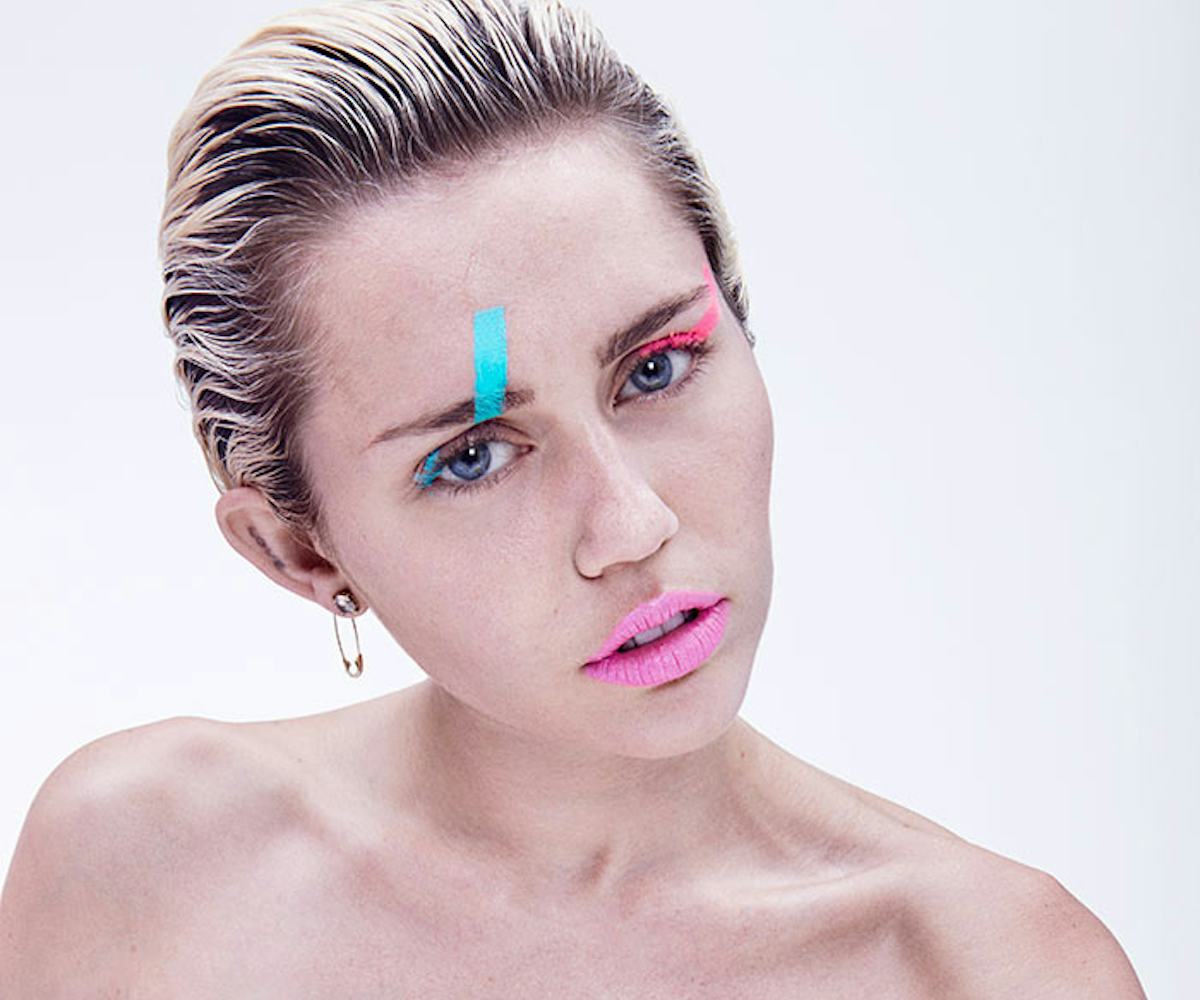 Photography by Paola Kudacki for Paper Mag
miley cyrus covers 'paper' magazine
UPDATE (1 P.M. June 9): Last month, Cyrus spoke about how she has had relationships with both men and women. Expanding on that, she told Paper, "I am literally open to every single thing that is consenting and doesn't involve an animal and everyone is of age. Everything that's legal, I'm down with. Yo, I'm down with any adult — anyone over the age of 18 who is down to love me." Expressing her gender fluidity, she added, "I don't relate to being boy or girl, and I don't have to have my partner relate to boy or girl." 
These feelings are not new, she says. When she was 14, she told her mother that she had romantic feelings towards women. "I remember telling her I admire women in a different way," she said. "And she asked me what that meant. And I said, I love them. I love them like I love boys. And it was so hard for her to understand. She didn't want me to be judged and she didn't want me to go to hell. But she believes in me more than she believes in any god. I just asked for her to accept me. And she has." 
Over the past few years, we've seen a tremendous shift in Miley Cyrus' behaviors and attitudes, and the general public's subsequent shift in their perception of her. And while her Bangerz "transformation" — which could be considered her most drastic change to date — alientated and outraged many people, Cyrus has remained unabashed and unapologetic in her self-expression and identity. By owning her sexuality and voice, Cyrus has not only become an alternative feminist figurehead, but she has also helped teach young women and men that they don't have to — and shouldn't — conform to society's expectations.
For those reasons, Paper chose Cyrus to cover their "Use Your Voice" summer music issue. Shot by Paola Kudacki under the advisement of Creative Director and "We Can't Stop" collaborator, Diane Martel, the cover shows Cyrus with her pet pig, Bubba Sue, in "body paint and very little clothing." And while the cover is intended to grab newsstand-goers' attentions, it's all to promote her new foundation, Happy Hippie, and draw attention to the story's subject matter. 
Photo by Paola Kudacki, courtesy of Paper
(via Paper)
more miley, this way:
Listen To Miley Cyrus's First Song In Two Years "Tiger Dreams"
Watch Miley Cyrus + Ariana Grande Cover "Don't Dream It's Over"
Watch Miley Cyrus + Joan Jett Perform "Different"
Miley Cyrus Talks Openly About Her Sexuality
"As long as you're not hurting anyone, your choices are your choices."
"I can't drive by in my fucking Porsche and not fucking do something. I see it all day: people in their Bentleys and their Rolls and their Ubers, driving past these vets who have fought for our country, or these young women who have been raped."
"I was doing a show two nights ago, and I was wearing butterfly nipple pasties and butterfly wings. I'm standing there with my tits out, dressed like a butterfly. How the fuck is that fair? How am I so lucky?"