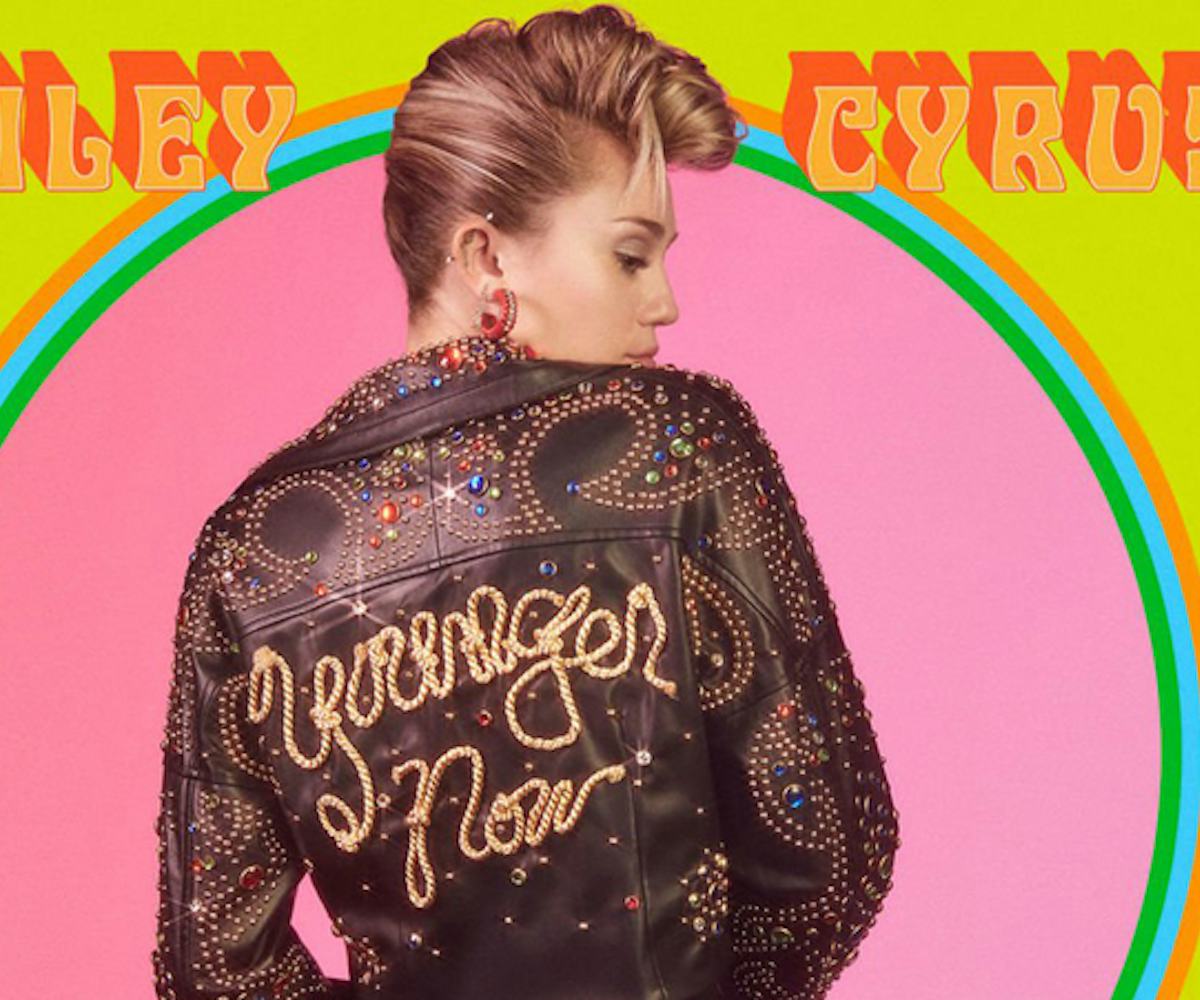 Photo courtesy of RCA Records
Miley Cyrus Has A New Persona, But Is It Authentic?
We're sorry, the old Miley can't come to the phone right now…
It's incredible what a bottle of bleach can do to hair and, subsequently, a personality. In Miley Cyrus' case, it marked a very drastic shift in sound and public image. After indulging in a major dose of peroxide, Cyrus put her Disney days behind her with each tongue wag, semi- to fully-nude photo shoot, and twerk-adjacent dance move. Marijuana and other drugs became a part of her brand. Some may refer to it as rebelling, others may call it a phase, but one thing's for sure: the good girl went bad. Sort of. Because underneath all those hip-hop-inspired productions was her undisputed vocal talent; her voice—figurative and literal—has been there the whole time, threading these micro-eras together. And it's her voice that saves this new album cycle, one that is decidedly less drug-fueled and more wholesome, from feeling too much like a gimmick.
Cyrus has done a lot of growing since Bangerz dropped in 2013. Her engagement to Liam Hemsworth was called off (they are since re-engaged); she launched the Happy Hippie Foundation, a nonprofit helping fight the injustices faced by homeless and LGBTQIA youth and other marginalized populations; she tripped-out on her SoundCloud album, Dead Petz; there was that brief acting gig on Amazon; and she let her bleached hair grow out, literally showing her roots (a little on the nose, we know). Cyrus has done more living than your average 24-year-old. She's been unfairly slut-shamed, rightfully accused of cultural appropriation, and on the receiving end of many a "we want the old Miley back" remarks. The "old Miley," the backyard sessions Miley covering "Jolene," the safe Miley. 
But now that she's more or less done that, she still can't win. Younger Now, Cyrus' new album, is country-tinged and filled with more longing than lust. It showcases her vocal talent better than any of her previous five albums and is arguably her most cohesive. She sounds more at home on songs like "Miss You So Much" and "She's Not Him" than she does on, say, "4x4," her song with Nelly, or "23." That was Miley then, this is Miley now, a young woman who, as she sings in the album's title track, feels like she just woke up. 
Does that mean she's dismissing her hip-hop days as just a phase? After her Billboard interview, where she admitted to being turned off by the misogyny in hip-hop, many used it as leverage to call her out for the culture vulture she was. Her bad girl image, which, yes, was appropriated from the black community, was no longer profitable, so she, many argued, ditched it for a more innocent vibe. The sun-kissed vibe and white clothing of her "Malibu" music video, our first visual taste of this new era, could not be more different from "Wrecking Ball" or "We Can't Stop." It's bubbly, not edgy. It's different, but change is a thing we can count on, right? 
If this era is the one where she finally comes into her own (which, after listening to the whole album multiple times, really feels like it is), what are we to make of Bangerz and, to a lesser extent, Dead Petz? If this era is actually less performative than her previous ones, where does Cyrus go from here? Younger Now isn't the country-filled album preview songs, like "Malibu," "A Week Without You," and "Younger Now," make it out to be. "Thinkin'" bumps like a B-side from Bangerz and "Love Someone" is more pop-country rock than anything. Her vocals are outstanding, as usual; she's so convincingly optimistic in the title track, it's euphoric. She's believable, and you can practically hear her at peace. 
It's selfish to ask artists to stick to one sound because growth is necessary, but Cyrus really found a sound that works for her here. Where she goes is up to her, but it hopefully includes addressing her past performances and criticisms. What we should ask of our artists are truth and accountability. If she has truly "woken up," hindsight should be 20/20. There's no denying Cyrus has talent; it's in every note and breath of Younger Now. It would be a shame to see this personal growth be held back by easily addressable baggage.