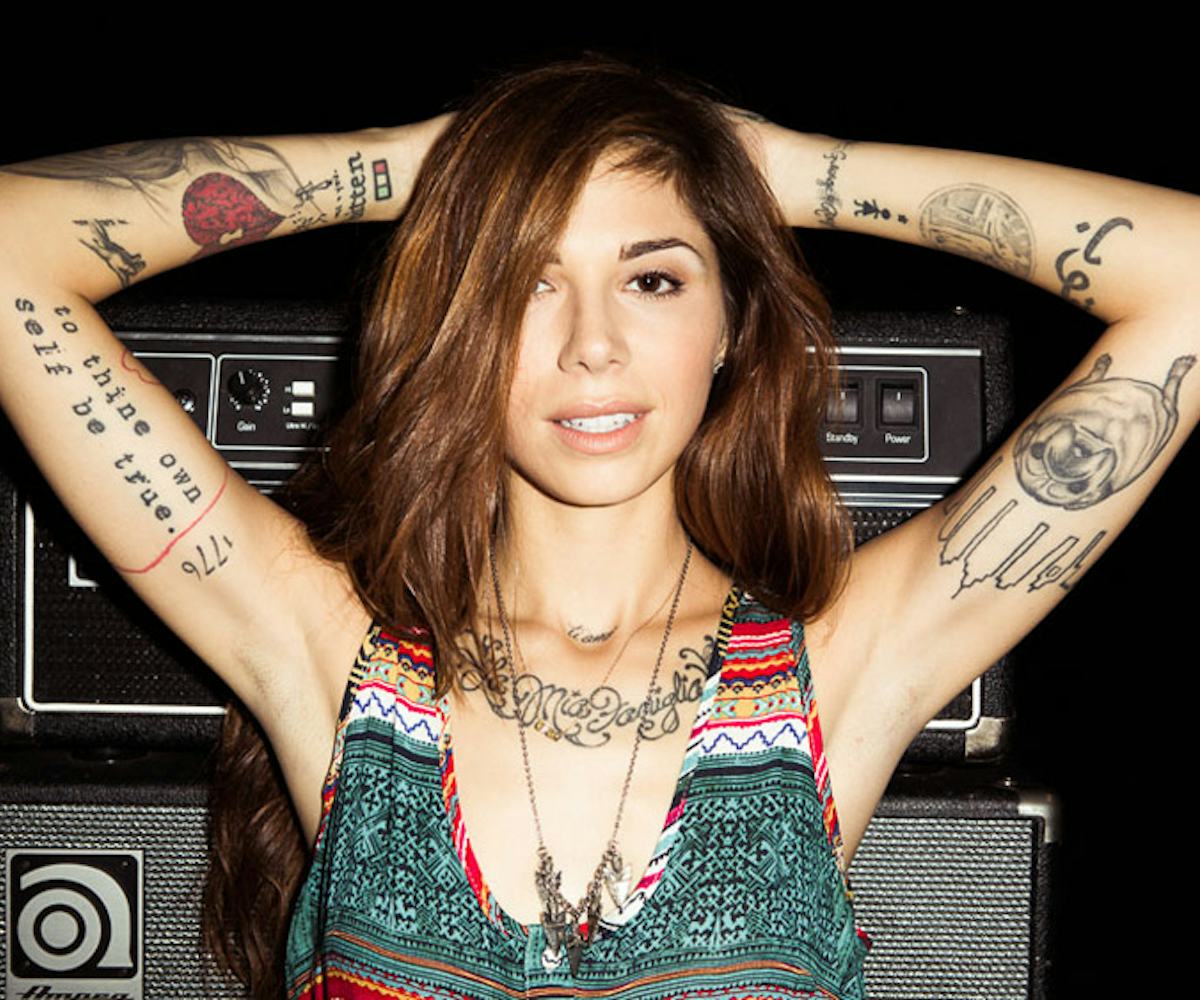 first look: mink pink x christina perri
we've got an exclusive on the aussie label's latest campaign face!
How do you follow up a campaign featuring one of the most buzzed-about models of the moment?
If you're Mink Pink (and the model in question is Chloe Norgaard), you go with someone just as cool but who hasn't yet teamed up with a fashion brand before. In other words, you land Christina Perri.
The ultra-cool Aussie label tapped the tattoo-covered singer-songwriter, creating a music-tinged lookbook to go with their equally edgy (think cheerleader-esque mini=skirts and motorcycle vests) spring '14 collection. "When they came to me, I was so excited because I was such a fan and already a customer," says Perri, adding, "I loved all of their images and all the models that they've used because they seemed like really cool girls rather than your standard supermodel thing."
The brand helped put the musician in her natural element, renting out a recording studio in Burbank, California with "a super, super old piano," stacks of speakers, some gear cases, and even some instruments--all of which Perri used as props during the photo session. In fact, during the 30-outfit shoot just about nothing in the studio was safe from the camera's lens, including Perri's BFF. "My best friend was there, and in a few shots on the motorcycle they had her sit with me! So yeah, it was a really fun day," she says.
As for the most important question (other than when the clothing will be hitting shelves, which is shortly)? The shoot's playlist was, of course, spot-on. "There was
sooo
much 'Blurred Lines'--I had it on shuffle but I put 10 copies of the song on there so it would always pop up. I put a lot of Robyn on there, also some Beyonce, some Gaga...just some really fun stuff," notes Perri, confirming that the secret to an awesome, multi-hour, energy-lifting mix is to put your faves on there at least a dozen times.
And while she cites Hayley Williams from Paramore and Miley Cyrus as modern-day musicians who are killing it, style-wise, this campaign just might help Perri be known for more than tracks like "A Thousand Years." If her campaign with MinkPink doesn't do the trick, the fact that she's got a track on an upcoming episode of
Girls
should: "I wrote the song with Lena Dunham's boyfriend Jack [Antonoff], and then Lena came to the studio and we went to dinner and had an absolute blast! Then I heard, 'Hey! Lena wants the song for the show.' So it all happened really organically," Perri tells us, adding that it will air in March, preceding the release of her sophomore release
Head or Heart
.
"It's like a dream come true to get to do this job [of being a musician] alone. Getting your song in a movie is awesome, but it's not necessary," Perri says of what it's like to get to collaborate with brands and people she loves. "Everything after not waitressing is
so
exciting."
Get a first look at the campaign in the gallery!