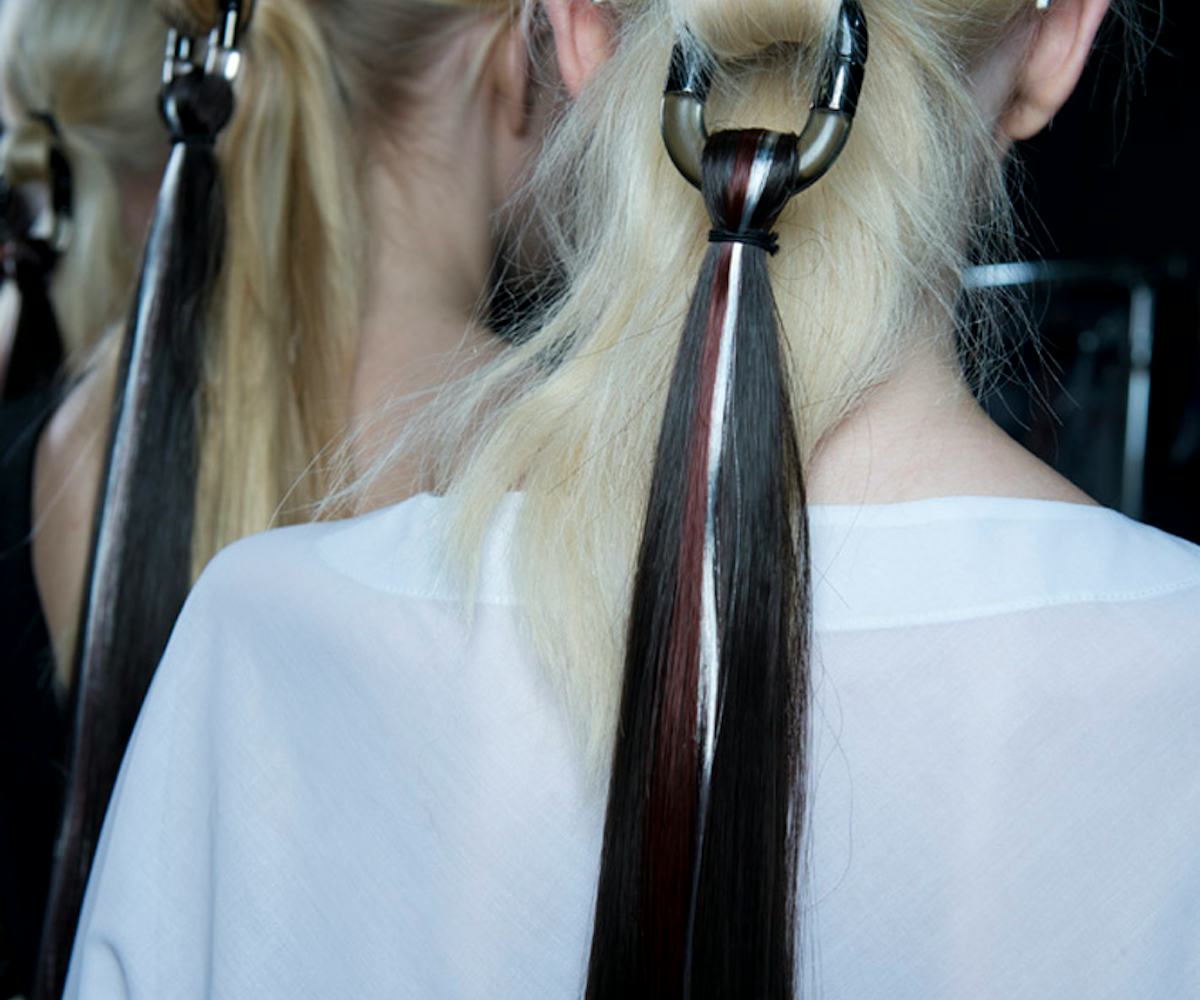 the face: missoni
take your ponytail to the next level.
It was within the first few days of New York Fashion Week that we noticed a trend: hair adornments. From little flowers to metal-accented ponytails, some of the best accessories could be found from the neck, up.
But Missoni takes that concept to the next level, with what is arguably one of the cooler--or, depending on your point of view, edgier--looks we've seen yet during the spring '14 shows. The hair itself is nothing too fancy; it's just a low ponytail with the hair pulled half-through the elastic, like the faux-buns you do when you're running late to a dentist appointment or on your way to yoga class. But here's where things get tricky: Wella Professionals' Global Creative Director Eugene Souleiman brought in an "urban chic" look by adding a circular accessory--with its own faux hair dangling from it--to the loop of hair. It's as if you turned a carabiner into a beauty tool (or just wanted to play around with some different color tresses without having to dye your own).
The end result? According to Souleiman, it's a techno-natural hybrid that is cool, sleek, and makes a statement. Pair it with a jersey tank, a sleek black dress, or a puffy coat and you've got a low-maintenance option for instantly standing out.
Here's how he did it:
1) Create a low side part to dry, straightened hair.
2) To add in a bit of raw texture, spray your hair with Wella Professionals Ocean Spritz Spray and then rake your fingers through it.
3) Pull your hair back into a low ponytail and secure with an elastic.
4) Spray a bit of water to the base of the ponytail, and then immediately spritz it again, this time with Wella Professionals Stay Firm Finishing Spray. With a fine tooth comb, brush through the bass section.
5) Take the ponytail and fold it into a loop--but not before you attach the hair accessory through the loop.This can be a piece of jewelry, as it was at Missoni, an oversize ring, or--if you're feeling particularly tech-y--a carabiner. Once the accessory is in place, tie the end of the hair into the ponytail.
6) Spray Wella Professionals Stay Firm Finishing Spray onto a soft bristle brush, and then use the brush to smooth out the bottom of the ponytail.
7) If you want to add some definition between your natural ponytail and your faux ponytail, spray your real hair with Wella Professionals Ocean Spritz on the ends to give it a piece-y finish.