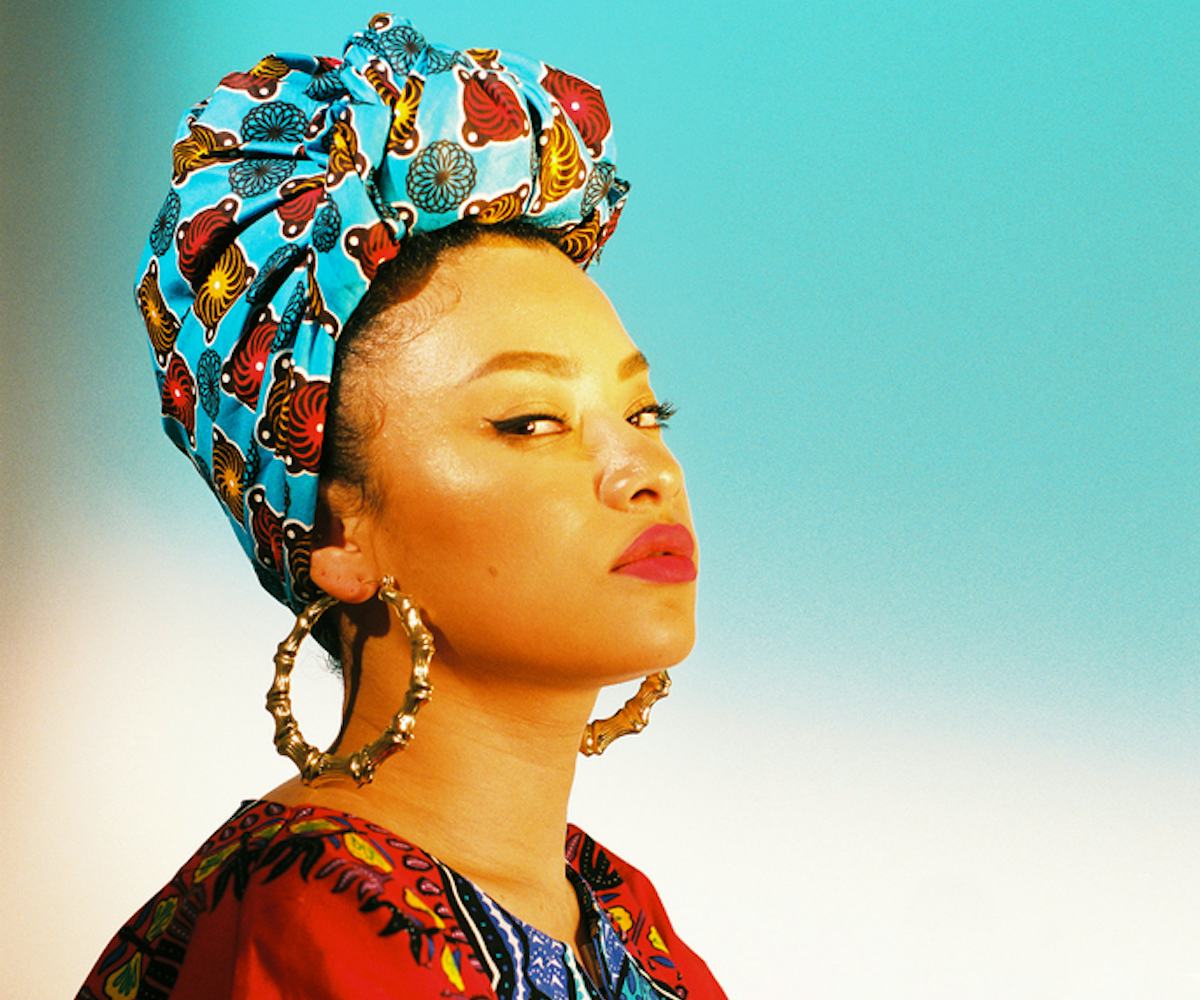 Image courtesy The Museum of Modern Art, New York.
The New MoMA Fashion Exhibit Isn't Afraid To Get Political
And those are its most powerful moments
When Museum of Modern Art senior curator Paola Antonelli first arrived in New York City from Milan 23 years ago, there was only one fashion item in the entirety of the museum: an early-20th-century Delphos dress by Mariano Fortuny. So, Antonelli took it upon herself to compile a list of "garments that changed the world," pieces that would fit into a collection of modern design. She started off simple: the white T-shirt, a pair of Levi's 501s, Converse sneakers, but the collection eventually ballooned into over 400 items, which was then edited down to 99, before being increased to 111 final pieces. Starting Sunday, October 1, visitors to MoMA will get to see them all.
"Items: Is Fashion Modern?" is the first fashion exhibit to be held at the MoMA since 1944's "Are Clothes Modern?" by architect and curator Bernard Rudofsky. Now, 73 years later, Rudofsky's creation acts as a springboard for Antonelli's brainchild and both are meant to examine individuals' relationships with the clothes they wear every day. "We wanted to make sure that it would be clear to everyone that this is a fashion show, indeed, but it's first and foremost a design show that takes fashion as its focus," Antonelli says. "So, fashion is the system and clothes are the pieces inside."
The items on display run the gamut, but what they have in common is they've all had some kind of influence on the world over the past century. You'll see Nike Air Force 1s alongside shift dresses, turtlenecks adjacent to Calvin Klein briefs, fanny packs in the next room over from a bottle of Chanel No. 5. But you'll also see cultural items like kippahs, dashikis, and burkinis. For the most part, though, you'll find pieces that you can also find in your own closet. There's not much ~fashun~ outside of rows of little black dresses from famous designers and a slip dress designed by Richard Nicoll that changes colors. A Costume Institute exhibit this is not. Instead, it's tame, approachable, and, most importantly, informative.
For some items, Antonelli and her team of curators went out to find the archetypes of, say, the first capri or leather jacket. She wanted to provide context. "We believe that the past is very important for the making of the modern and contemporary," Antonelli says. "Nothing is ever being invented yesterday, there's always a predecessor." Seeing how cyclical fashion is, this exhibit is just as much for the millennial as it is for their baby boomer parents.
Of course, there are some pieces that were left off the list. "I noticed there wasn't a wedding dress," one woman in the audience brought up during a discussion between Antonelli and Glenn Lowry, the director of MoMA, after the press preview that took place on Tuesday. "Why didn't you include Fortuny pleats?" another wondered. Antonelli said she wanted to leave the list open-ended, to allow visitors to consider for themselves what pieces of clothing they believe are worthy of that 112th or 113th spot.
But "Items: Is Fashion Modern?" is at its most powerful when it gets political. In between down jackets and after observing different iterations of platform shoes, viewers are met with a red Champion hoodie placed on a dark gray background. The modern hoodie was born in the 1930s, the plaque reads, and has been adopted by athletes, skaters, rappers, and Facebook founders since. But, more recently, it became a symbol of injustice when Trayvon Martin was murdered by George Zimmerman while wearing one. "[Hoodies] gives you the false impression of being invisible," Antonelli says. "It's like when a child puts their hand in front of their face and thinks that their dad and mom cannot see him. But it's a double-edged sword because you know what happens: You think you're invisible, other people think you're threatening, and then tragedy strikes."
A little further into the exhibit, you'll also find a Colin Kaepernick jersey on display, which Antonelli says was acquired a year ago and holds even greater significance today. Even further, at the very end, is a plain white T-shirt. It looks innocent enough but, as the notes remind museumgoers, the piece of clothing "also allows us to interrogate the lopsided power relations that are part of its DNA, including those that shaped the cotton industry, built on the backs of enslaved people in this country and beyond; the labor involved in its cutting and sewing; and its environmental footprint throughout its life cycle."
If you backtrack a bit, you'll find a pair of door knocker earrings on display next to a pair of monogrammed Gucci and Louis Vuitton jackets. In a timely move, the incident between Harlem designer Dapper Dan and Gucci was mentioned on the display card for the latter. For the former, the rise of door knockers is attributed to black women. Text addressing appropriation is placed in between the two. It reads: "When certain items are worn without acknowledgment of those who have historically contributed to shaping their meaning, their value can become diluted, reduced, or even misrepresented."
There was a point, during the discussion between Antonelli and Lowry, when a woman raised her hand to make a remark: "I was really impressed with the ghetto stuff that you had, the hip-hop stuff and the ghetto stuff which was certainly the way that 20th- and 21st-century fashion did change…" My eyes locked with the woman behind me as I strained to get a look at who, exactly, was making such an inane and offensive comment. The woman behind me grimaced, clearly uncomfortable. But she couldn't have been as uncomfortable as I was. Outside of the security guards, I was one of the only black people at the preview.
Yes, the woman who made the comment about the "ghetto stuff" was white, but that's not, exactly, what bothered me. What bothered me most is that the comment implied that including these items was a gracious move on Antonelli's part. Like, she was doing the black community a favor by allowing door knockers and fitted baseball caps and du-rags to be a part of the exhibit. But what she failed to recognize was that Antonelli was merely reflecting history—and accurately, which doesn't happen often. Historically, people of color have been influencing the fashion industry for centuries. Antonelli is merely crediting them properly—a rarity, but not one requiring gratitude.
"I think it's important to notice that many single, individual items in the show enable us to talk about social issues that are maybe not as magnified and as present as the NFL protests right now, but they're still subtle and powerful," Antonelli says. "We want people to come into the exhibition recognizing that anything that they wear any time can be a symbol of the changing world." Every item of clothing you wear has a backstory, and this is a perfect time to learn it.
Check out some of the pieces from the exhibit ahead.
Levi Strauss & Co. waist overalls, 1890.
Knit Aran Style Woollen Jumper. 1942.
New Era 59FIFTY style New York Yankee Scarlet fitted cap. 1996.
Dress by Thierry Mugler, 198.
Repetto (Est. 1947). Red Ballet Flats. 2010.
One-Star Perfecto Leather Motorcycle Jacket, late 1950's.
White T-shirt.