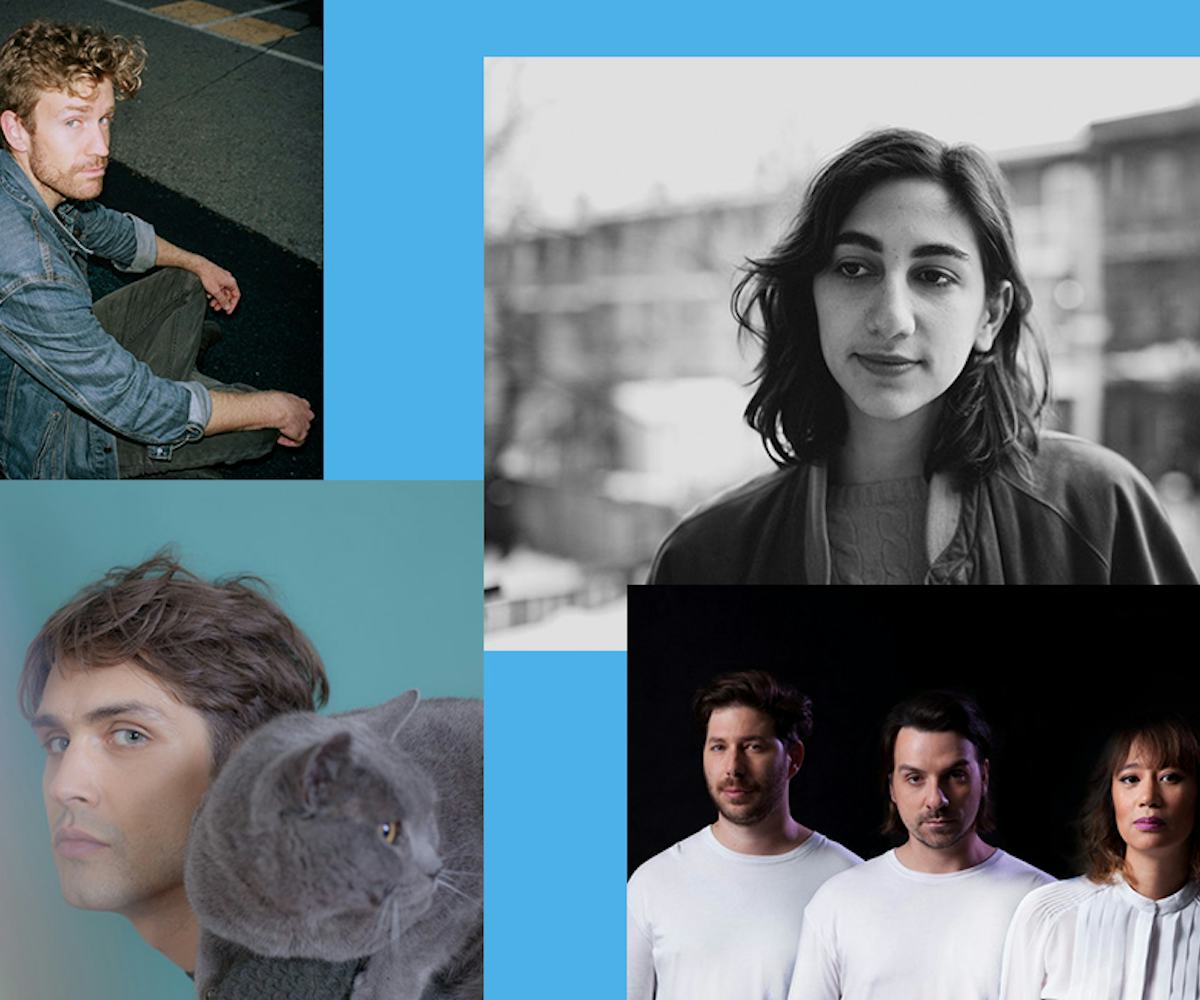 5 Montreal-Based Musicians You Need To Know
These were some of the standouts from last month's M for Montreal festival
Fun fact: Arcade Fire, despite all the attention they've brought the Montreal scene, aren't originally from Quebec. Then again, as I learned during M For Montreal, a festival celebrating the city's varied musical output, many artists specifically move to the city to pursue their craft, making the creative scene something of a musical melting pot.
"Not only is there so much support for artists from the Canadian government, but it's also so easy to get by that musicians don't have the same kind of financial stresses," reasons Brigitte Naggar, who performs folk under the name Common Holly. "I think the artistry can remain and flourish. Montreal's musical economy and lifestyle, it helps the positive outlook. It's a lot of pressure to put on yourself to just pursue music. If there's a way to do it and not be scared of whether or not you're going to eat tomorrow, it's a pretty amazing lifestyle."
It's true. The city has a deep pool of talent. Enough that, after four days of shows, it became clear this list could have been written a half dozen times over. But never the less, we persist. From broken-hearted balladeers to electronic masterminds and the band that the Bee Gees wish they could have been (fun fact: disco isn't dead), here are our five picks for Montreal's next big musical export.
TESS ROBY
Tess Roby is being coy. Which she immediately apologizes for. It's just that in a time of overexposure, the 23-year-old musician-photographer is obsessed with her debut album, due out next spring, being experienced properly. Small hints slide through our conversation. The album has the same name as a street on Catalina Island, where they shot an upcoming video. Coincidently, she also found a golf range in the California desert with the name of one of her songs stamped on them. (Roby believes we receive signs we're on the right path—so this was a big one.) But ultimately, her initial foray into hazy electro-pop owes less to the cosmos and more to boredom.
"I was in a band called She Divides as the frontwoman for two or three years," Roby says. "I was writing the songs. Guitar-based with drums. While I was in that band, I was feeling a bit stunted. I just felt that in order to break through that, I needed to work as a solo artist. I had always written songs on my own. So, I thought, Why not try?"
To date, Roby has two tracks online. The melancholy "Ballad 5" and sparse, vocal-free B-side "Glimpse." Both have a darkly lit, neon quality to them—think: halfway between the film Drive and every late-night excursion you've ever taken. The vibe was enough to impress tastemaking electro-pop label Italians Do It Better, home to like-minded acts Chromatics and Glass Candy.
"Johnny Jewel found one of my songs on SoundCloud, actually," Roby reveals. "What else was happening in the universe that day? It's crazy that could happen."
CAM MACLEAN
A rarity among musicians, Cam Maclean can reference Eros (the Greek God of sexual attraction), Freud, Montreal's musical patron saint Leonard Cohen, and still come across as the kind of everyman who, as a teenager, used to rebel by playing "Little Wing" by Jimi Hendrix.* In fact, the Vesuvio Solo co-frontman is so incapable of anything other than authenticity, that when it came time to figure out what he'd call his solo project, there was little question he'd name it after himself.
"I realized that it can easily end up like a regrettable tattoo," Maclean says of fictitious personas over coffee in Montreal's Plateau neighborhood. "I did experiment with a number of things. I'm not going to tell you what they were!"
Like many classic albums, his forthcoming release, Sleepwalking, was inspired by a breakup. But unlike many guitar-toting troubadours, Maclean is lyrically flexible enough to imagine building an entire utopia in order to win back his beloved. (That would be the endlessly hummable single "New Jerusalem.") It's that love of storytelling that Maclean says is inspired by his folk hero Joni Mitchell. But there's another subset of music the singer-songwriter finds himself irrevocably tied to as well. Yacht rock? Hall & Oats? Maclean will happily cop to a love of it all.  
"I'm all about the dad rock," he cracks. "Cheers to that. Yesterday in the shower I listened to [Dire Straits track] 'Sultans of Swing' for the nine millionth time. I love the wanky guitar. It's my bag. But as hard as it is for me, I try to contain that when playing live. Sometimes I don't."
*For the record, it didn't work. To this day, he counts his family among his biggest fans. Look closely—his Nana occasionally expresses her pride on his official Facebook page.
LE COULEUR
Le Couleur speak of Serge Gainsbourg like a Godfather, react with relevance when electronic artist Sébastien Tellier is mentioned, and refer to their song language choice as some kind of superpower that helps them take the stage every night. ("We're never intimidated because we're singing in French," frontwoman Laurence Giroux-Do reveals. "We're doing that genre of music.")
The trio's deep abiding love for their heroes plays out across their Polaris Prize-nominated sophomore full-length, P.O.P. A buoyant blend of disco beats (Arcade Fire's newest doesn't have anything on Le Couleur) and Giroux-Do's breathy vocals, theirs is a pop-kissed sound that's delightfully retro and forward-thinking all at once. Live, it also facilitates some damn good dance parties, where Giroux-Do doesn't just work the stage but the whole room, tambourine in hand. (They were perhaps the only band at M For Montreal to call for shots on stage… and actually get them.) But even though Le Couleur makes music that sounds ready to take its place among pop classics (Was that a "Careless Whisper"-style saxophone in "Starlite?" You bet it was.), as the band explains, they're already overjoyed at simply being local scene stalwarts who can pay the bills with their passion project.
"I don't want to be a superstar," says keyboard-guitarist Patrick Gosselin. "I want to be happy. Now I'm happy. If being a superstar makes me happy, fine. If having a good beer with good friends makes me happy, fine. It's just that. We can live with our music right now, so that's super. It's already a success."
COMMON HOLLY
Like members of Ought, Majical Cloudz, and Arcade Fire before her, Brigitte Naggar studied religion. But the name of her music project owes its existence to a very earthly phenomenon that many people joke about, but few actually see come to fruition.
"I think we were all drunk at a party and were all just throwing names out," says Naggar, setting the scene for when she finally named her project. "Ultimately, I liked the plant imagery of the Common Holly. There's something about the organic vine-like plant that's suitable to music. Also, I think the word itself suits the music. I do like the understatedness of the common plant. There's some symbolism there, too. A pretty berry that's shrouded in dark, sharp leaves. I think that's kind of what I try to do with my music as well. Some air of darkness. Not in a depressive way, I hope."
Her debut, Playing House, written during a creative outpouring that lasted over six months, is a folk album at its core. But Naggar fills in each song with different colors including a spiky blues guitar ("The Rose"), a gentle piano line from of fellow Montreal artist Jean-Michel Blais (on "lullaby"), and even a string section ("After it All.") Her hope is that the songs will act like puzzle pieces, combining to form a bigger picture.  
"It starts on this booming, energetic note," she says of the album. "It builds [from] there. And then from there, it unravels. The whole thing is a process of narrative and telling this experience of a breakup. I think it's important that the last note be a bit of a coming out of that darkness."
PETER PETER
Peter Peter's third album, Eden Noir, is full of after-hours synths, delicate acoustic passages, and French-language lyrics about loneliness and life in the big city. (A surprising linguistic choice, since he admits preferring Swedish band Radio Dept to most Francophone artists.) But despite the mix of sonic elements, the stories the album encapsulates all come from a very real place.
"I was staying home from 10 to sometimes seven at night when my girlfriend was coming back from work," says the artist, who now splits his time between Montreal and Paris. "I would write, and I would go sometimes in a café to read so I could go out. I wasn't speaking much to people, and I figured I was losing completely my speech ability. Sometimes when people were making jokes, I was super-slow answering them or even getting what was the situation."
Struggling through an unfamiliar lack of drive, Peter Peter spent over a year crafting Eden Noir, flying between Paris and Montreal to track drums and carrying around his works in progress on a hard drive that led to the surreal feeling of not having anything physical to show for his efforts. ("I'm such an abstract person it didn't help," he cracks.) But as Peter Peter reveals, his trip through the darkness of his own mind proved to be something of a musical therapy session. Now, he no longer questions himself as a musician.
"I went super deep into loneliness," he says. "Now I go out more often and meet people. For a while, I didn't want to meet new people. You can be a loner person in Paris, and it has this romantic feeling that was good. I didn't feel like I needed people. But now, I feel like I have to share a part of myself with other people. And I would get even better at what I'm doing because I'm challenging myself. It's a sentential crisis for sure. But the outcome is good."