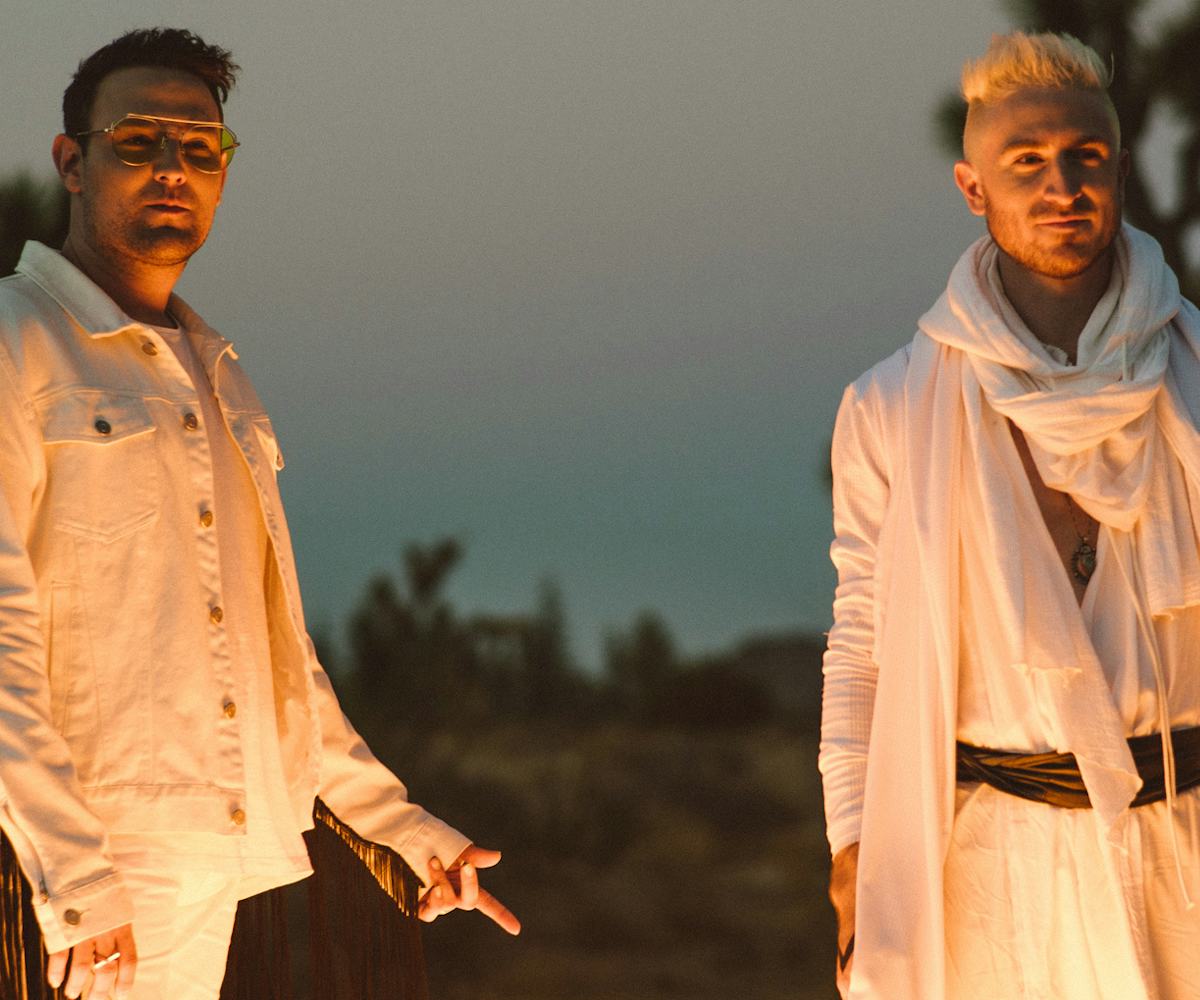 Photo by Dusty Kessler
Let Morgxn And Walk The Moon Take You "Home"
It's as if Nicholas Petricca was meant to be on this track all along
Sometimes collaborations are just meant to be. That's how it felt when morgxn first sang his track with Nicholas Petricca of WALK THE MOON onstage at Lollapalooza. "I felt something cosmic in that moment," morgxn said, "and the idea was born to make a new version."
Morgxn revisited his biggest track, "home," for a recording with Petricca and brand-new video, which Morgan Freed directed and Lara Mendizza produced. The two are seen wandering the desert, perhaps looking for this titular home, and are united on a small light-up stage at dusk to celebrate the conclusion of a really damn good collaboration. 
"When I first heard morgxn's voice, first experienced his music, I knew instantly he was one of my all-time favorite artists," Petricca says. "That was the night we met, when he was Morgan-with-an-"a," and he was just sharing some demos he'd been working on. I was mesmerized by his angelic tone and his courageous ability to go deeply, darkly vulnerable."
It's not a complete overhaul of "home," but the addition of Petricca's vocals where it feels like they were meant to be all along. Their vocals, though different in tone and range, open up the song into conversation, adding another dimension to what was originally a strong monologue. The two performers clearly know each others' strengths well, and play into them—morgxn soars through the chorus as he previously had, but now with Petricca there to respond to his calls. 
Morgxn eloquently summarized his feelings about revisiting the track with a question: "How often do you get to sing a song already knowing it has changed your life?" Not very often, that's for sure. Perhaps that's why the singer was so careful in preserving its essence that had gained so much attention, and simply opened it up for Petricca to add onto. The WALK THE MOON vocalist felt attached to the message of this track, and it shows in his performance. "Personally," he explained, "it reminds me of the new home I'm seeking to create for myself, the one without parents or training wheels, where I can feel strong on my own." It feels like, maybe, the strength he's searching for lies in collaboration, whether it's in this particular track or as a lofty idea about life in general. 
Check out the latest version of "home," premiering exclusively on NYLON, below.