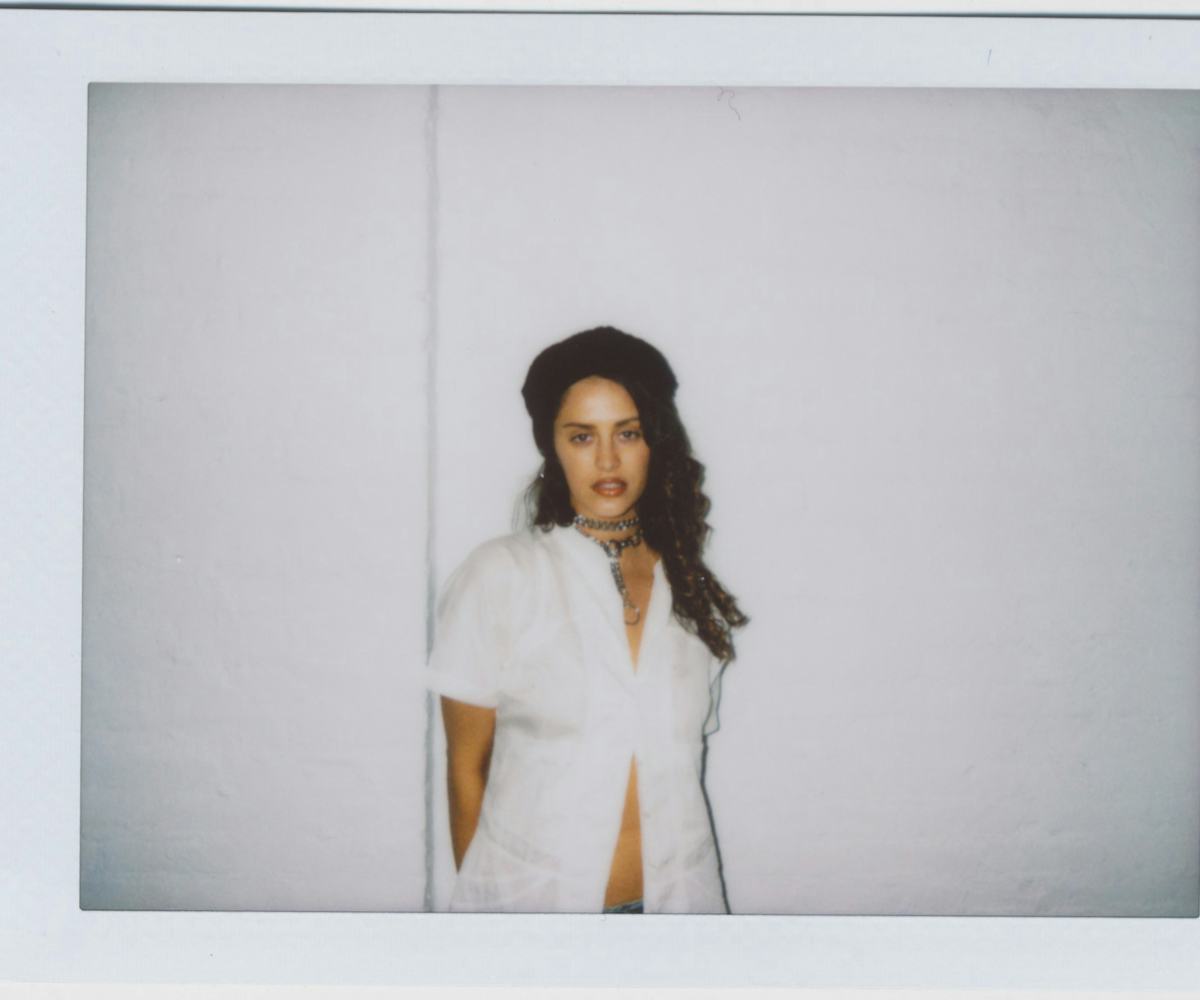 Photographed by Hayden Manders
Moxie Raia Is Reloaded And Ready To Take On The World
Moxie Raia grew up around music. "My dad used to leave music on in the house when we left so that when we walked in music was always playing in the house," she says. "He didn't want a time where the house was quiet, so music was always playing." The sounds of Frank Sinatra, Motown, and soul raised Raia. And, she's not letting a rising pop career take that away from her.
The New Jersey native's debut mixtape, 931, is rich with soul and productions that make you want to hit play over and over again. Pusha T, Post Malone, and Wyclef Jean all make appearances on it. That's not too shabby for a musician who has yet to drop a proper LP. Her jazz education puts her in a league of her own. It informs how she writes her music and, really, how she approaches life. "That was something I've been infatuated with since I was really young—people really involving societal issues in music," Raia says. "That's really important to jazz culture and to jazz in general." 
Now, with the re-release of her debut, appropriately called 931 Reloaded, Raia is gearing up for world domination. Her recent Def Jam contract means big things ahead, and Reloaded is just the beginning. Many may know her as the girl who toured with Justin Bieber's Purpose tour, but Moxie Raia is way more than that. She's got, well, moxie and the drive to do the most. Get to know her in our exclusive interview, below.
Was there ever a show, concert, video, or something that you saw that solidified in your head "I want to pursue music"?
There has not been a conscious moment in my life that I did not know that I wanted to pursue music. I think I decided so young that I don't even remember ever wanting to be anything else or do anything else. It's just so weird, I really can't remember. I knew at one point I wanted to be a vet and a singer, but I always wanted to be a singer.
You've toured with Justin Bieber, but have you ever been starstruck? And, if so, by who?
Yes, a few times. Once meeting Stevie Wonder because he was probably my biggest musical influence growing up. I met Beyoncé and Jay Z really quickly before I was going on stage at Made in America two years ago and I knew they were going to be watching me sing so I was pretty starstruck.
How would you describe your brand of pop?
My sound is something that's always come out of me naturally, so it's just a mix of all my different influences. I'm really influenced by jazz, and I grew up listening to pop music and soul and R&B and Motown. I never consciously add things into my music. I feel like I've always written the same type of music.
Are you working with producers who are helping you write or is it all you?
I have a partner. His name is Dan, and we've been working together for 10 years. He and I basically do everything together; it's a collaborative effort and sometimes other people come into the mix. Generally, I start it and we finish it together.
When you released 931, why did you initially do it for free?
I knew that nobody knew who I was and I didn't know how I was going to sell them a product when they didn't really know what it was yet. I wanted to give everybody a taste of who I was and start playing shows and getting myself out there.
Do you think you're going to continue to do that?
Yeah!
At 26, how would you describe the first half of your 20s and how do you want the next four years to play out?Right now, I am the most secure in myself. I feel like in the beginning of my 20s, I wasn't really secure and confident. I feel like I've learned so much and I know that the strongest thing I can be is me after going through all the experiences that you go through in the first six years of your 20s. It actually takes no effort to be yourself, and if you just let yourself be yourself, that's when you are the happiest and most successful in whatever you're trying to do. I just became more confident in my own skin. For the next four years, I think I have a lot in me that I really need to get out musically and creatively. The next four years are just putting in that work and getting it out.
Do you look forward to the 30s then? I look forward to all of it. There are parts of me that are unsure of what it will feel like, but I really try to embrace all parts of life.
If any artist, dead or alive, could cover any one of your songs, who would you want it to be? I think I would have to say, Stevie Wonder. If Stevie sang along with me to one of my songs, that would be it. [Laughs]
What's a good song of yours for getting ready in the morning?"Rudimental," for sure. I wrote it about these children that I work with in this mentoring program that I'm a part of and the morning—that freshness and that first moment when you walk outside and the sun hits your face and you're like, "Life is beautiful." I feel like that's a good morning song.
What about me-time?"How To Feel." It's slightly depressing, but it definitely is calming. [Laughs]
Pre-gaming? I would probably say "On My Mind" because it's really fun and upbeat.
Finally, a sexy time one?"Healer" would be the sexy time one, for sure. I don't write a lot of sexy music; "Healer" is the only sexy song I have out right now.