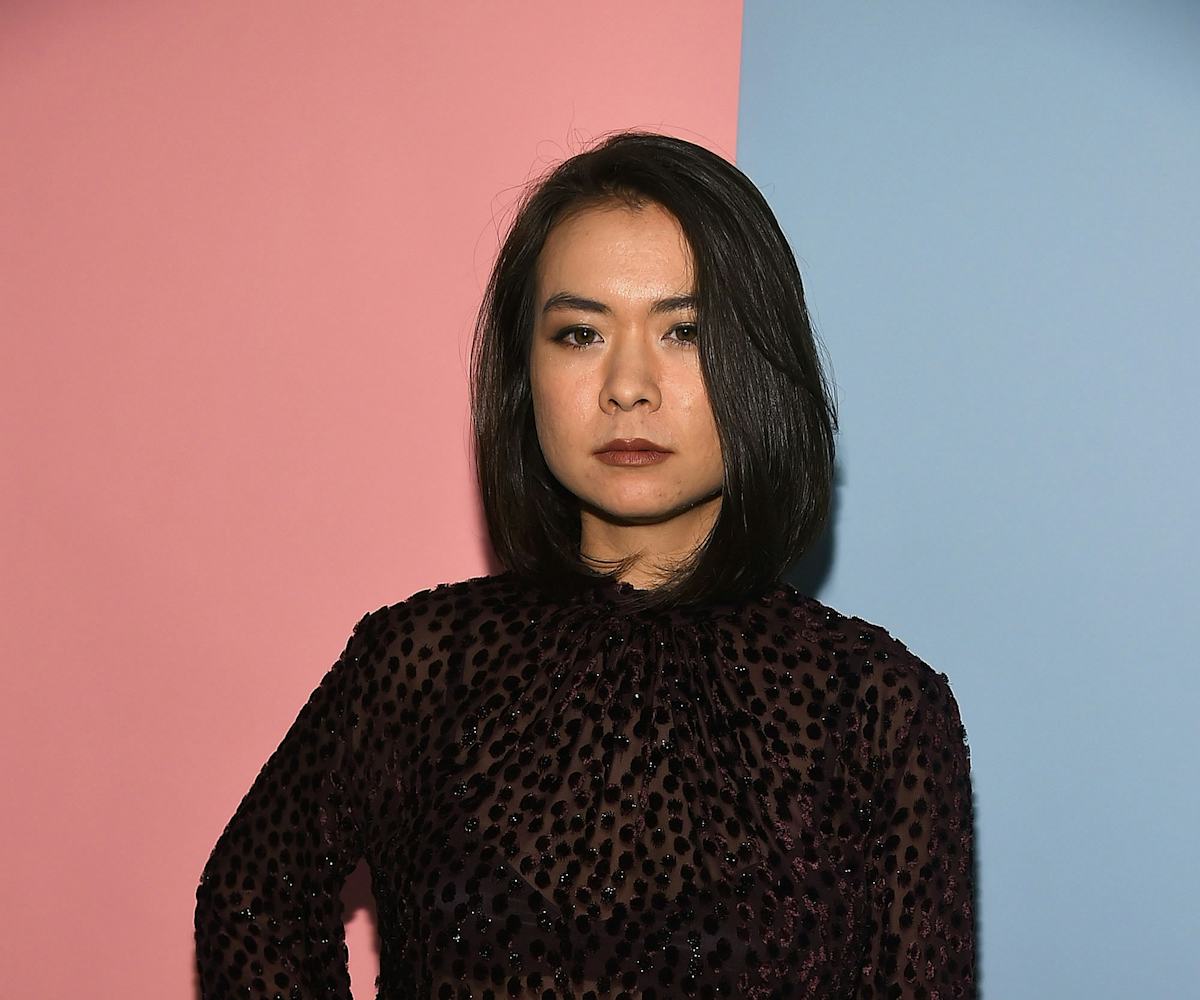 Photo by Ben Gabbe/Getty Images
What 16 Creatives Actually Majored In
A degree in economics before debuting as a DJ?
It's weird to think that our favorite creatives lived the same college-induced struggle that lots of us are currently living. Vampire Weekend and J. Cole are great and probably have graced the walls of our childhood bedrooms in poster form, but what do they know about a steady diet of ramen, a sleep schedule more erratic than Trump's moods, and deadlines?
Turns out, a lot of creatives totally get it, having majored in some surprising (and some not so surprising) things during their time in lecture halls. A degree in economics before debuting as a DJ? Sure. Studying finance and working at Google before releasing mixtapes? Why not?
Lots of our favorite creatives of the moment (and of all time) dabbled in college enrollments before hitting the airwaves and frequenting celeb social circuits. Check out 16 of our favorite creatives' majors during their stint with higher education.
Mitski - film and media to music composition
Self-proclaimed as "Your Best American Girl," it makes total sense that singer-songwriter and overall awesome person Mitski attended Hunter in pursuit of a degree in film, then treansferred to SUNY Purchase for music composition. It's every American girl's dream to attend university, right?
Jacques Greene - graphic design
Before cranking out legendary chill electronic beats and remixing none other than the current king of R&B himself, Frank Ocean, Greene was stationed behind a computer, creating, but in a different way. The DJ chose graphic design as his university major, taking to Photoshop and Adobe Illustrator instead of GarageBand.
Nick Melons - psychology
It's no wonder WEDIDIT collective mob member, experimental DJ, and producer Nick Melons has us hypnotized with his mixes—he literally studied the human mind. Building an electronic music empire seems impossible (the market is totally saturated right now), but the DJ's ability to gauge our reactions and interest must be propelling him and his crew to the top—or maybe, it's just his insane talent.
How To Dress Well - philosophy
This 32-year-old electropop singer-songwriter and overall heartthrob only writes sensual upbeat anthems during his downtime. A New School graduate who majored in philosophy, the fringe pop creator works on his dissertation at DePaul University, about nihilism and German philosophy in the 18th and 19th centuries, during the day. No big deal, everyone dabbles in lofty life-changing subjects for fun, right?
SoSuperSam - economics
Self-proclaimed R&B enthusiast and DJ to the elite Samantha Duenas, aka SoSuperSam, spent a chunk of time studying the cash behind the business before diving into DJing full time. The powerful lady DJ dominated spreadsheets while studying economics in college before dominating tables and the music scene.
Ryan Hemsworth - journalism
Remixer to the stars, DJ and producer Ryan Hemsworth almost became a Clark Kent-type before mingling with Grimes, Tinashe, and Cat Power. No not a superhero, but a journalist. Before the DJ opted for headphones and beats and ditched newsrooms and interviews, he attended University of King's College, where he says learning to interview gave him "more confidence to email or call someone and be like, 'Hey, let's work on a track or something.'"
Hoodie Allen - marketing and finance
University of Pennsylvania marketing and finance graduate Steven Markowitz, aka Hoodie Allen, made Google money before releasing his first real EP in 2012. The 28-year-old Long Island native secured a job at Google in their AdWords department after graduating. Unable to ditch music, the rapper worked on tracks after returning from his nonchalant day job at Google, staying up until 2 or 3am working on songs, writing, interacting with fans, and scheduling upcoming tours.
Vampire Weekend: Ezra Koenig - English literature, Chris Tomson - economics and music, Chris Baio - Russian and Eurasian regional studies
Who gives a damn about an Oxford comma? The guys of Vampire Weekend, apparently. Lead singer and resident funny guy Ezra Koenig, drummer Chris Tomson, and bassist Chris Baio met during their time studying at New York City's own Columbia University. All graduates before hitting the road and touring as indie icons Vampire Weekend, Koenig, Tomson, and Baio could probably tell us a thing or two about Tolstoy and Woolf, or you know, about being one of the world's biggest bands.
Childish Gambino - dramatic writing
NYU's prestigious Tisch School of the Arts claims Anne Hathaway, Philip Seymour Hoffman, Billy Crystal, Spike Lee and writer-turned-comedian-turned-actor-turned-rapper-turned-showrunner Donald Glover, aka Childish Gambino, as notable alumni. While doing what one does as a dramatic writing major at NYU, Gambino was noticed by none other than Tina Fey, who at the time was rocking airwaves as lovable and relatable Liz Lemon on her series 30 Rock. After graduating, at 23, Glover/Gambino joined 30 Rock's writing staff, thanks to his serious major. The overall rise to fame has been nonstop ever since (hello, Atlanta?).
Diplo - film studies
It's hard to image Diplo as anything but the DJ and hitmaker behind tracks with nonchalant features from the likes of Justin Bieber and Ellie Goulding, but at one time, he was just a regular dude studying film at Temple University. Directing the music documentary Favela on Blast in 2008, Diplo seamlessly learned to fuse film with music, putting to use his degree and his legendary talent.
Lana Del Rey - philosophy
Lana Del Rey doesn't ask hard-hitting questions about human mortality and ageist beauty standards, like "Will you still love me when I'm no longer young and beautiful?" for no reason. The 31-year-old modern reincarnation of Nancy Sinatra once sat in Fordham University's lecture halls, reading up on Aristotle, Kant, and Camus. Sure, some think Rey's music is surface-level indie pop, but have they ever really thought about it? Have they really?
Vance Joy - liberal arts and law
28-year-old Aussie James Gabriel Keogh, or as we know him, Vance Joy, would be just as comfortable as he is on stage as he would be debating in a courthouse or hanging in a gallery. Although the singer-songwriter creates all the staple tunes on our beach playlists, he graduated from Melbourne's Monash University with degrees in both art and law. Logically, the whiz kid went on to play Australian football in the Victorian Football League before he became known for singing sentimental tracks about riptides and Michelle Pfeiffer.
M.I.A. - fine art, film and video
Is there anything that M.I.A. can't do? The ultimate creative, nominated for an Academy Award and three Grammys, combines her art with her activism, creating poignant and visually striking albums, digital shorts, and films that are both pop culture friendly and totally subversive. Displaced due to civil war in Sri Lanka, M.I.A. (real name Mathangi "Maya" Arulpragasam) settled in England with her family, where she enrolled in London's Central Saint Martins College of Art and Design to pursue a degree in fine arts. M.I.A.'s first painting exhibiton mixed "graffiti with powerful images from the Tamil political street art of her childhood with London life." M.I.A. totally hasn't changed since her college days.
Pete Wentz - political science
Not many people who majored in political science can also say their band's been nominated for Best New Artist at the Grammy Awards, but then again a lot of political science majors also can't say they count Ashlee Simpson as an ex and Panic at the Disco frontman Brendon Urie as a good friend. Dropping out of DePaul University just one semester shy of graduating, I think we can safely say things worked out for the bassist and originator of emo guyliner.
J.Cole - communications
This 31-year-old is changing the rap landscape with his political rhymes and activist stance (it doesn't hurt that he's 6'6'' and cute), but before this, Jermaine Cole picked up his stuff and moved to New York City to attend St. John's University. Majoring in communications, J. Cole probably picked up some of his smooth talking skills during his four-year college stint.
Lil Wayne - psychology
Li Wayne's more than a raspy voice with a distinct chuckle. The Louisiana native and CEO of Young Money Entertainment enrolled in University of Phoenix in pursuit of a degree after getting his GED in 2005. His major? Psychology, of course. Someone has to decipher the dynamics behind the entire Young Money crew.