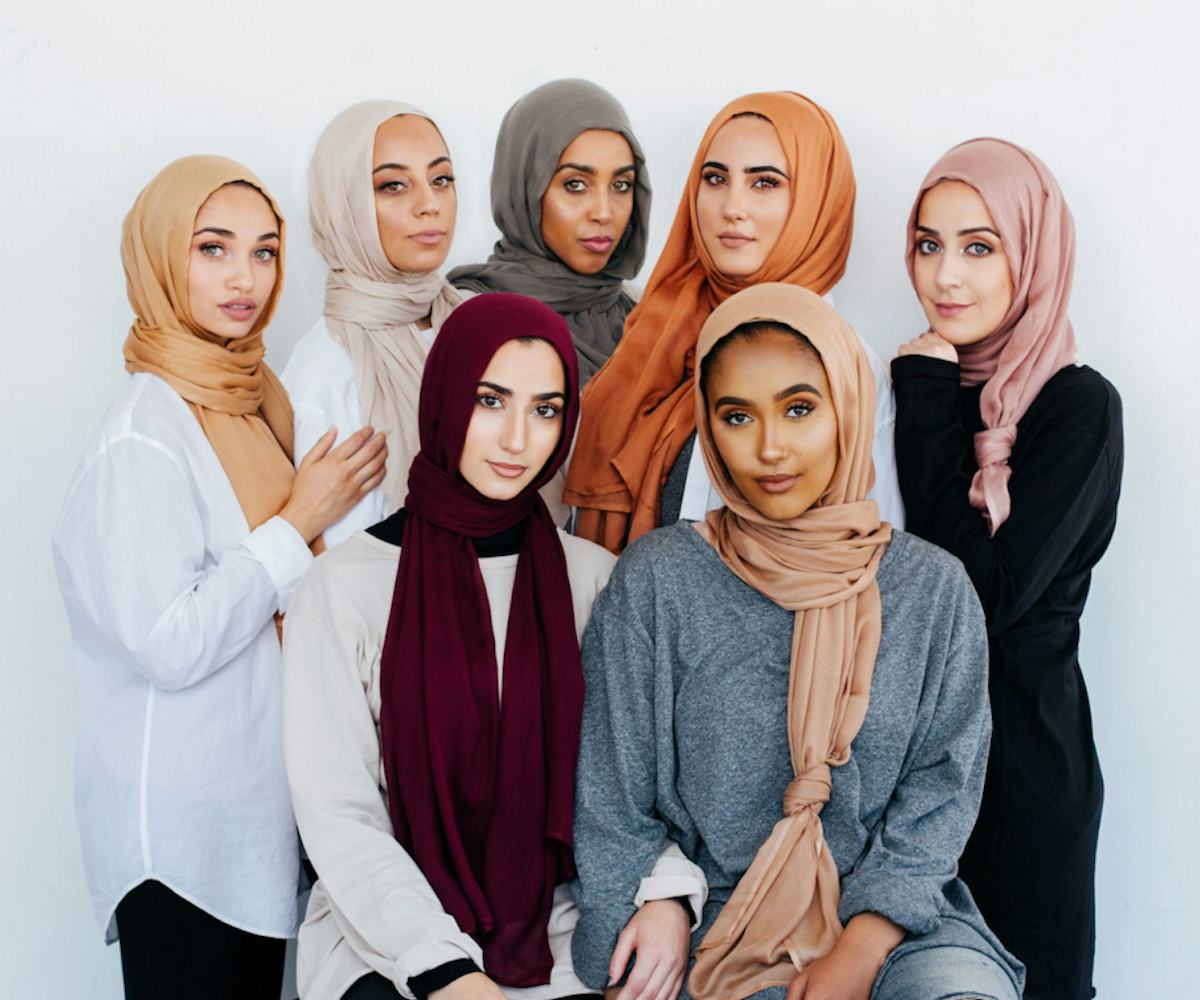 Photo courtesy of Vela
6 Muslim-American Fashion Labels You Should Know
And what it's like for them to exist in today's America
When it comes to modest fashion, finding clothing that's appropriate while also flattering and stylish can prove to be a challenge. Sure, we've seen some advances in hijab fashion over the past year or so—from Nike's upcoming sport hijabs to both Dolce & Gabbana and Uniqlo launching their own lines of hijab and modest clothing. Still, the market is far from saturated.
However, there are a few names out there that are changing the game; they're based in America, but making an impact worldwide. Bringing a whole new attitude and look to the world of modest fashion, these women not only create for the passion of creating but to empower other Muslim women in America and around the world. They aim to create confidence and create a sense of community while teaching Muslim women everywhere to be proud of their hijabs, bodies, and lifestyles.
During a time where models such as Halima Aden are walking Yeezy shows, we're certainly on the brink of a major modest fashion revolution—and these six female-run labels are on the forefront. Below, in honor of National Muslim Women's Day, get to know the Muslim-American fashion labels that are giving modest fashion a whole new meaning.
Haute HijabMelanie Elturk, the brains behind Haute Hijab, runs her online label with the mission to instill self-confidence in hijab-wearing women. While Haute Hijab offers chic and fashionable modest fashion and hijabs for women all around the world, the label also means much more than that.
"My inspiration came from working with the Muslim youth in my hometown of Detroit," Elturk says. "I noticed that hijab was an issue for young girls—not only for the girls who already wore it and struggled to keep it on but for girls who didn't wear it and had no desire to put it on. At that time, there were no real hijabi fashion influences one could look up to for inspiration. Haute Hijab was born out of a necessity that I saw in my Muslim community—not only to design stylish hijab-friendly clothing but to be a source of inspiration for hijab-wearing women everywhere."
And a positive source of inspiration it is. In addition to HH being a clothing and hijab line, it provides support for women struggling with hijab while also highlighting the inspiring women who contribute to the community (such as the Hijabi of the Month campaign)—connecting women all over the world.
VELAMarwa Atik decided to pursue designing her very own line of scarves back in 2009 when her nursing school classmate noticed her notebook doodles feauturing atypical hijab designs. That classmate urged Atik to take a shot at bringing one of her sketches to life, prompting the designer to create her first zipper-edged headscarf—and VELA was born.
VELA isn't your typical line of hijab and modest fashion. Atik incorporates her favorite accents—from ruffles to zippers—into her scarf designs, bringing an otherwise simple veil to a whole other level. "I told myself that people are either going to not understand this concept at all and it would fail, or it would start a whole new era for fashion and hijab," she says. "Thankfully, people accepted it with open arms, and I've been designing ever since."
Today, you'll find everything from petaled and feathered headscarves expanding into abaya and other chic, modest clothing.
While Atik may be Muslim and started VELA with the intention of creating a fashionable line catering to the modern Muslim woman, she learned that over time women of other faiths also sought out her pieces. "Whether it was a Christian styling a scarf around her neck, or an Orthodox Jewish woman using it to wrap around her head, VELA pieces were forming a bond between women, and—at the same time—eliminating the misconception of hijab," she says. "Being an American Muslim designer is not about designing for Muslims, it's about designing for all Americans." 
Styled by ZubaidahZubaidah Abdul-Hakim started her curvy clothing company Styled by Zubaidah back in 2013 based on her own difficulties finding something flattering to wear as a curvy Muslim woman.
While we're already well aware of the lack of plus-size clothing offerings in the fashion industry (though much improvement has been made over the past few years), the struggles are even more real for the Muslim woman. "Being on the large side is so taboo in the Muslim fashion industry," she says. "We're often overlooked by other modest clothing companies because very few of them carry sizes over an XL—and those that do don't design these pieces to be proportionate for a curvy woman's body."
Aside from being an advocate for plus-size Muslim women and a proud American designer, Abdul-Hakim has an important message to the rest of the world—to not judge someone by how they dress. "Not everyone is allowed to live out their American dreams and to also be successful at it," she says. "I'm blessed to be able to design clothing for the American Muslim woman and to help shape how others view the Muslim woman as well. In today's society, we're viewed as being oppressed, a lot of times because of how we're dressed—and at times that can determine how we will be treated. As an American Muslim designer, I have the pleasure in creating pieces that don't compromise modesty or how 'American' we are. Growing up, my biggest concern was fitting in with my peers, and now I can help other girls like myself who want to feel accepted."
Austere AttireL.A.-based headscarf brand Austere Attire is for the every day, trend-minded woman, offering an array of modest fashion that certainly doesn't lack in style. They aim to embody typical Cali vibe—cool and effortless, yet still put together—with styles in grid print or that are pearl accented.
While the brand's focus is to dress today's modern Muslim woman, the brand has a stronger message: the importance of female empowerment. "Everyone who has ever worked with us—from photographers to graphic designers—has been a woman," the brand tells me. "Ultimately, Austere Attire aspires to spread a sense of sisterhood, confidence, and pride in our identity of Muslims." In today's political atmosphere, a sense of sisterhood and support is what's needed most, and they work to do just that.
Nzinga KnightNYC-based fashion designer Nzinga Knight knows what women want when it come to modest fashion. Ever since she was a design student at Pratt, her mission was to elevate women through modest clothing that was both elegant and edgy—and never boring. Years after her initial capsule collection in 2009—and a stint on Project Runway as the first American Muslim "Hijabi" contestant—that's exactly what she's still doing. Her line offers a balance of both structured silhouettes and gorgeous draping with lots of color-blocking and a definitive, standout style—a high fashion approach to modern modest wear.
LOUELLAIf you watched the Olympic games in Rio this past summer, you saw that our badass U.S. Women's Olympic Fencing Team took home the bronze. One team member, Ibtihaj Muhammad, also happens to be the first American athlete to win an Olympic medal in hijab—an incredible and powerful record to break.
But, what you may not know, is that when Muhammad isn't practicing her saber skills, she's designing fashion for Muslim women. She founded her very own modest fashion line, LOUELLA, which aims to offer wears that are incredibly stylish and modern—and we think her paisley printed maxis and floral jumpsuits certainly achieve that goal. She's proven to be an empowering figure to Muslim women in more than just the Olympic arena