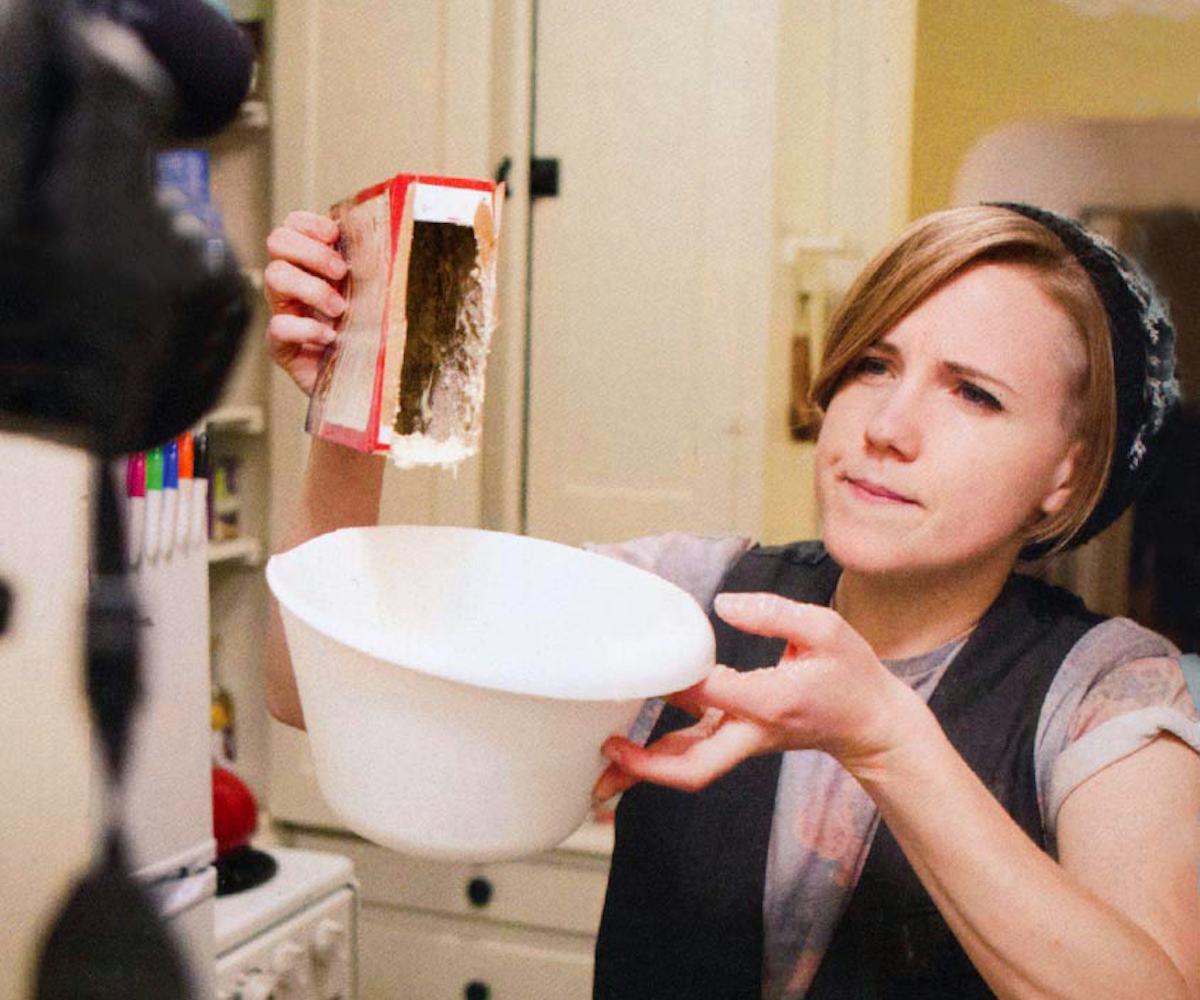 photo via my drunk kitchen: a guide to eating, drinking, and going with your gut
we made a pot pie for "my drunk kitchen's" hannah hart
by jackie yaeger / pie and photo by liz riccardi
When you think of cookbooks, you might think about the stacks of crumbling, ripped up pages in your grandmother's kitchen that are covered in reminisce of flour and vanilla extract. Thanks to YouTuber Hannah Hart, though, all of our kitchens are getting hooked up with her cookbook, inspired by her YouTube series My Drunk Kitchen. Yes, that means that when you read My Drunk Kitchen: A Guide to Eating, Drinking, and Going with Your Gut, you'll find recipes for party foods like Latke Shots, break-up foods like Sad Thai, and super easy recipes you can make on any budget (think Saltine nachos).
In honor of our cooking with cannabis page in the NYLON September issue, we asked our digital design director and pie aficionado, Liz Riccardi, to make us a pot pie. For the inspiration? We dialed up Hannah Hart in Los Angeles and asked her for the ultimate recipe.
If you were going to throw a party at your own apartment, what's one snack that you absolutely have to have or it wouldn't be a party?
I would have to go ahead and say definitely guacamole. I love it too much. My secret to making really good guacamole is to chop up a bunch of onions and soak them in lime juice for 10 minutes as a base. Then add in the avocado to build your guac.
What's the worst thing that's ever happened while you were cooking intoxicated?
I probably have said something I shouldn't have said. I don't like to be injured or hurt myself so I try not to have big tragic accidents. But, one time after making ice cream I slipped and fell on the floor and I proceeded to fall asleep until my sister came and put a plate of chicken nuggets on my chest.
What's the best recipe you've ever come up with while you were drunk?
Everything in that book!
Who is your favorite person in the world to cook with?
One of my friends or family members. My big sister was on an episode and that's like a thirty fun year old. It was hilarious. For me it's all about cooking with people I know. Also Mary Louise Parker was really fun. She was awesome, so real, so nice, so great.
Is there anyone who has yet to be on your show that you'd really want to be on it?
Patrick Stewart! When I grew up I was really into Star Trek. I was also a big X-Men fan and he seems like a totally rad dude.
What level of drunk should be when preparing dinner for an ex?
Oh shit, that's intense. I mean, drunk enough to invite your ex over for dinner?!
What's one food you crave more than anything else?
Avocados. I just love avocados, man. I also really like smoked salmon, though.
On your birthday, what to you have to have as your cake?
I'm more of a savory person, but if I had to pick a dessert it would be a pie, like a pecan pie.
If you were going to make a pot pie, what other ingredients would you add?
It would have to be really buttery and salty. Maybe like a blondie pie. But also, a banana cream pie would be amazing because it might help with dry mouth.
Without further ado, here is the NYLON Pot Pie, made by Liz Riccardi, with inspiration from Hannah Hart.
POT PIE RECIPE
Ingredients / Tools
- Box of Nilla Wafers
- Stick of Butter (infused with cannabis)
- Sugar
- Instant Vanilla Pudding or Pie Filling
- Cream Cheese
- Powdered Sugar
- Vanilla
- Creamy Peanut Butter
- Whipped Cream
- Pie Dish
Directions
1. Crush up half the box of Nilla Wafers with 3/4 the stick of butter + 2 tablespoons sugar. Press into pie pan and bake at 350 for 10 minutes.
2. Make 1 box of instant vanilla pie filling / pudding. Pour into cooled crust and chill.
3. Cover pudding layer with sliced bananas
4. Mix 3 ounces of cream cheese + 1/2 cup powdered sugar + 1 teaspoon of vanailla + 1/3 cup of peanut butter until smooth, Add 2/3 cup of whipped cream to mixture + spread over banana layer.
5. Chill
6. Decorate with more sliced banana
7. EAT