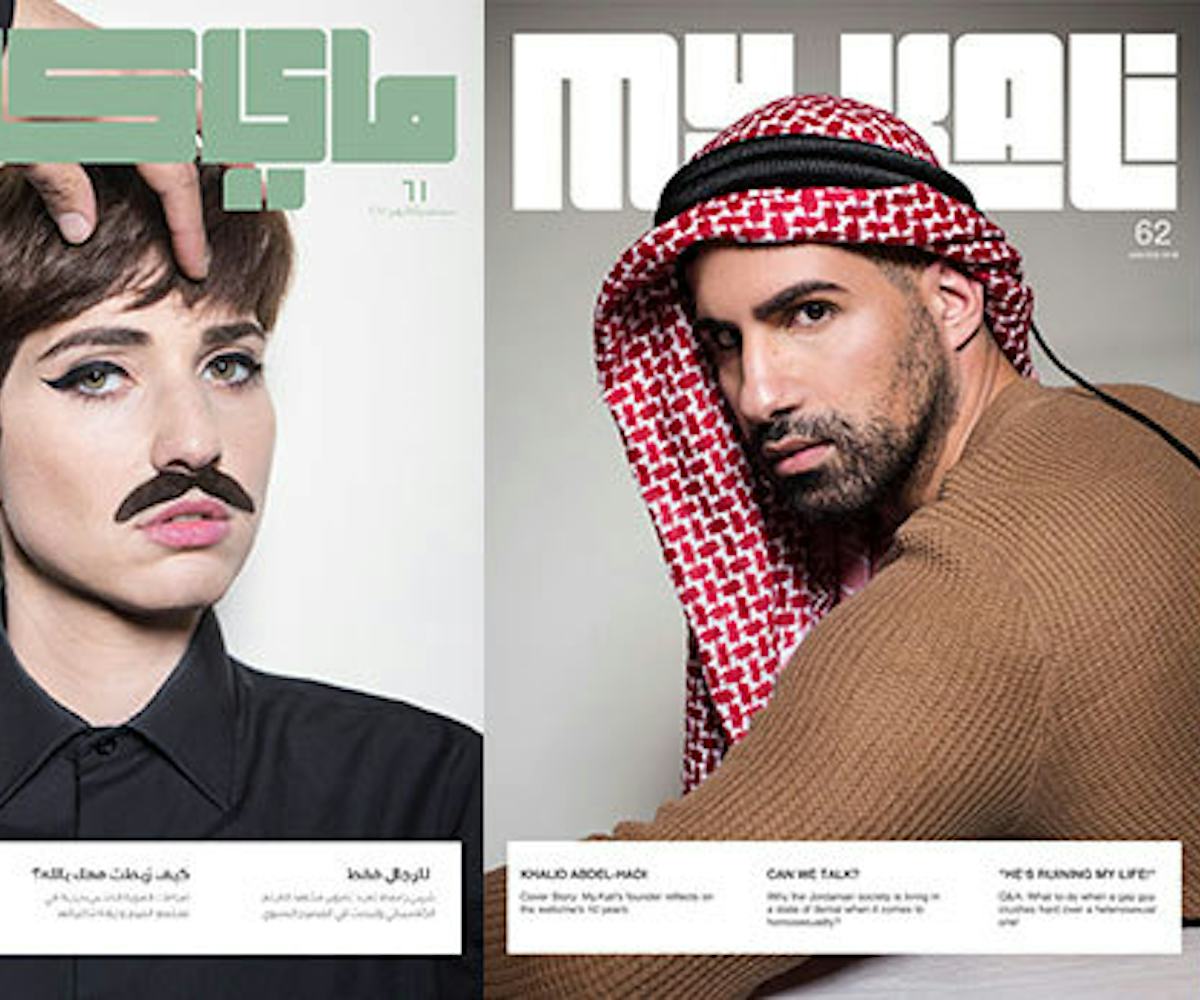 Photo by Alisa Zaira Reznick; Photo by D.H.; Photo by Alisa Zaira Reznick; Photo by Abduallah Dajani
How Jordan's Only Queer Publication Found Its Footing
Finding a safe space of one's own
Khalid Abdel-Hadi started My.Kali, a Jordan-based online magazine covering issues relating to gender and sexuality, 10 years ago. In that decade, Hadi has grown his project from humble art, design, and fashion beginnings to feature more inclusive reporting. It's through that reporting that My.Kali has become a destination for essays on the queer Arab experience, with pieces of content that not only elevate queer Arab voices but which are also accessible to all readers. (Each issue is published in Arabic and English.)
Being an out queer person in many parts of the Middle East is no simple thing. There are some countries where being queer is punishable by death. In others, like Jordan, there are enormous stigmas surrounding class and gender presentation, making the work of a publication like My.Kali all the more important.
But it's difficult to get that work out to the public. In July 2016, My.Kali was blocked. In 2017, Jordanian MP Dima Tahboub targeted the LGBTQIA community in Jordan by saying they are not welcome in the country, despite laws legalizing same-sex activity. The Jordanian Parliament shut My.Kali down, forcing Hadi and his team to take a "year of reformulating" the publication and tailoring it to be more than just a glossy, digital queer-bent publication. "We realized that there's still a big misconception of what it means to be LGBTQIA," Hadi says of both the queer population and the heterosexual one. "Because we operate on the internet, everything has to intersect, so we made a decision to speak to our society as if it were our baby." 
Photo by Shukri Lawrence
Fast-forward to fall of last year when My.Kali reemerged on a different platform with an issue dedicated to identity, its politics and its aesthetics. Still, though, "a large chunk of our followers aren't LGBTQIA—many of them don't even follow us on social media," Hadi says. 
So, most LGBTQIA people consume My.Kali by bookmarking it. They don't want their specific social handle to show up in My.Kali's follower list; association by following is enough to out someone. Hadi knows this and has worked with his team to create a special newsletter catered to those who consume My.Kali in secret. For those looking to contribute to the publication, anonymity take precedence. "We operate based on a writer's, photographer's, stylist's, whathaveyou's discretion," he explains. "We communicate through encrypted means and always ask to collaborate on distribution," knowing presentation often takes precedence over actual substance.
Still one of the only LGBTQIA publications in the Middle East, My.Kali continues to dispel myths of the queer Arab experience. In the 10 years since its conception, Hadi has seen more "people coming out and more people being accepted. The conversation is becoming much more pure, much more inclusive, and much more... I'd say commercial." And it's also quietly revolutionary. Because what Hadi and his small but nimble team do is show that queer Middle Easterners do not have to make new lives for themselves far from their homes. Instead, Hadi shows that queer havens are possible in the Middle East, that queer people are not alone. "Many LGBTQIA people do not think the West is the heaven they want to move to," he says. "Many of them want to conform to their own society, to live their lives very normally and embrace their own cultures." And with My.Kali, they are seeing how that future might be possible.