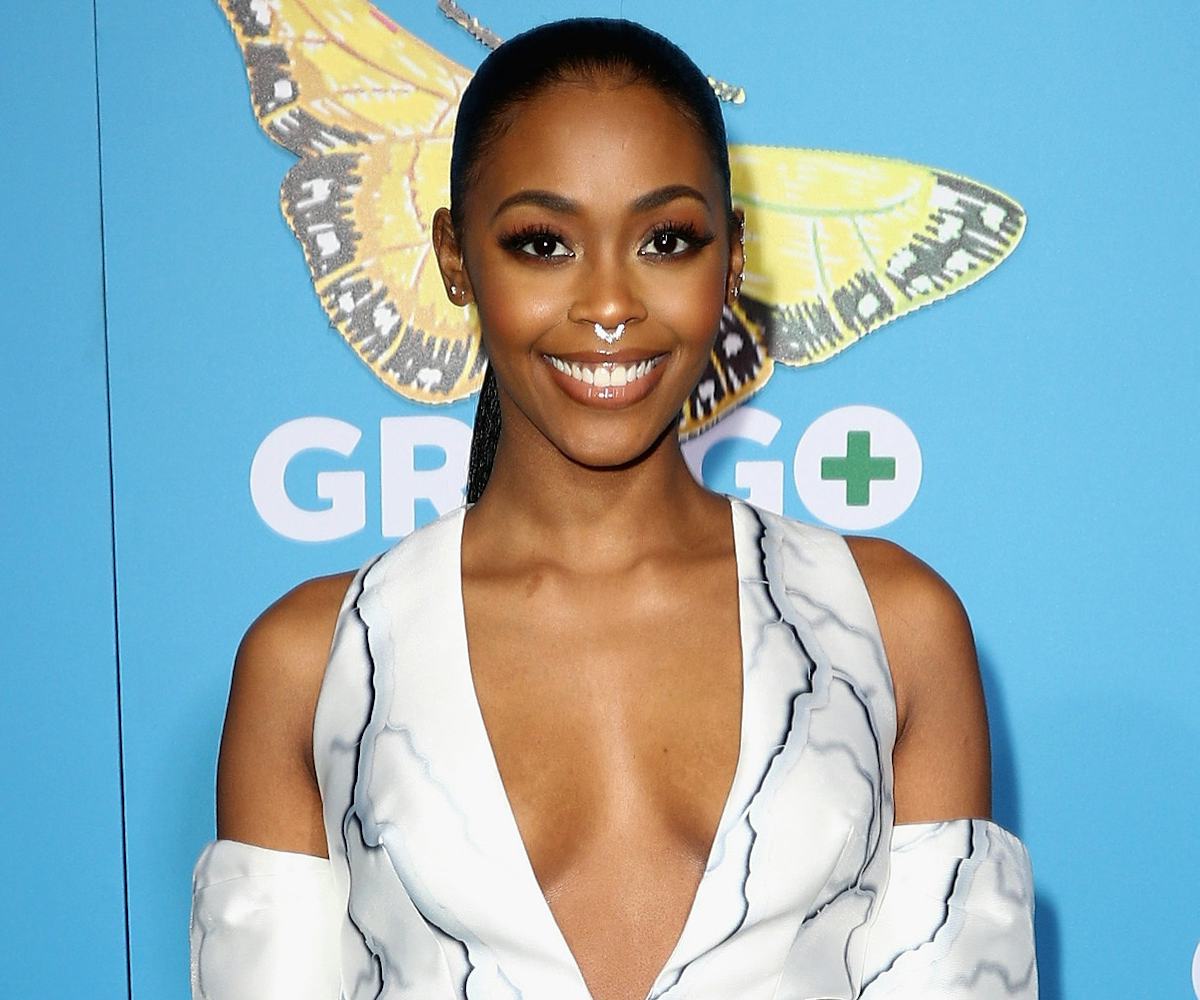 Photo by Frederick M. Brown/Getty Images
Nafessa Williams On Playing TV's First Black Lesbian Superhero
Black Lightning's Anissa Pierce is the kind of superhero who participates in your standard comic canon fare—beats up thugs, stops robberies, and the like—but manages to be staunchly grounded in the politics of today. From getting arrested for being at the front lines of a protest to destroying a statue of a Confederate general, Anissa is the bold and confident role model young people questioning the system need, according to the Nafessa Williams, the actor who plays her.
The eldest daughter of the show's eponymous hero, Anissa has extranormal powers and is just beginning to follow in her father's crime-fighting footsteps under the alias Thunder. Doing this all while in med school and teaching part-time, she's also network television's first black lesbian superhero. As she approaches the show's April finale, Williams says she has been able to continue learning and recognizing the importance of Anissa's presence within the contemporary television landscape—and that she's ready to keep amplifying the importance of real-world issues both on and off the screen.
What was your first read of Anissa like? What drew you to playing Anissa and why did you think her story was important to tell? 
The character was really well-written, but I think more important was the fact that she is so bold and so confident, and as I was reading about this strong female character, I knew she would be an inspiration. To not just young black girls, but young black girls who are lesbians and all the lesbians who just want to feel represented in Marvel films. It was a really dynamic and emotional read because the very first scene I did was one where I'm getting out of prison [after being arrested at a protest]. The issues that cut around the scene were really real and raw, and it was something I felt I should do right away. I grew up in Philly, so I understood these issues firsthand, and I knew I would be able to lend my experience—of what I knew growing up in an inner city—to this character. So it was really just a no-brainer for me. The experiences and some of the circumstances and situations you see within the show, they happen in any inner city—the shooting, the violence, the brutality, the drugs, the police brutality. Social injustice, you know?
What struck me about your character, in particular, was her attitude of like "fuck respectability politics." Why was that important to you? 
Anissa inspires me. I feel like as artists we are activists, we use our activism through our art, and it's been really cool to give a strong voice to who she is because, with everything that is going on within our country, I feel like I'm doing my part in bringing issues to light. That's what the show is about: We really wanna see the change within our community. It's a superhero show, but it's more about a family wanting to protect their community. It's really been an honor to shed light on things, so you don't forget your Sandra Blands and your Trayvon Martins. Just making sure that we're still telling those stories and then, hopefully, sparking change.
Are there any particular story lines that have resonated with you the most?
The police brutality. My character, she's at a march, she's at front lines, willing to risk her life and do it unapologetically to try and save her community. She's so inspiring. That resonated with me, and it made me really want to understand her fight. When I think of Anissa, I think of Harriet Tubman or Rosa Parks. She's this really strong, unapologetic, bold woman who is willing and ready to fight for what she believes in. And they tease me on the show—they called me "Harriet Tubman"—and I love that reference. It's what it could be like if Harriet Tubman was still alive.
What does it mean to you to be part of this huge wave of diverse, multi-dimensional superhero narratives like Black Panther or Jessica Jones?
I'm so honored, and I'm so grateful. To live in the time we're at, in terms of storytelling, I'm so proud and honored to [help make art in which] everyone can see themselves. And to be a part of this wave of black superheroes is really incredible, and I believe that Black Panther and Black Lightning are just the first of many. Representation is very important. When we all watch television, we want to be able to relate and feel inspired by the characters that we're watching... I'm also so happy because she's the first black, lesbian superhero on network TV. Do you know young, black, gay women are gonna be inspired by that?
It gets me emotional when I get love on social media from gay people who are watching the show. The people who reach out and say, "Thank you for being so bold with your character," because kids need to see that it's okay to be who you are. That's also what our show is about: embracing who you are, embracing what you look like, your sexual preference, whatever. Kids need to see that, as well as their families. Like Anissa's family on the show are super-supportive of her decisions and her sexual orientation, and I believe that parents need to see that and, hopefully, be inspired [to do the same].
You were also in the Twin Peaks reboot last year. What was it like being part of something that iconic? 
It was really cool... I was so fucking nervous because it's David Lynch, but I was so at ease working with him. 
My scenes were with Kyle MacLachlan, and I had a really good time with him on set. We had the scene in the car, and people in the neighborhood were watching but didn't know what was going on. Also, I love Kyle MacLachlan in Sex and the City so just like imagine rolling around in a Jeep with [Trey MacDougal]. 
Black Lightning airs Tuesdays at 9 pm EST on the CW.