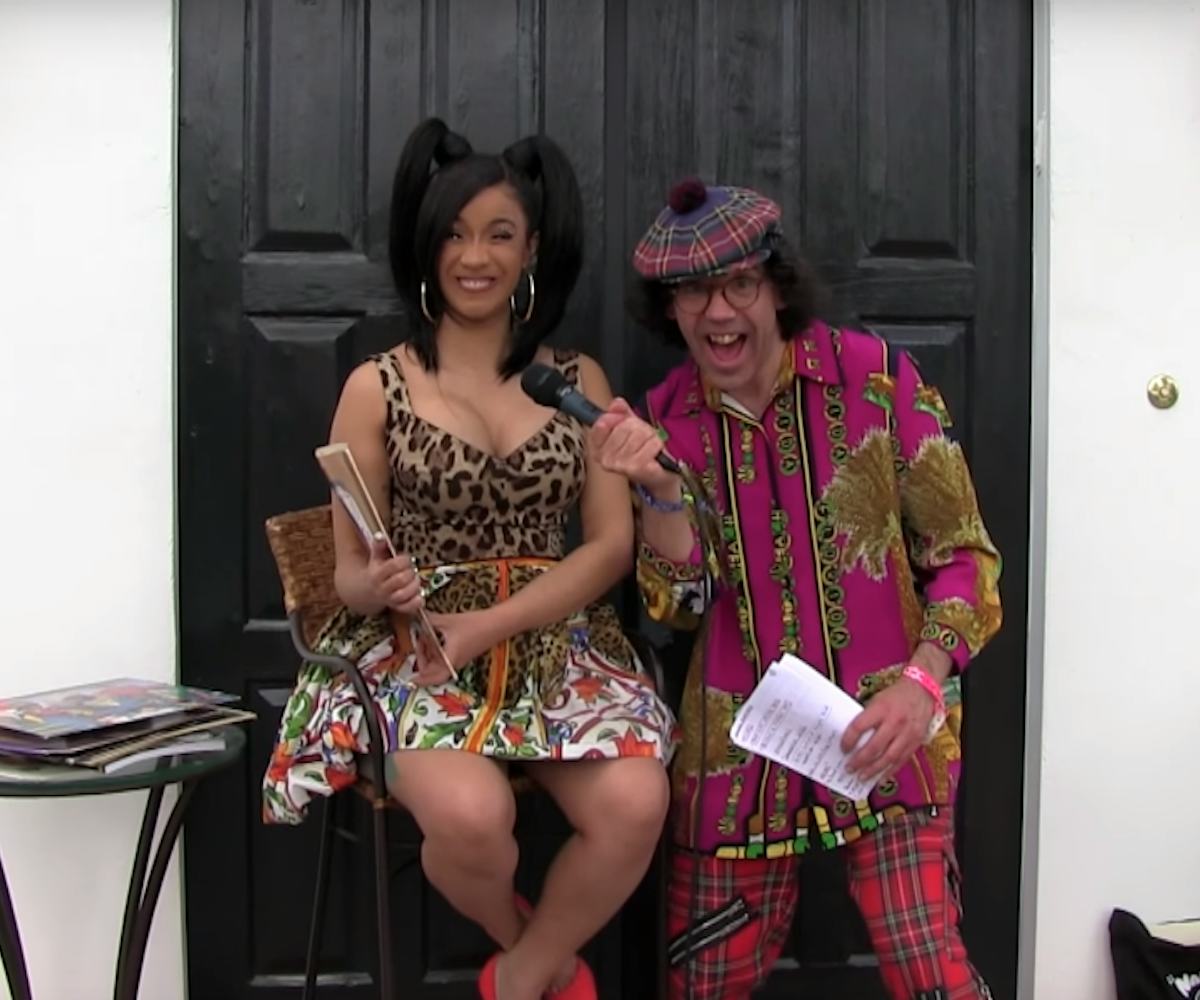 Nardwuar Interviewing Cardi B Is Just As Entertaining As You'd Expect
"How much money you spent on all these gifts for me?"
Nardwuar is the king of interviews. His best ones happen to be when he gets an artist with a personality as large as his. This weekend during Coachella, he managed to get one of the most popular and charming artists out right now: Cardi B. Naturally, it made for a very fun interview.
If you've never seen any of Nardwuar's interviews, it basically involves him doing extensive research on his subjects and gifting them with presents that will spark nostalgia. His first gift to Cardi was a Junie B. Jones book, which she says she used to read when she was in third grade. Nardwuar reveals that people have modified the books to fit Cardi B because, like Jones, she "always got in trouble."
He also gifted her a "Voices of History" vinyl, which includes recordings from former presidents like Franklin D. Roosevelt, Harry S. Truman, John F. Kennedy, and Lyndon B. Johnson. The present was likely a nod at Cardi's recent controversial GQ profile, where we learn she has extensive knowledge of the presidents and U.S. history (she also shares a birthday with Eleonore Roosevelt). Confused, Cardi asks Nardwuar, "Where am I gonna play it?" You're going to buy a turntable, he advises. "Well, how you know I can afford one?" she responds sarcastically.
Nardwuar gifts her with a slew of other items, like a book about the history of the Penthouse nightclub in Vancouver, a "Music To Strip by" record, and another titled "How To Strip For Your Husband," which Cardi says she has no use for ("I don't need this, I know how to," she says before showing off her engagement ring). He also presents her with tracks from other female rappers like Trina, Hoes With Attitude (H.W.A.), and Bytches With Problems (BWP). At one point, Cardi, apparently not knowing how all of this works, declares, "How much money you spent on all these gifts for me? You are over-gifting me." That's precisely the point!
Toward the end, after Cardi gets done serenading Nardwuar with some Al B. Sure!, he asks if she has anything she wants to tell the people. "I want to tell the people out there thank you for supporting me and, if you don't, suck my dick."
Watch the full interview, below.
[youtube https://www.youtube.com/watch?v=DX5_o-mumvE expand=1]