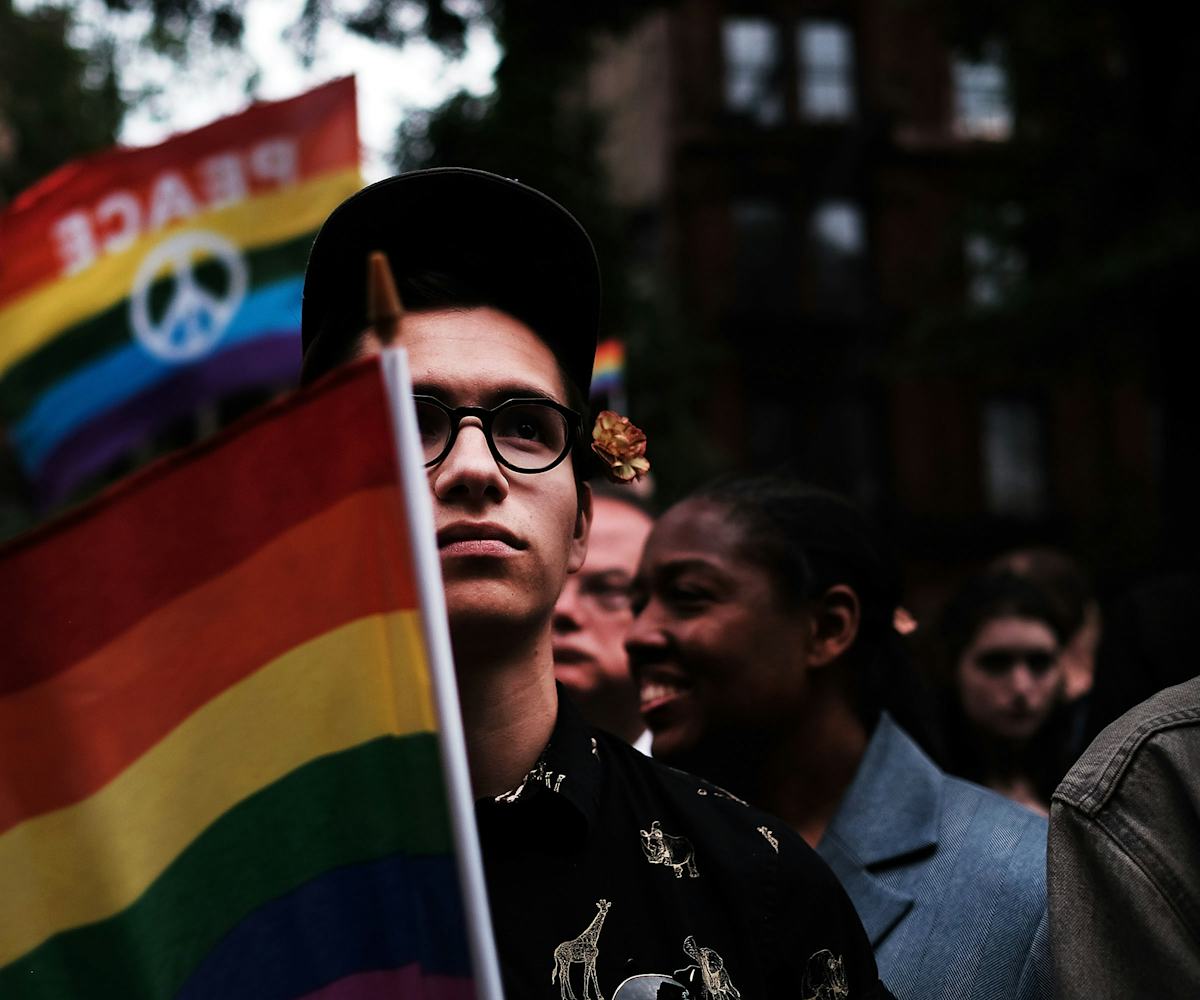 Photo by Spencer Platt/Getty Images
Nashville Gay Bars Are Being Sent Homophobic Postcards
Homophobic postcards have been sent to at least four Nashville-area gay bars by what appears to be a Trump supporter. The message is believed by some to be a scare tactic intended to deter potential Democratic votes.
Photos via NBC News, courtesy of Melvin Brown
The postcard, pictured, has the letters "LGBT" written out. But, instead of standing for "lesbian, gay, bisexual, and transgender," the postcard gives each letter a new meaning: "liberty, guns, beer, and Trump." The return address of each postcard features the MAGA logo and an address of an empty parking lot.
The fact that gay bars were specifically targeted with this mailing is cause for concern. The gun pictured on the postcard is an assault rifle, which is similar to the gun used in the tragic Pulse nightclub shooting that left 49 people dead. Melvin Brown, the owner of Stirrup Sports Bar—one of the bars that received the postcard—does not see this as a coincidence.
"We live in a post-Pulse world in the LGBTQ community, especially in the bar scene," Brown told NBC News. "To see somebody send a postcard that had a picture of the weapon used in one of the deadliest assaults in this nation's history, and one that happened at an LGBTQ bar, and to send that image to LGBTQ bars, to me is not a coincidence."
Chris Sanders, who serves as the executive director of the Tennessee Equality Project, believes that the flyers were sent to intimidate and may be "politically motivated. He told NBC News that many gay bars have voter registration drives, and the postcards might have been sent to try to deter these events from happening. He does not seem to be worried, though. "The community's message back is, 'Yes this is frightening, but we're going to turn out and vote regardless,'" he says.
The police are aware of this situation but have not begun an investigation into it. Kris Mumford, a spokesperson for the Metropolitan Nashville Police Department, did note that more officers have been sent to patrol areas where gay bars are located.