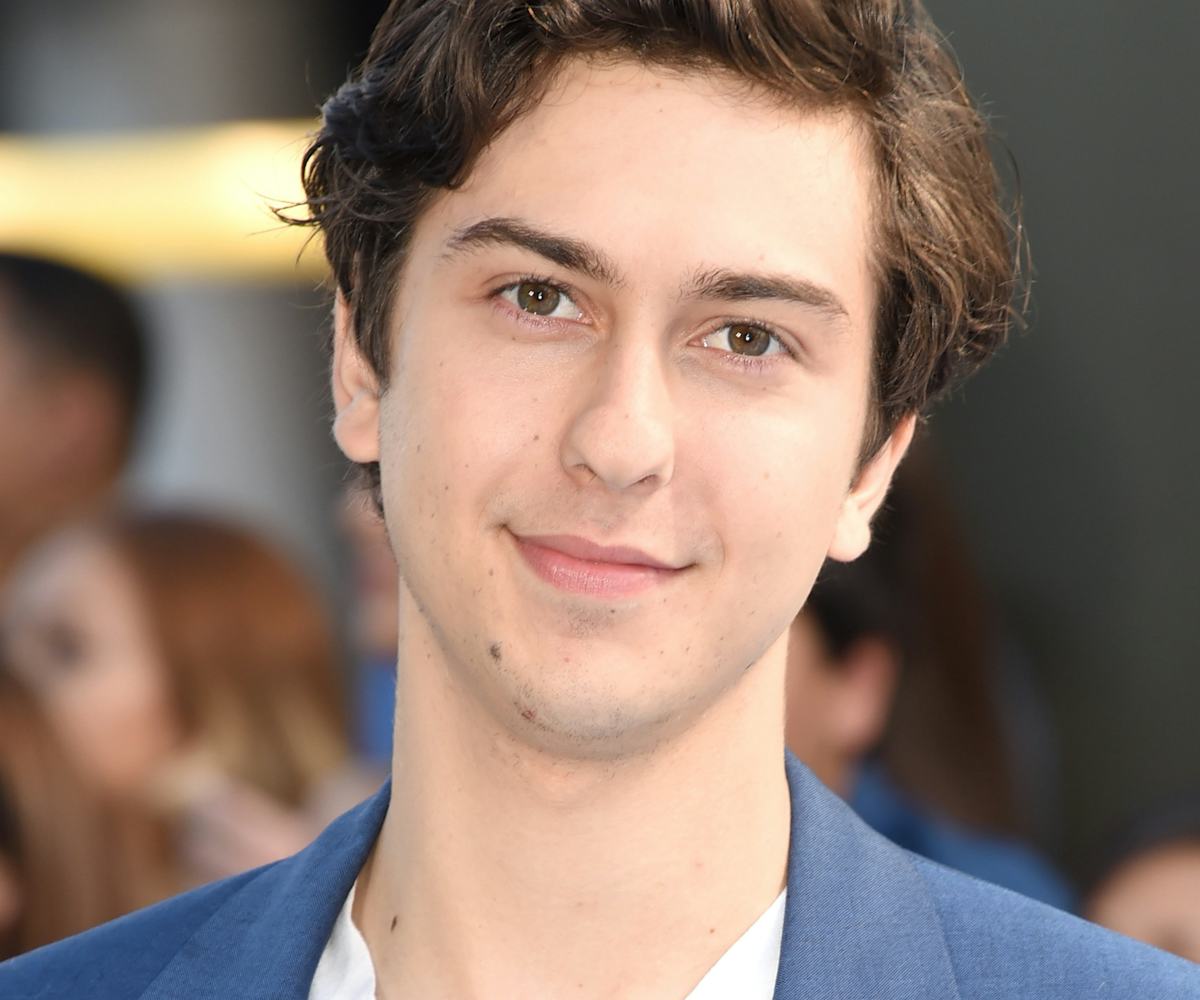 Photo by Alberto E. Rodriguez / Getty Images
Nat Wolff On Coming Of Age + That Awkward Cara Delevingne Interview
chatting with the star of 'Ashby'
When it comes to coming of age on screen, Nat Wolff is a pro. His pivotal roles in back-to-back John Green adaptations—a supporting one in The Fault In Our Stars and as the lead alongside Cara Delevingne in last summer's Paper Towns—have made the former Nickelodeon star the poster boy for learning valuable life lessons to the score of your favorite indie-rock band. His latest jaunt in the genre is as the star of Ashby, a quirky comedy that sees Wolff playing Ed, a new kid in town who befriends his mysterious neighbor (Mickey Rourke), who ends up being a retired CIA assassin. Ed eventually falls for a nerdy classmate (Emma Roberts), while having to juggle life with his newly single mom (Sarah Silverman) and an unexpected spot on his high-school football team. We caught up with Wolff to discuss his own coming-of-age moments, his relationship with music, and that awkward Cara Delevingne interview. 
Do you feel more of a duty to promote this independent film and to get people to see it because it doesn't have a built-in audience like Paper Towns or The Fault In Our Stars?
Yeah, I definitely feel that duty with any movie that I'm in. But I really love Ashby, and I feel like it's not like there's a huge machine like FOX behind it. But you know, so far the reactions it's getting are so positive and all the reviews are so good that hopefully it will be a word-of-mouth thing.
Were you brought onto this project before or after Mickey Rourke?
After. He was part of the draw. I've always looked up to him. I grew up watching Diner and The Wrestler.  
Were you intimidated when you first met him?
Yeah, it was intimidating but we had had the same acting teacher—or he had been in class with somebody who was my acting teacher—and he really liked her, so I was kind of in with him and we had a good bond.
This is your third coming-of-age movie in a row. If someone made a coming-of-age movie about you, which period of your life would it focus on?
Interesting. Um, I was kind of a disaster in middle school, so that might be an interesting movie.
How so?
I was just a depressed kind of wreck when I was in middle school. It's funny because I always play these kids who are going through intense things in high school, but my high-school experience was actually pretty great. But in middle school, that would be the more juicy movie.
What changed between middle school and high school?
I think that's just the time I was really super-uncomfortable with who I was. I think a lot of people go through that in high school, where I went through that in middle school from fifth to eighth grade.
How did show business come into your life?
When I was young, it kind of came and went and my parents just made sure I was really focused on me being as good an actor and as good a musician as I could be. So when I was about 11 to 13, I was really well known for my Nickelodeon show, and then I grew to be about six feet tall and I looked totally different, and then from about 14 to 18, no one knew who I was.
Your profile has risen in the last couple of years. How have you navigated your newfound fame?
I've been really lucky for people knowing me mostly from these John Green adaptations, because his fans are these really smart kids—these intellectual readers—so the things they come up to talk to me about are always really interesting. Luckily, I haven't had to change anything in my life.    
What did you make of the controversy surrounding Cara Delevingne's interview with morning talk show?
Yeah, I just thought that was just way overblown. I think Cara is a great person and everyone who knows he loves her, so I wanted to be like, "World, you go it wrong!"
Was it frustrating for you?
Not that frustrating. I mean, I didn't take it that seriously. All that stuff, you take it for what it's worth. I watched the thing, and part of her sense of humor is that sarcasm, and it's totally out of love, and I think it was just not that big of a deal. I thought that when she got off, and they started talking about her after she left, I thought that's what inspired a lot of the people to go on. And I think that was kind of rude, and then it became about picking sides between the two of them. And Cara and I talked about it, and she just doesn't care.
What's going on with your music career at the moment?
I have a song on the Ashby soundtrack, so it's great when the two worlds kind of collide, and I'm working on an EP with my brother.
How do you find time to balance movies and music?
It's really fucking hard. That's the hardest part, is scheduling, because I am always working and Alex is always working, so it's like, when are we going to do this? But once I got to meet Jared Leto—who does both—for a brief second, and he was super sweet, and I finally got up the courage to ask him, "How do you schedule all your stuff?" And this beautiful blonde model walked by and he was like, "One second."   
Are there any up and coming musicians you want to recommend to our readers?
I love Tobias Jesso Jr. I think he's fucking awesome, and I like TOPS, this band from Montreal.
How do you find new music?
It's always different. A lot of the times it comes from my friends. I have a friend group that's all these musicians and people who love music, and we kind of all help each other out. I get a lot from my brother, he's a music connoisseur. I need to listen to things a couple of times to let them sink in.
What film projects do you have lined up?
I'm doing one in November, but I can't really say what it is, and there are a couple of things I'm attached to, but I was in like five movies that came out this year, and it I feel like people have seen a lot of me, and I don't want to suck up as many parts as I can—I want people to want me in their movies. But now I'm at this amazing point in my career that everybody dreams of being at, where I don't have to do anything, so I get to be a little bit more discerning.
So now you have a different challenge, which is choosing the right project. How do you choose? Do you trust your own instincts?
Yeah, I find this much. You can never be sure how it's going to turn out, and you can never be sure what the experience is going to be like or what the final product is going to be like, but at least I can do projects that I am passionate about and put my heart into.