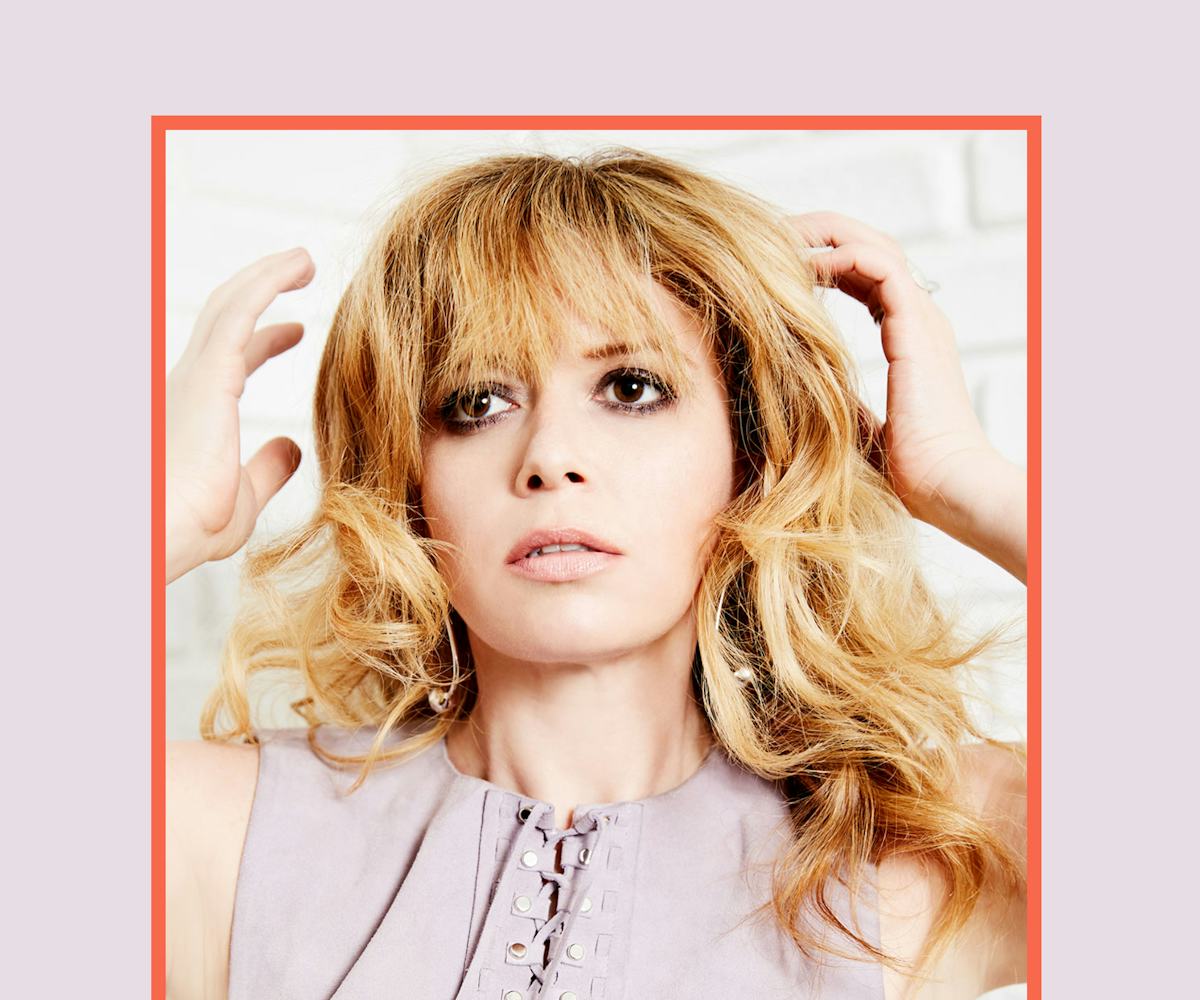 Photographed by Lauren Perlstein, Dress by Proenza Schouler, Jewelry by Jennifer Fisher
An Evening Of Dog Walking With Natasha Lyonne
"I definitely stand for the weirdos"
"You should just leave. Don't even pay."
It's seven o'clock on a muggy August night in New York, and Natasha Lyonne is advising me to dine and dash.
I had only arrived at the Lower East Side diner where we were meeting a couple minutes before Lyonne did, but I'd already ordered and started drinking an iced coffee by the time I saw her hard-to-miss, leonine-maned head pressed up against the restaurant's windows; it was clear she was looking for me and clear she couldn't, for some reason, come inside.
Leaving my iced coffee and the book I was reading in the booth, promising the waiter and the hostess I'd be right back, I rushed outside to find Lyonne and a little toffee-colored fluffball of a dog, Root Beer, waiting for me.
"I wasn't going to take her, but..." Lyonne said, gesturing toward Root Beer.
"That's okay. I love dogs. We should walk around with her. I just have to go in and pay."
This is when Lyonne suggests making a run for it, and even though starting off a profile with an actual crime, however petty, would make for a great story—or, at least, a much better one than what actually happened, which was: I went back inside and asked for the bill, and the very kind waiter told me it was on the house—I really wanted my book. So I grabbed it and told an impressed Lyonne that it was all taken care of ("They didn't make you pay for it??") and off we went into the evening air, soup-thick and conveniently smelling like that diner-staple: clam chowder, the red kind.
For 30 years now, there hasn't been a time when Lyonne wasn't at least in the periphery of the spotlight, even if not always for career-related reasons. The native New Yorker started acting as a young child, making appearances in everything from the Mike Nichols' adaptation of Nora Ephron's divorce novel Heartburn to the cultishly beloved Pee Wee's Playhouse before moving, as a teenager, into not only indie-prestige films (Slums of Beverly Hills,But I'm a Cheerleader), but also broad, mainstream comedies (American Pie and sequels, a guest spot on Will & Grace).
After a much publicized multi-year struggle with drug addiction, during which she was notably absent from the screen, Lyonne returned with a splash in 2013 thanks to a prominent role as heroin addict Nicky Nichols on the Netflix hit Orange Is the New Black. Appearances on other beloved TV shows (Portlandia, Girls) and small-budget movies, like Sleeping with Other People, since then have only solidified Lyonne's much-deserved comeback, giving her longtime fans much more to eagerly await.
While OItNB is currently 10 months away from premiering its fifth season, audiences can catch Lyonne in two independent films this fall: Sundance Festival favorites The Intervention and Antibirth. The movies share a commonality in that they each represent a reunion of sorts between Lyonne and longtime collaborators: The Intervention reunites Lyonne with But I'm a Cheerleader co-stars Melanie Lynskey and Clea DuVall, who also directs the film, and Antibirth with Party Monster co-star and IRL best friend Chloë Sevigny. Other than that, though, each film is completely different from the other, thus serving as ideal showcases to best demonstrate the versatility and wide-ranging talents of Lyonne.
In fact, "wide-ranging" is not only a means of describing Lyonne's gifts as an actress, but also an apt means to begin to understand what a casual conversation with her is even like. Over the course of our hour-long walk-and-talk (which eventually devolved into a walk-and-sit, because, wow, it was hot and humid that night), Lyonne touched upon topics ranging from her thoughts about the type of person who likes to go on leisurely walks ("I hate people who want to take a nice walk. I don't understand where they're going. What's the destination?"), to how she got her dog ("I rescued her from my friend Dave, who was her previous owner, who loved her very much. So it was less of a rescue and more of a dog-napping… but I don't think those are defined as rescues. Those are defined as stealing a dog you fell in love with."), to her feelings on New York's now ubiquitous shareable public bikes ("The only time I would ever see myself in a Citi Bike is if I was in a scene from a big-budget '80s rom-com where all of a sudden I was running down to catch my boyfriend and there had been a misunderstanding and I pushed this guy off of his Citi Bike and I grabbed it and I said, "Wait for me Johnny! Here I come!").
What I'm trying to say is: It's easy to cover a lot of conversational ground with Lyonne, even while sitting on a bench a couple blocks south of Houston, across the street from a mural of animals doing things people do, a work of art which Lyonne insists Root Beer painted: "Look at all those animal friends of hers. She's an extraordinary painter. I mean really you should do an interview with Root Beer."
Root Beer stayed quiet, though, while Lyonne covered, in the span of a couple minutes, more topics including the incredible style of New York acting legend Elaine Stritch ("She's like, 'Fuck pants. Why do I need them?' She wears a sensible jazz pump, nude pantyhose, oversized white men's button down, oversized prescription shades... Calls it a day. String of pearls. What else does she need? She's an American classic, a New York legend. You think Elaine Stritch would step foot in a Topshop? No way!"), to the problem with trying to be unique in the age of social media ("It must be a very confusing experience to be an outsider in such an easily mimicable culture of insta-simulation. It's kind of a bummer for the weirdos, and I definitely stand with the weirdos."), to what an ideal day for her comprises ("What's better than walking in the door and knowing the day is done and like laying down in bed, picking up your phone, and doing The New York Times crossword puzzle? Kids, what's better?"). And yet, despite the varied topics, there's nothing scattered or disjointed in the raid fire-way Lyonne's brain works.
Rather, talking with Lyonne is an experience akin to exploring the internet; every time she references something in conversation (and her references run the gamut from Maria Schneider's voluminous hairstyle in Last Tango in Paris to obscure Bette Davis quotes to the Masahiro Mori theory of the "uncanny valley"), she takes the time to explain thoroughly that thought, as if she were mentally right-clicking to open new tabs and closing them, one by one, always returning to her original premise, never losing the thread. There's a holistic quality, then, to interviewing Lyonne; unlike interviews with many other celebrities (especially those who have been dealing with the press since they were teenagers), it never feels like she's talking at you, only with you.
Despite having very strong and definite opinions on things like hosiery ("a nude Capezio fishnet... that I can get into, but I think if I actually crossover into nude pantyhose, I really would've reached a point of no return"), Lyonne's take on the peculiarities of life are very rarely harshly critical. She despairs about the loss of singularity in modern culture without feeling defeated by it. Lyonne tells me:
"Even the acceptance of the Kardashians is some sort of weird preconditioning that society is imposing on itself, of processing the Photoshopped image as real. It becomes the uncanny valley. I'm saying that without a judgment in any direction, but I'm just saying the sort of aesthetic of mindlessness, the way certain people are evolving into being a photocopy image of themselves in a Photoshopped image of real life is its own early form of robotification... We all need to be presentable online 24 hours a day, and it is no longer in the realm of just celebrity. Everybody is a celebrity on their own phone these days. I don't even know what it means."
This desire to maintain a level of individuality and embrace the freedom of weirdness played no small part in Lyonne's decision to take on the lead role in Danny Perez's sort-of-postmodern horror film Antibirth. Lyonne's Lou is a hard-living woman who casually does whip-its while walking through a store, and not-so-casually does just about any drug she can get her hands on while partying hard in the small, rural, isolated north Michigan town in which she lives. There are times when Antibirth seems less like a film than it does an impression of a film (an anti-film, if you will), but, as a character, Lou is never less than crystal clear. She is every woman who has, both by choice and circumstance, wound up living in a compromised condition, surrounded by daily degradations, often choosing just to check out rather than rise above the bullshit world in which she lives.
Of course, Lou also winds up mysteriously pregnant with a malignant alien being, but the Rosemary's Baby-angle of the film does not fail to make Antibirth any less relatable. Or, as Lyonne explains:
"[Lou is one of] a bunch of people who are trying to wrestle what's left of freedom and self-will out from under the grips of an ever-oppressive society that we're all kind of agreeing to participate in… what I really like about the message of Lou as a kind of antihero is she's like, 'Well, I don't give a fuck about what I'm doing to my own body, but, like, I'm still allowed to have my own basic rights and freedoms, motherfucker!'"
Lyonne's past struggles definitely informed her vision of Lou as an iconoclast, the kind of person who doesn't trust that what everyone around her is telling her is necessarily the one truth. Lyonne knows that almost nothing is ever that simple. She tells me:
"There is something powerful about [Lou], certainly with my history. I mean, I would definitely say, 'Hey kids! Keep your noses clean!' That's just not my bag anymore. But I certainly think it's a really good way of translating that message of, like, you can take my dreams but you can't break my spirit. I think it's probably a sentiment everyone can relate to."
At the beginning of Antibirth, Lou does seem like the epitome of a person whose spirit is, if not broken, at least severely damaged. But her progression throughout the film is fascinating because she decides to stop hiding from all the terrible things around her, and actually deal with them head on. Lyonne says:
"I remember at one moment where she sits up on the sofa and grabs her baseball bat/cane and is like, 'I am now going to participate in my own life for the first time, and I'm going to figure out who did this to me.' She goes from being a slacker to being her own ally and detective, like she's going to show up for herself and crack the code."
The appeal of this kind of character development is easy enough to understand, but for Lyonne, it wasn't the only reason to make this film. Besides having a friendship with Perez, Antibirth meant a professional reunion with Sevigny. Lyonne talks with fondness about being holed up in Canada filming and Sevigny knocking on her door with a plate of avocado toast, making Sevigny (who Lyonne calls "ChloMo") basically the perfect friend.
Lyonne continues:
"What was so amazing about getting to work with her is that Chloë is just easily one of the most gifted people of all time. She's a full genius and getting to watch her work was so much fun for me because it's a side of her as best pals I don't often get to see. Getting to act of off her was so much fun, and we got along so well the whole time. And, selfishly—this is why I'm a really possessive person—I finally had her to myself in a house in the middle of nowhere in Canada, in the middle of deep winter, so all of her socializing activities would only be with me. So we went to the gym together. Every meal was together. Every activity. Which is really how I liked it… We were pretty much just having a slumber party the whole time."
It was around this time that a young woman passes us on the sidewalk, hesitating a few paces away from the bench upon which we're perched, and slowly, nervously walks back to us. I figure she's spotted Lyonne, who has, by this time, removed her goggle-like sunglasses, making her instantly recognizable thanks to those distinctive saucer-sized, black-rimmed eyes. Almost imperceptibly, Lyonne braces for contact.
"Are you two going to the Fringe Festival?" the young woman asks.
Lyonne relaxes: "Not that I'm aware of."
"Well, do you like stand-up comedy?"
Lyonne doesn't miss a beat, pointing at me: "She actually hates stand-up comedy."
"It's true," I say. "I don't like to laugh, and I get uncomfortable when I see people standing."
Lyonne confirms: "Her step-uncle was murdered by a stand-up comedian. That's why she doesn't like them. Thank you so much. See you later."
The young woman walks away, confused. And Lyonne immediately goes back to what she was talking about, which had been a stream-of-consciousness take on global warming and the danger of Donald Trump:
"I mean, this fucking global warming is going to kill me. It's too hot. It's terrifying. I had a nightmare the other night, and there were little fires everywhere as the bus was going down a windy road. I think that's like a climate change nightmare. There have been so many fires everywhere that it's like a full apocalypse, between that and Trump. Kids, don't vote for Trump, but do register, so that you don't vote for him… That is the terror of the times and the culture that we're in. Everybody knows it and discusses it, but also at the same time, it's still really happening."
And for a moment anyway, it's possible to stop being afraid of all the craziness that's happening all around us, possible to believe in a future where, sure, New York's streets are filled with bright blue Citi Bikes and the sea levels are still rising and, you know, maybe women are being impregnated against their will by alien beings, but also, where it's possible to take an hour out of the day to talk to someone about all these things, have the chance to make a stand-up comedy fan feel vaguely uncomfortable, contemplate doing a dine and dash, and feel for the first time in a long time that the weirdos might still have a chance of surviving, since, after all, they've got Natasha Lyonne firmly on their side.
Photographer: Lauren Perlstein
Photo Assistant/Digital Tech: Maddy Talias
Stylist: Thomas Carter Phillips at The Wall Group
Hair: Thomas Dunkin at BRIDGE using R + Co.
Makeup: Sara Glick for saraglick.com using DiorSkin