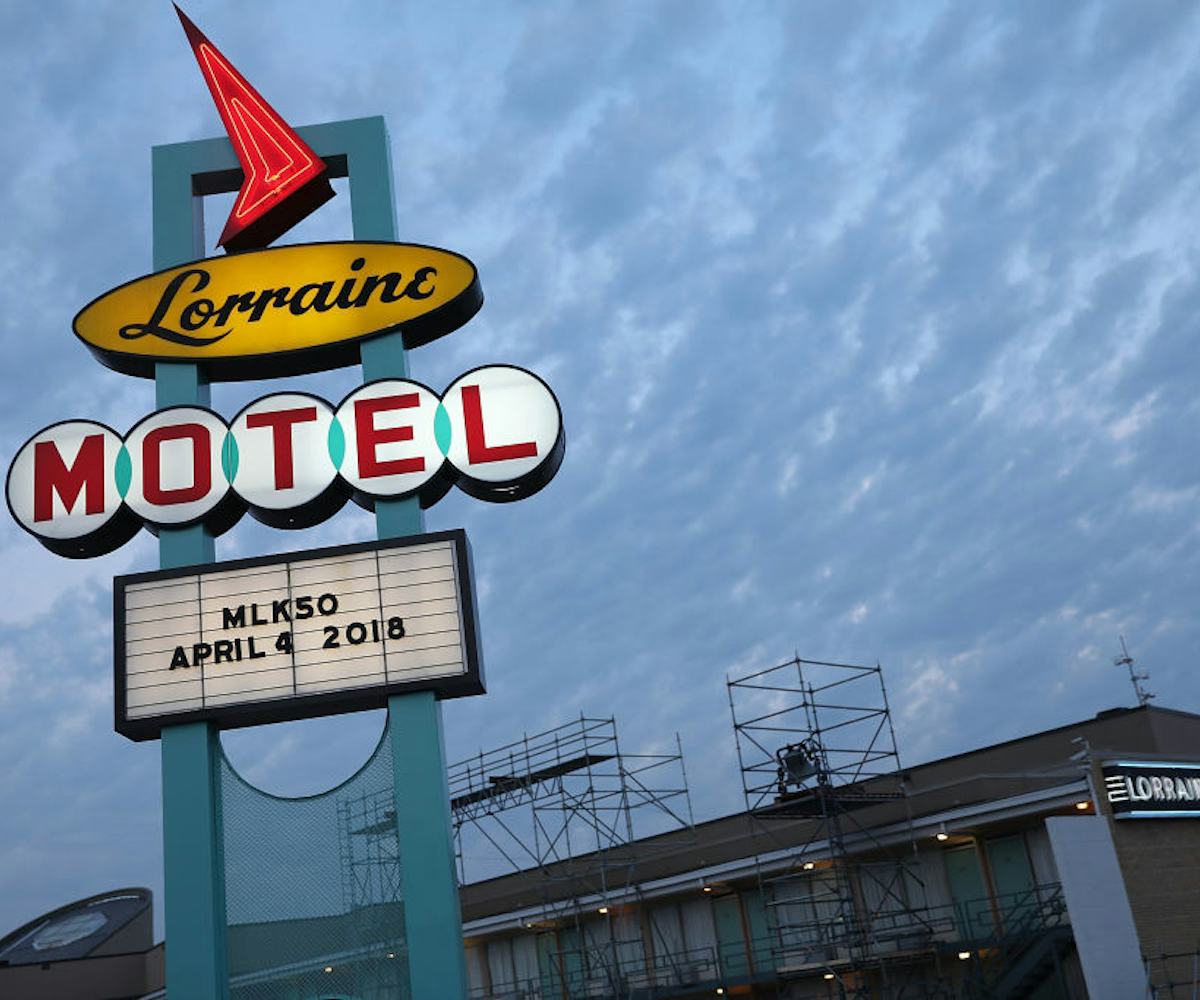 Photo via Getty
How The Legacy Of Dr. Martin Luther King Jr. Lives On In Today's Youth
"It was not a movement of just Dr. King, it was a movement of many, many, many thousands of people"
Today marks 50 years since Dr. Martin Luther King Jr. was assassinated on the balcony of the Lorraine Motel in Memphis, Tennessee. Dr. King had come to Memphis days earlier in support of the black sanitation workers' strike and had, just the night before, given his iconic "I've Been to the Mountaintop" speech, in which he told the gathered crowds:
Like anybody, I would like to live a long life. Longevity has its place. But I'm not concerned about that now. I just want to do God's will. And He's allowed me to go up to the mountain. And I've looked over. And I've seen the promised land. I may not get there with you. But I want you to know tonight, that we, as a people, will get to the promised land. 
Fifty years later, the promised land is still a destination, not a place we yet call home. But the legacy of Dr. King has carried on in countless ways, and his spirit can be seen in the work of countless others. One such person is Terri Freeman, the president of the National Civil Rights Museum. The museum is built around the location of the Lorraine Motel, opened in 1991, and is an affiliate of the Smithsonian Institute; Freeman has been with the museum since 2014. 
Recently, I spoke with Freeman about her work at the museum, the ways in which it's honoring Dr. King's legacy with its MLK50 commemorations, and what she thinks about the state of the world today. Read our conversation, below, and find out more about the museum, here.
What brought you to the National Civil Rights Museum and what do you love about your job?
I came to the museum by way of a 30-plus year career in Washington D.C. Immediately prior to coming here, I served as president of the Greater Washington Community Foundation, and I was there for 18 years and really focused in on equity, access, and opportunity for all the residents of the metropolitan Washington region. As many know, it is a very, very wealthy region overall, but there are some severe pockets of poverty, and it's entrenched, so our focus, and our philanthropy, was really focused on ensuring that those populations had the access to the prosperity that was the region. So we focused on grantmaking that would assist in those areas, particularly around homelessness prevention, education, workforce development. 
So my background really focused a lot on community engagement and community involvement, and trying to meet the needs of marginalized populations... so when this opportunity presented itself, while I didn't have any experience in museum management, the content of this place, the historic and cultural nature of the museum, felt like a really good way to cap off a career that really has focused on people who have been disenfranchised. So it was more a move of passion in a lot of ways, and the board was really interested in the museum maintaining a relevance in this 21st century, and that was right up my alley. It gave me the opportunity to expand the museum from simply being a place where you come and walk around and view history to a place where you come and you make history. 
We've really been able to institute a lot of public programming and engage people in conversations around the history, but also around current events. The month that I got here was also the month where we learned that the police officer that killed Michael Brown would not be indicted, so a lot of stuff was happening when I first came in. The issues that present themselves in our community—and I'm talking about the larger community, not just the Memphis community—are very relevant to what we see in the museum, and far too prevalent with some of the things that have occurred, since November 2014.
What's interesting is that there are still some people who think of the Civil Rights Era as being a discrete time in American history, as something that happened in the '50s and the '60s, and the problems got solved. But obviously, that is not the case. There's still much work to be done. It's also interesting because there're probably some people who think that no progress has been made and just feel total dismay, and I wonder how you might offer those people some hope or perspective. 
To your first point about people thinking, Oh that was a moment in time and look at all that got accomplished and it got fixed, I think that it's been revealed over the past three years that it's not all fixed, and I think that, frankly, the majority of African Americans always knew it wasn't fixed. The gist of it is, on a daily basis, we were lulled into some sense of "the world is a better place," and then there has been a rude awakening with some of the events—the police brutality, the murders of the police officers in Dallas, the killing of nine innocent people in a church in Charleston, Charlottesville. It's been a real wake-up call for a lot of people, I think, that certainly the work wasn't done. 
I talk about the era, because I do think it was an era of time, I talk about it as the 20th-century civil rights movement, as opposed to the 21st-century civil rights movement. I do think that we have people here who come in and they'll say things like, "Why didn't I know about this history?" Well, because we don't teach it—anywhere. People ask, "How could we have done this?" And then there is the anger of, "How can people hate so much and dehumanize people?" So you get the whole spectrum. 
And then you get the spectrum that things are so much better now, and in a lot of ways things are better, but I am reminded, as you say that, that you have teenagers who are now preparing themselves to march on Washington (for March for Our Lives), a tactic that was used in the 20th-century civil rights movement, because they feel like adults have let them down. We are in a very, very interesting time that I think is not a coincidence; it's 50 years later, after the assassination of Dr. King. I don't think that things just kind of happen. I think that things are ordered, and I think the attention that is being paid on the Me Too movement and the Black Lives Matter movement and the Never Again movement, this stuff is happening at this critical time because it's so relevant and it was his message, you know. His message was: We've got to have a community that all can have a fair share of what this country offers, that the next big challenge was around economic equity, and movements as far back as the Occupy Movement focused on the 99 percent vs the 1 percent, where is the wealth and where are the people. 
So I see all of what is happening around this 50th anniversary as very purposeful, and the messages, for me at least, are very clear that, well yes, we have accomplished much, we have much to do, and we can learn from the movement of the 20th century using the tactics they used, some of which frankly we haven't even begun to try yet. But I think, down the line, it will probably come where we use those tactics but we bring them into the 21st century. 
So when people say, "Well I don't really understand what Black Lives Matter is all about." Or, "They're not organized. Who's the next Dr. King?" Well, there's never gonna be another Dr. King. Dr. King was Dr. King, and he's gone, but it was not a movement of just Dr. King, it was a movement of many, many, many thousands of people, of all races and men, women, different faces, all working toward this ideal that the country is what it stands for, freedom and justice for all. And I think we continue to push forward on that message that those students have the right to life, liberty, and the pursuit of happiness, and you can't do that if you're being killed in your school. So, all of this stuff is so incredibly relevant today.
That's why it's so important to be revisiting the techniques that were used in the past and the lessons that were imparted, because we need to never stop moving forward in order to take this society to the next level, and fix the systemic problems that don't get fixed in one night, or in 50 years or 100 necessarily. And it's important to honor the legacy of one man, like Dr. King, but also know that the strength of change is in numbers, and the young protestors today have those numbers. 
I think also the similarities are that the movement of the 20th century was a movement of youth, the movement of today is a movement of youth, Dr. King was 26 years old when he got involved in Montgomery, and he was 39 when he was killed, and we forget that, because he was so much more formal-looking than we are today, but it has always been young people that lead us to the promised land in many ways, and that's not gonna change. We can't expect that a 50-something [person] is gonna get us there, even if that 50-something [person] might be at the top of the food chain, if you will, there are many young people that are behind and they are pushing forward using the technology of today to affect social change.
Technology has always been used to effect change. It was used 50 years ago with TV, so that people around the country and around the world could see the horrific brutality and violence that was being visited on black communities and the protesters. So it's really part of an amazing tradition. How is it to see the effect of the museum on the people who visit?
There was a family, an African-American grandfather with his grandkids, and he's explaining everything to the kids, [who] appear to be probably eight or nine or 10-ish, and they're going through the museum and they said, "Wow, these people did all of this to help other people." And they looked up to their grandfather and said, "What did you do?" And I didn't hear his answer, but it was a moment where you could see that these young people were saying, "You were alive at this time, what was your contribution?" 
There were so many people that worked toward accomplishing the goals that were accomplished, and when you think about it, it's a pretty major change that occurred over a period of 1954 to 1970 with regard to the way people were able to live in the American South, in particular, in a really short period of time, so that was really moving. When the basketball players come into town from different teams, oftentimes they'll have their entire team come through the museum. I have seen grown men cry out on the balcony. I have watched young people just not understand how this could have happened, and then I had the experience to have my mom go through the museum—my mom is 81 years old—and when she came the first time, she was in this museum for three hours, it took her three hours to just walk through and absorb everything. 
So it has a different impact on everyone. People are often only exposed to a couple of names—King, Rosa Parks, and maybe Malcolm X—and to be able to have them introduced to Fanny Lou Hamer, or Ella Baker, or Stokely Carmichael, this is pretty gritty stuff. I am very thankful and very honored to be in this position, to be able to, whenever I want to, just go over to the museum and capture a little bit of what helped me become who I am. 
How integral is it that the museum is in Memphis? What role does the city play in the museum's existence?
I would say that Memphis has a very deep civil rights history that goes beyond the sanitation strike that people so often think of because that's what brought Dr. King here. It is those moments that the city and the people of the city have begun to say, "Okay this is our history, and we have to embrace it as a part of what makes us us, but let's lift it in a way that it moves us forward." The city is incredible; the people of the city definitely embrace The National Civil Rights Museum, it is a point of pride for this community. Memphis is a very, very generous community—by far the most generous in the country based on philanthropy—that supports its institutions and nonprofit organizations, and it's a community that I think is on the come-up in many ways. Memphis has got what I like to call a "cool factor" that makes people wanna be here, particularly young people. You know, it's the number one city for black-owned businesses, and it's the number one city for growth of women in business. So there's a lot going on. When King came here in '68, he said something's happening in Memphis, and I think he would say that still today. Does it have room for improvement? Absolutely, but things have changed over the course of time, and I think that there are a lot of people here who are very dedicated to making sure that Memphis is the best that it can be. It won't happen overnight, but with people focused on making sure that the city is representative of the people who live here, we'll get there.
Find out more about the National Civil Rights Museum and watch its MLK50 livestream here.