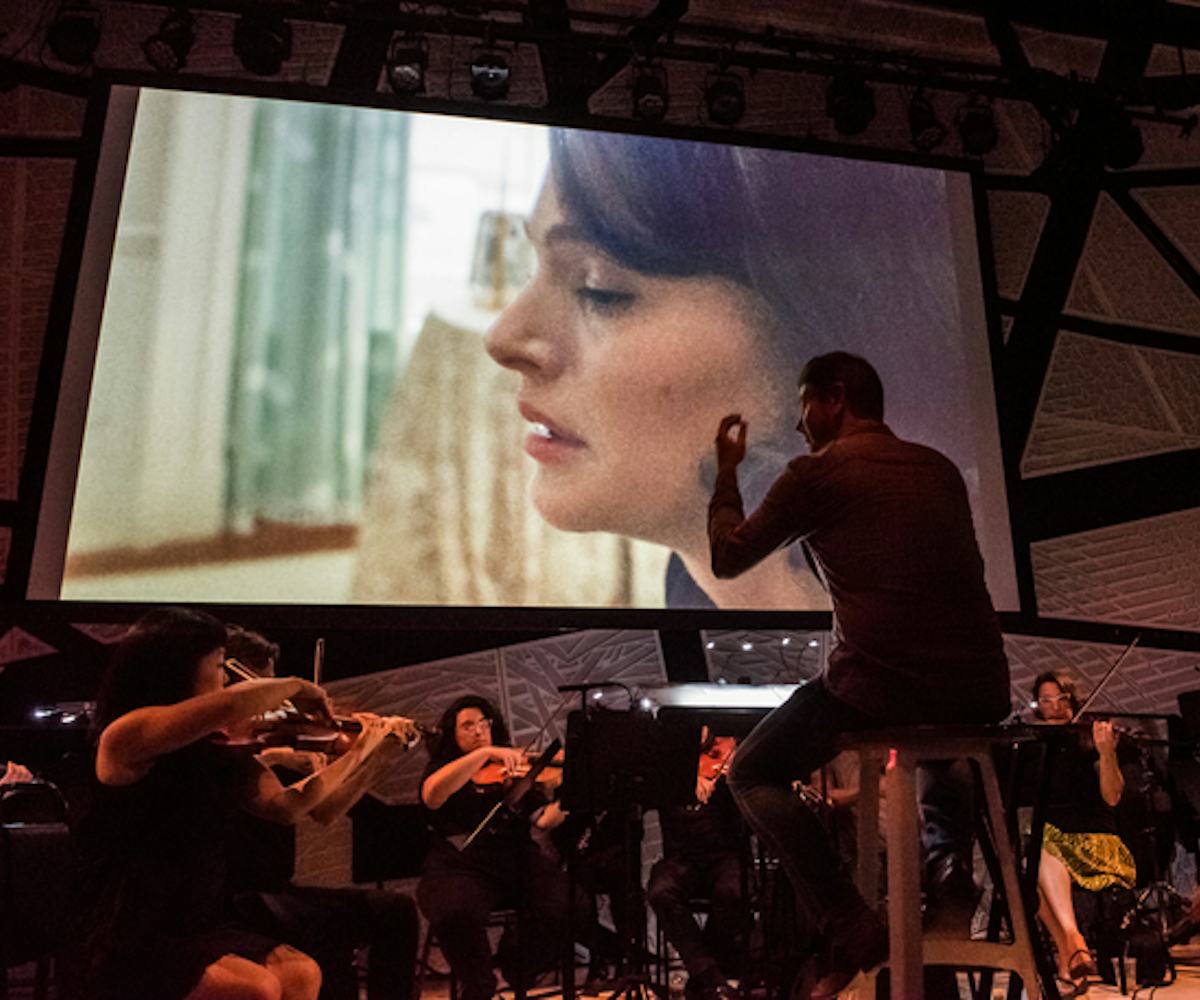 Photo by Jill Steinberg
Put Seeing A Movie With A Live Orchestra On Your Must-Do List
Going to the movies has lost its romance. The blockbuster era has transformed Hollywood—so much so the event of going to the theater has become diluted, clouded by how expensive it is. Appealing to the masses, however, is a revenue-making trend that's on its way out; boutique experiences, as evidenced by the rise of Alamo Drafthouse and other dine-in/cocktail-serving theaters are on the up. The desire to experience something worthwhile means there's an audience for just about anything, including film screenings accompanied by a live orchestra.
This past weekend, Brooklyn's National Sawdust kicked off its third season with a special showing of Pablo Larraín's 2016 film, Jackie. NYC's Wordless Music Orchestra was seated beneath the screen, playing the film's Academy Award-nominated score by Mica Levi. We know that soundtracks are the heart of any movie, but that fact is never more clear than when the soundtrack is playing out live during the motion picture. From the nuances in melody and key to tempo and crescendo, you'll never better understand how integral a soundtrack is to telling a story than when experienced live.
Upon leaving this particular screening—my first "live" movie experience since seeing The Rocky Horror Picture Show—my friend turned to me and said they didn't realize how sparingly Levi's composition was used. (We're both very big fans of Jackie.) Indeed, the act of watching when the orchestra picked up and put down their instruments heightened the drama on screen, building anticipation. The soundtrack becomes a character in and of itself when experienced live; the music's emotion is the gateway to the emotion of the film. Jackie is a fabulous movie, and Natalie Portman's performance is worthy of all its praise, but it's Levi's score that truly captures the dissociation one feels after trauma. The further the strings slip into flat territory, the further we go into despair. You get this sense listening to the soundtrack on its own, but music and film are truly a couple worth getting in bed with.
For information on where to find a live orchestra screening of certain films, start here. And for more information on National Sawdust, head here. Live orchestrations with film are just one aspect of the venue's diverse programming. For example, as part of National Sawfust's Origins season, any aspiring female composer is encouraged to enter its first-ever Hildegard Competition. The winner of the competition will have her work premiered by the Refugee Orchestra at National Sawdust in Brooklyn. This is just one of many efforts National Sawdust is putting forth in encouraging, uplifting, and supporting rising female musicians—both classical and non-classical. The season ahead is a multicultural endeavor boasting a team of nine female curators and artists-in-residence, and more. That's definitely something worthy of a standing ovation.