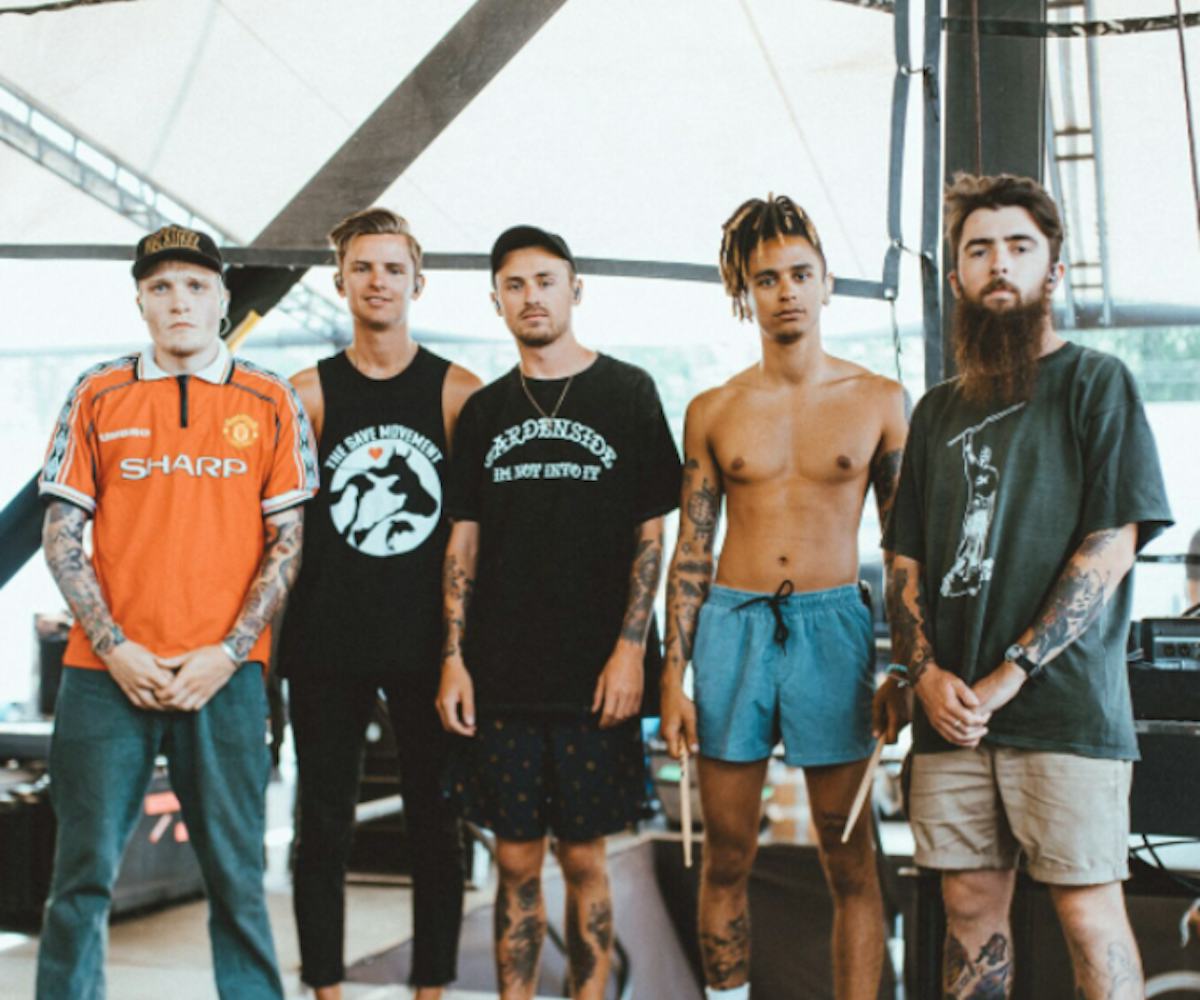 Photo via @neckdeepuk Instagram / Photographed by Elliott Ingham
Neck Deep's Ben Barlow On Walking The Tightrope Of Fame And Depression
"You can't make any progress with silence"
"Pain, pain, go away, come back another day, I just wanna get one up on life before it kills me."
The audience is scream-singing the lyrics to Neck Deep's single, "Where Do We Go When We Go," as show-goers not-so-gracefully crowd surf while recording themselves, presumably for Snapchat. I should mention that I'm at Warped Tour, and it's 2017.
There's an unparalleled catharsis that comes along with attending a show and singing along, especially when the lyrics feel all too relatable. In this case, Ben Barlow, Neck Deep's frontman, really gets it. As a 23-year-old battling depression and anxiety, he understands this pain on a personal level, and reveals it in the band's new album, The Peace and the Panic (out today), which shows great growth since the band's previous album, Life's Not Out to Get You. 
On top of Barlow's preexisting mental health struggles, both he and bassist Fil Thorpe-Evans lost their fathers last year. He cites these experiences as the source of progression and maturation from the previous album to this one. Over the phone (he's in Kansas, still on Warped Tour) he tells me, "Before Life's Not Out to Get You, we kind of had this big uninterrupted wave of just positivity and good stuff happening, and it seemed like when Life's Not Out to Get You came out, it kind of all got flipped on its head." Oh, the irony. 
This series of unfortunate events came with an epiphany, though. "Once you accept the bad and kind of accept some of the more negative things—the unavoidable things in life—that's when you realize life's a funny game. You can't just have it all and expect none of the negative shit in return. That's what I realized. You can't have the peace without the panic, and vice versa."
Thus, a new album was born—and it's their best yet. Barlow tells me that one of his favorite songs he's written on it is "The Grand Delusion," an upbeat, catchy tune about self-loathing which starts out by frankly stating, "I'm coming to the conclusion I think I would rather be anyone else but me." 
It's evident that music has truly been a life-saving crutch for him, and a key coping mechanism when it comes to fighting off his blues. "Writing songs has always been therapy for me, and I think that was the clearest example of it there." He continues, "I will usually just pick up a guitar and start playing and hope that something comes out. Usually, it gives me a good feeling in a sense of like, 'Hey, I'm doing something here! Maybe I'm not completely and utterly fucking useless!'"
So, does being on tour playing packed shows across the United States make a difference in the status of Barlow's depression? I ask how he can possibly keep his mental health in check with such a nonstop schedule. He admits, "Being on tour is quite an easy place for you to be able to lose it, but quite an easy place for you to keep it together, as well. I feel like it's quite a tightrope, really." 
"I had a couple of those days recently where I just woke up, and I didn't know why, but I just felt like shit, and I didn't want to be on tour anymore and, you know, everything sucked, and there was no positive in anything, and everything was just horribly negative... you're absolutely going to have those days," Barlow says, offering even more proof that sold-out shows and hundreds of thousands of followers do not necessarily equal happiness.
Despite the band's success, self-deprecation and depression persist. When you're prone to self-hatred, it's important to have some sort of support system that can bring you back to reality. For Barlow, thankfully, it's his band. "We tend to keep each other afloat, really," he says. "If anybody else is feeling grim or down, the rest of the band will band together, and we make sure that we pick them up. We have a pretty open and honest policy on that sort of stuff. If you see someone is struggling... we're not the type of band to just let it go. We make sure we're there for them."
He wants to be there for his fans, too, and has a message for people with depression who are afraid to speak up. "Absolutely do not be afraid, and do not be embarrassed," he says. "You can't make any progress with silence."
And then he's off to get ready for that day's set at Warped, where he'll undoubtedly make someone—or many someones—out there feel less alone.