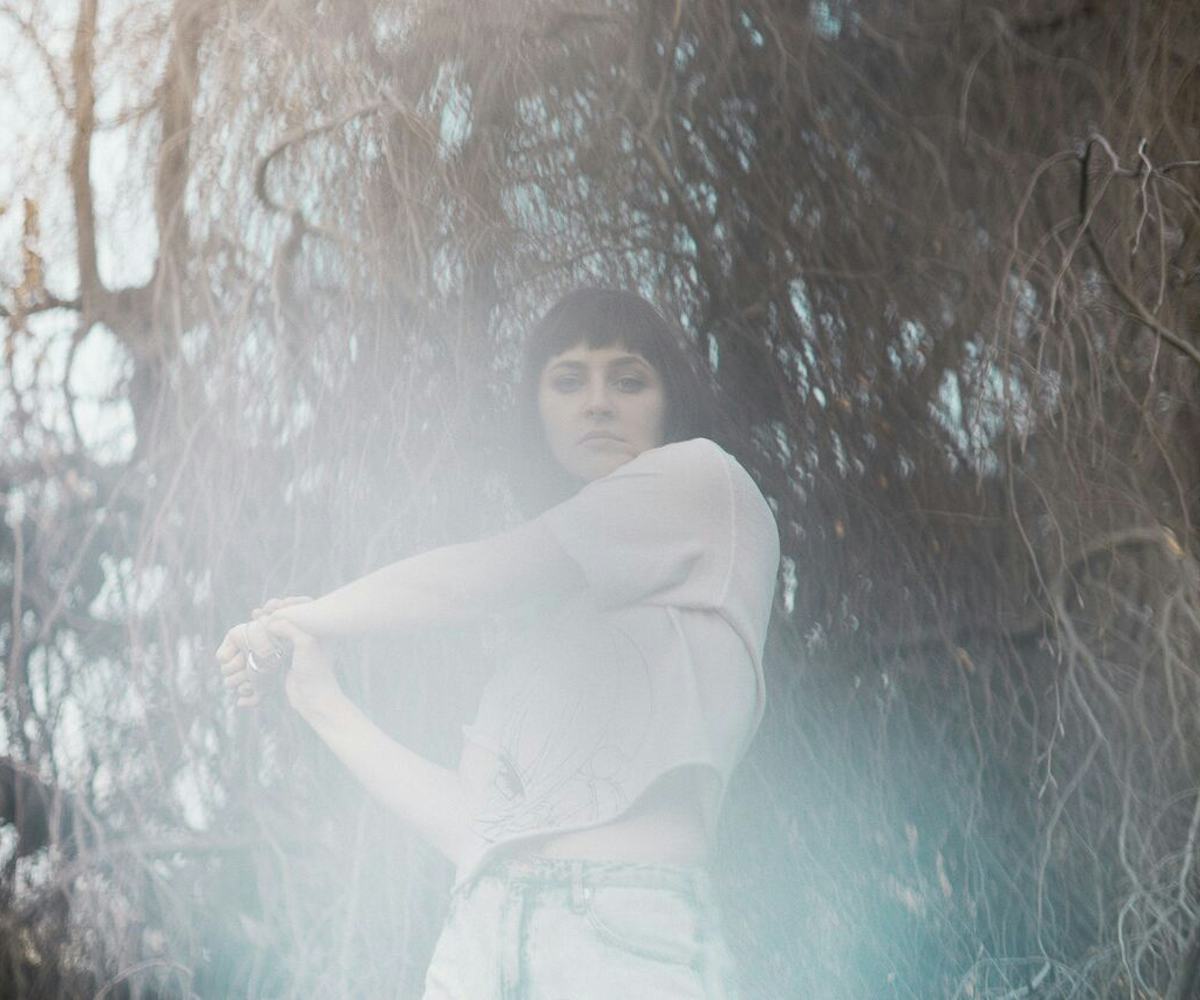 Photo by Tonje Thilesen
Negative Gemini On Moving To New York And Being A Girl In The Electronic Music Scene
We're Premiering Her New Single "Body Work"
Lindsey French describes herself as a future future-pop star, and based on her latest single, "Body Work," premiering on Nylon today, we'd have to agree. The Virginia native, better known as Negative Gemini, makes a genre-spanning blend of '90s techno and heady modern electronica: a little Chicago, a little Detroit, and a whole lot of Brooklyn. But unlike many of her contemporaries, French conveys her personality and experiences through vocals and lyrics, not just tight production. In the vein of shoegaze singers, like Miki Berenyi and Bilinda Butcher, her intoxicating voice holds its own against heavy instrumentation, forcing the listener to acknowledge the person behind the beats. We caught up with French to discuss the human elements of electronic music, her vinyl-only record label, and her love for Bernie Sanders.
What's the Negative Gemini origin story?
I first started making electronic music when I was in this other group with two of my friends in Virginia. It was a rap group actually. There were two guys and me, and we'd make beats, then two of us would rap over them. That's where I started learning how to use GarageBand, and then Logic. The guys taught me a lot of little tricks. When we broke up, I was like, "I wanna keep doing this by myself but I wanna sing now." I knew I had more songs in me, and I wanted to convey a deeper meaning and feeling in my music, so I started Negative Gemini in 2011.
What's the scene like in Richmond, Virginia?
It's kinda weird. It's like a metal scene, all hardcore and metal music, so there's not a huge outlet for electronic music, but there are a couple of DIY spaces, just people's basements that you play in. It was a relief to move here because the outlet for electronic music is huge everywhere.
What were your early experiences in New York like?
I would just play whatever show anyone asked me to do because at that point I felt like a total stranger in the city. No one knew who I was; I didn't really have an identity at all. It was intimidating, at first, to move to New York. I played at The Flat a bunch, and soon I realized New York was just like any other city. There are good acts and bad acts.
Since you've moved here, you've crafted a strong visual aesthetic, particularly when it comes to album art. Would you call yourself a designer?
I've always been interested in the aesthetic that goes along with music. I have this weird outsider Internet art thing going on. I've been using a lot of old rave footage in my projections lately for my live show, like really cheap '90s graphics. It's very nostalgic.
Despite being nostalgic, your music and aesthetic also come off as futuristic.
That's central to my music. I draw a lot from '80s and '90s house and techno, but I also keep up with a lot of contemporary electronic music that really influences me as well. Trying to draw inspiration from both of those and bring it together is what I'm ultimately trying to do.
Unlike a lot of contemporary electronic music, your work seems very songwriterly and places your personality at the center.
I never wanted to be a voiceless producer. I'm more and more interested in the producing aspect, but it's been most important to me to be a person, and let my life and experiences be heard through my music. I think it's nice to have a more human and interactive element where I'm singing and going into the crowd. I want people to move and dance at my shows, but I want to make them feel all sorts of stuff.
You've performed with members of the Discwoman collective, who aim for better female representation in the world of electronic music. Like them, do you feel like you have to struggle to make yourself heard over mansplaining broducers?
I completely understand what they're talking about, like bromoters booking a lot of male acts. I have, of course, faced discrimination being a female: People asking me if I write my own lyrics, if I produce my own music, looking at me with my SP-404 being like, "Yeah, you seem to know how to work that thing. Good job!" That's insane and I hate it. I just want to be able to play any show next to anyone. If they're going to judge me before they hear my music, I'd love to surprise them and make them feel stupid.
You cofound the record label 100% Electronica, which is vinyl-only. How did that come about?
My boyfriend George [Clanton] and I started it. Of course, we have digital, but apart from vinyl, there's nothing else. We are about to release our fifth artist. It's being pressed right now, so I'm really excited to tell everybody about that. It's one of George and mine's favorite albums, and we never thought we could get in touch with this band and make it happen, but we did, so that's very encouraging. It's funny to think you can really accomplish so many things if you just try.
You and George are performing at the Gorilla vs. Bear showcase at SXSW. That's a pretty prestigious cosign.
I don't even know how we go to be friends with Chris [Cantalini, Gorilla vs. Bear founder], but he took a very strong liking to George's music. George passed on my music and he loved it. Based off of the few songs I have out, he invited me to play the showcase.
What's it like dating someone who's also an electronic musician?
We're a team. We share a room where we both have our studios, so I'm constantly playing him stuff that I'm working on, and asking him what he thinks, trying to get him to validate stuff that I think might be good. We're always bouncing off each other. It's really important if you're making any kind of art is to be working with another artist who understands.
Your album's out this year. What should we expect?
I've grown a lot as a producer. I've spent a lot of time working on song structures and I'm really proud of what I'm able to accomplish with that. I'm super excited to put that out.
You tweet about Bernie Sanders on the regular. Would you play at a Bernie rally?
I love him. I first heard about him like a year ago and I was like, "This is the most radical shit but there's no way it's going to fly." But it has, and I think that's amazing. I hope he wins. If Trump wins, I say I'm gonna leave the country, but I probably won't. I try to be really vocal about Bernie on my social media because it would be really great to influence other young people who care. I've had friends that don't vote and I've literally stormed out of places because I get so mad. If you exist in this society, you're being affected by politics whether you want to admit it or not. I'd definitely play at a Bernie Sanders rally.