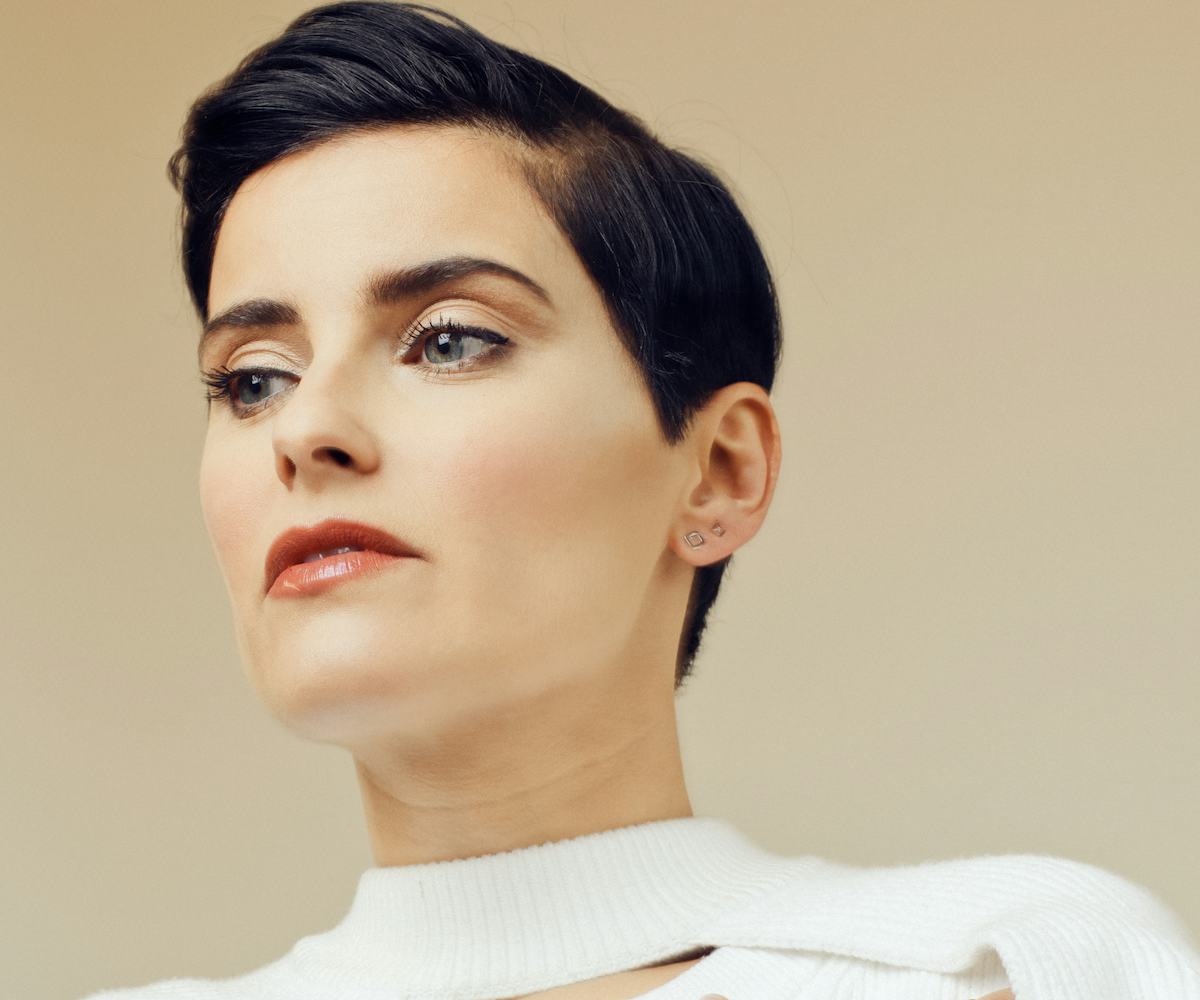 Photographed by Ryan Pfluger. Styled by Liz Rundbaken. Top by DKNY, earrings from Urban Outfitters, ring by Harrison Morgan.
Nelly Furtado Shares Pearls Of Wisdom As She Prepares To Drop Her Sixth Album
The following feature appears in the March 2017 issue of NYLON.
The Boom Boom Room is packed. Only a select few have been clued in to Nelly Furtado's surprise performance at the ornate club on top of Manhattan's Standard Hotel, but the dance floor is so crowded that it's unclear whether I've underestimated just how secret her appearance is, or the willingness of New Yorkers to rage on a Wednesday night.
I'm giddy at the prospect of being in such close proximity to Furtado. The endless champagne is partly to blame, but I've been an avid fan of hers since her debut, Whoa, Nelly!, dropped in 2000. Seven-year-old me was completely enamored by how she broke the pop princess mold: She was a tomboy with not-blonde hair and made Top 40-worthy songs that boomed with hip-hop beats. In 2006, my obsession deepened with the release of her album Loose, a beacon for women's sexuality that would sell 12 million copies worldwide. Just when I had begrudgingly accepted her retreat from the spotlight in recent years, her publicist tipped me to this performance, and her sixth album, The Ride, due out this month.
Suddenly, the lights dim and silence sweeps the room. Furtado emerges from the darkness and opens with her Grammy Award-winning debut single, "I'm Like a Bird." My body is buzzing. 
The feeling returns a few months later, when we're face-to-face on set for Furtado's NYLON photo shoot in Brooklyn. Munching on tortilla chips, the 38-year-old reflects on her career and upbringing in Victoria, British Columbia, by Portuguese parents. From the religious ceremonies at her Catholic church to her school's marching band, she was surrounded by music, and she started writing songs at age 12. But it was Nelstar, her trip-hop group that formed in 1995, that established her unique medley of pop, hip-hop, and R&B, and would propel her to pop-star status.
Though lately Furtado's presence in the spotlight has been limited, she's been far from unproductive: Apart from raising her teenage daughter and expanding her creative palette to include pottery and playwriting, she's been serving as an ambassador for the nonprofit WE Charity in Narok, Kenya. She still considers herself to be too pensive and introspective for pop stardom, but it's those qualities that make her comeback just as impactful as her debut 17 years ago. "You get so ingrained in the habits of entertaining, and sometimes it can extend to your personal life," she says. "I figured out I just needed to unplug. Now I feel like I'm back to the beginning."
What's the underlying story of The Ride?
It's all about stripping away things. We chase material things, and sometimes don't even know that we're chasing them, but then you never really hold on to anything because you're not grounding yourself. You're just always seeking the next thrill.
Since the album marks your return to the industry, what's your take on the current state of music?
It's fantastic. I lived in Toronto for 20 years and I'm really excited for a new crop of Toronto musicians. I'm actually friends with some younger artists coming out of the city. My favorites are River Tiber, Mustafa the Poet, Charlotte Day Wilson, and Cadence Weapon. I'm excited that its urban scene is on the map right now, because I've been holding it down for 20 years.
Sorry, Drake. Nelly did it first.
Drake knows. Actually, he was on the tour for Loose. He did background vocals for Socrates, my opening act.
I really appreciated how songs like "Promiscuous" and "Maneater" on Loose addressed the gender-based double standards of promiscuity. What inspired those tracks?
I was trying to follow in the footsteps of TLC and Salt-N-Pepa owning their sexuality and trying to be on an even playing field with the dudes. If you're having a tête–à–tête with a guy, then you're probably going to talk about putting a condom on, too, because the dialogue has started.
What was the response like?People don't realize that the world was so different even just 10 years ago. For a while, I went through a weird phase where I changed the lyrics to "Promiscuous" to say "mysterious" because people didn't get it. They were like, "Woah, she's trippy-hippy and now she's sexy." It was probably because of the album's title, but "loose" meant something different to me. It meant being free and more streamlined in the music that I was making. I came up with the title before I even did the album. I was trying to be more of a pop artist.
That's interesting, because you always stood out from typical pop stars. Were you ever pressured about your image?Oh, I had to fight my label to wear Adidas shell toes and huge raver jeans in the "I'm Like a Bird" video. They had dresses at the fitting and I was like, "No. I'm going to wear my shell toes and my jeans because this is who I am. I'm going to wear hoops in every photo shoot, and I'm going to wear my hair like this." I was really aware of who I was and what made me feel comfortable.
Where did that confidence come from?I had a really great role model in my mom. She'd be at her church council meetings talking down to the whole room of men like it was no sweat. She taught me how to have a voice. When you have a true sense of yourself, no one can take that away from you, because you don't feel right when someone's trying to mess with it.
Considering that you grew up in a working-class family as a first-generation Canadian, how did your childhood influence the person you are today?From a very young age, I was totally used to being "the other." My town was an interesting place to grow up in because it was a British colony, but as a child I was so connected to the First Nations culture, tradition, and history of the area. I got used to bouncing between cultures and going through the very archetypal immigrant-kid situations. My dad was a stonemason and landscaper, and my mother ran the housekeeping department at the Robin Hood Motel. I spent my entire childhood at the motel, and eventually worked there from age 12 to 18. I wanted to pull my family out of having to do labor—that was a big impetus in me becoming a pop singer. If my family was more middle class, I probably would have never become a pop singer. I would have just gone to university and written a novel or something.
When you were first starting out, what was your goal as an artist?Although I was motivated by my family's economic situation, I was also motivated by wanting to put Portugal on the map. Growing up, I was like, "I don't see any Portuguese people on TV. There's no Portuguese people on The Brady Bunch, this is so weird!" And now, I have the Order of Portugal from the president. It kind of blows my mind.
What does success mean to you?If you can find work that helps contribute to your sense of overall balance in life, I truly think that's success. I did an event called Common Ground for Peace and the Dalai Lama came. A bunch of artists sang for him, and then we all got to sit with him and ask questions. He said the one thing artists should do is try to put a peaceful vibration in their music and really pay attention to the energy they're putting into the world.
What are the biggest lessons you've learned in life?Never make the same mistake twice. Don't shit where you sleep—keep business and personal as separate as possible. And the biggest thing I've learned over the years is that you really need to treat everybody equally, with the same amount of respect no matter who they are or what they do. Just treat everybody the same, because if you don't you're kind of just playing yourself.