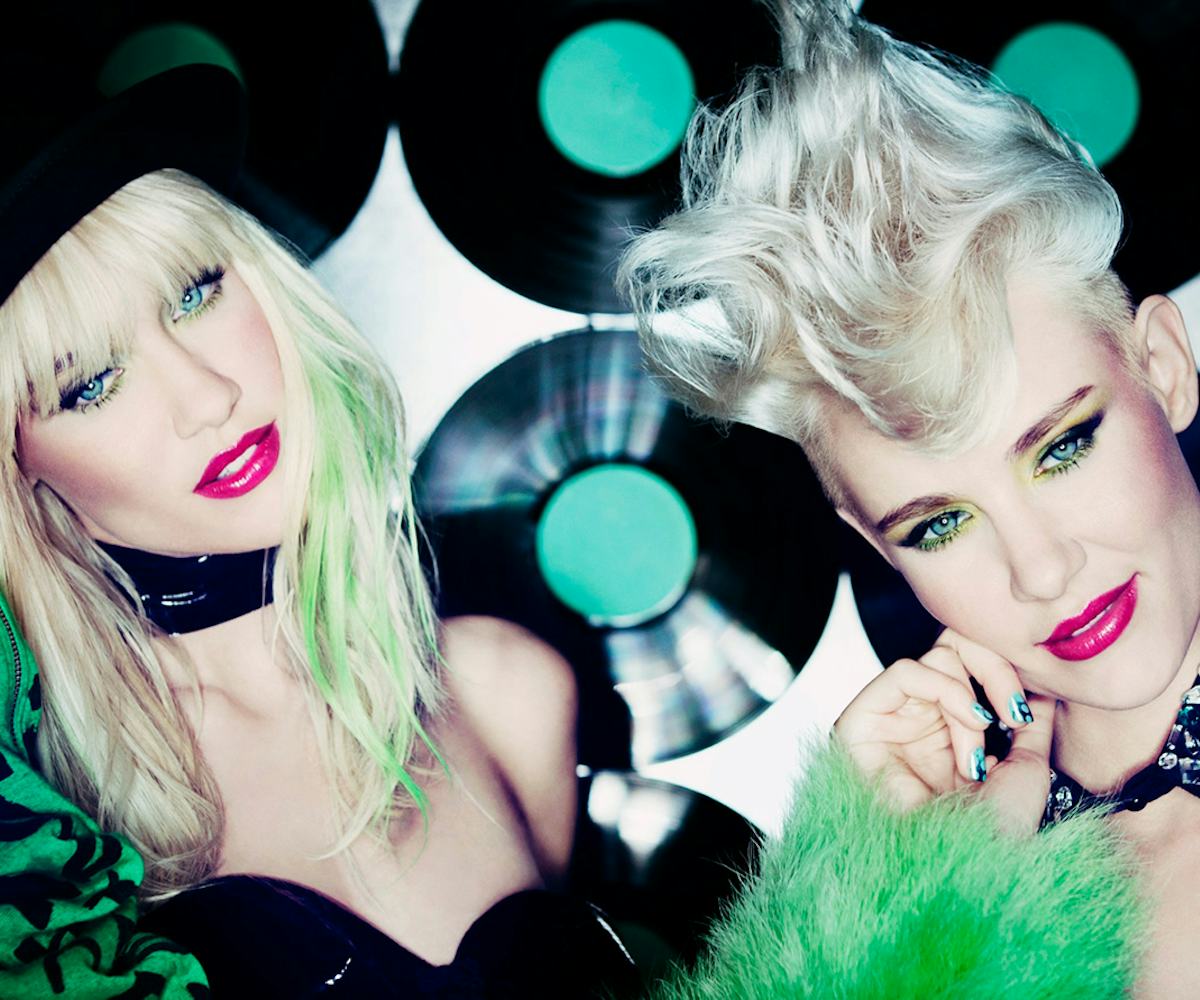 the insider: nervo
up close and personal with the DJ duo.
OK, so we have something to confess. We have a couple of new girl crushes: Australian twin sisters Liv and Mim, otherwise known as the blonde DJ duo Nervo. It's not that we didn't like them before—far from it—it's just that after meeting them last night, they've really sealed the deal. They have an awesome eclectic style, play the best kind of party music and happen to be two of the smiliest, friendliest people we've met in a long time. All this considered, it makes total sense they've been the easy, breezy, beautiful faces of CoverGirl since November.
Just before their DJ gig at the MTV VMAs this weekend, we sat down with the girls to talk about their favorite nominees, cheating jetlag... and the perils of cliff diving.
Looking at your Instagram, you guys seem to be in a different country every two days. How do you cope with such a crazy hectic schedule?
We take our vitamins everyday! But honestly, we just really love what we do, we're in such a good place; our job is so much fun that we don't ever get stale or bored. We don't even get jetlagged.
What happens if you don't feel like partying and you have to? How do you get in the mood? 
There are totally days when we want to stay in bed in our pajamas but I think what happens is, you get your makeup on and you leave your hotel room, and the second you get to the club or the party where there's music and there's crowds, something just happens and you just wake up. And then often at the end of a gig it's hard to unwind. 
What's your pre-show routine?
In terms of outfits and getting ready, it usually takes us around 20-30 minutes. We have a few go-to designers that we contact whenever we have something extra fun and special, like the VMAs. We particularly like a Brooklyn designer called Nene L.A. Shiro. 
As the faces of CoverGirl, you do your own make-up?
We normally do our own makeup, so we get to try a lot of the stuff out that they send us. We love Smoochies, the whipped cream foundation and the Flamed Out mascara is amazing. Oh, and the Glosstinis are awesome. They're for your nails and they're tiny little containers so they only last about three times but the colors are amazing. The thing with them is, you don't need a topcoat; they're really glossy straight away. Who has time to do two coats and then a topcoat? 
Who is your all-time favorite CoverGirl apart from each other?
We met Sophia Vegara, and she's lovely. Ellen DeGeneres is a really good, strong woman with a great personality; it's a really beautiful thing to have someone like her. 
Tell us about your upcoming set for the VMAs.
Funnily for this set, we had to clear every single song because of rights and limitations so we have about three hours of music that we can just pick and choose throughout it. We also will have a lot of our own material because they were so easy to clear; we have the rights, since we wrote them!
Which artists are you rooting for at the VMAs?
We really love Iggy Azalea. She's an Aussie doing her thing and she's been nominated as an Artist to Watch, so we really hope she gets it. Go Iggy!
Every year at the VMAs something ridiculous and unexpected happens. If you had to place a bet, what do you think will happen this year? 
We think Rita Ora and Calvin Harris could be involved somewhere. They're the new couple; it could be interesting, a bit saucy. 
We saw you hurt your back, Liv. How did you do that?
I hurt it cliff-diving in Ibiza. I fell wrong and I chipped my tooth and hurt my back pretty badly. So yeah, no more cliff diving. For now at least, anyway.