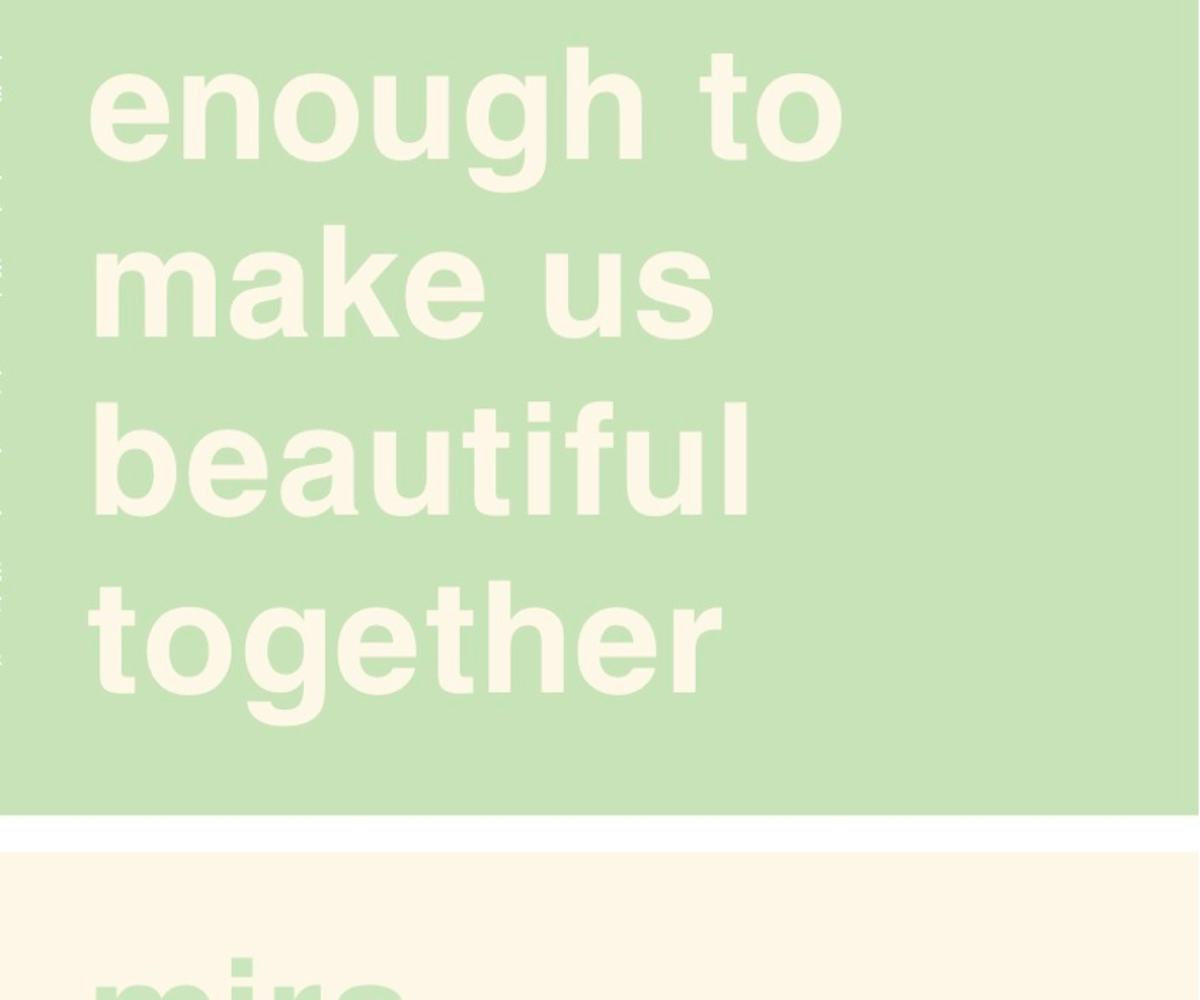 word works
the coolest female poets to know right now.
Even if you haven't picked up a book of poetry since high school lit class, that's ok--a whole new crop of cool girl poets are about to change your mind.
Leading the pack is Mira Gonzalez, the L.A.-bred writer whose new book I Will Never Be Beautiful Enough To Make Us Beautiful Together, reads like the stuff straight out of Girls-- that's a compliment, by the way. It's just as clever, totally unfiltered, and peppered with twisted insight and refreshing humor. She already has Tao Lin's stamp of approval, and her bite-sized pieces are the type of work you can devour over and over again.
Talking to Gonzalez, it's exactly this (sometimes uncomfortably) truthful quality that defines her work.
"I write stuff and I'm like, 'That's way too private, I shouldn't share it with anyone!' she explained. "But I like to share the type of thing that most people feel awkward about, and when they read it they don't feel quite as alone." It's exactly this communal, empathetic quality that makes these poets' work so special. 
Gonzalez and the rest of the crew of emerging young poets are all growing up together with us...so join the club and find out more what makes our favorites so awesome here. 
WHO: Chelsea Martin
WHAT: Even Though I Don't Miss You
WHY: You know that emotion after a breakup, where you feel like you've just been punched in the stomach? Martin somehow manages to capture it and wrap it up in a tiny book of words, except it's not depressing--we swear.
WHO: Jenny Zhang
WHAT: Dear Jenny, We Are All Find
WHY: Lena Dunham calls this Brooklyn writer elegant/punk, and yeah...we agree. 
WHO: Rachel B. Glaser
WHAT: Pee On Water
WHY: Equal parts hilarious and sad, she takes mid-twenties ~feelings~ to the next level.
WHO: Gabby Bess
WHAT: Alone With Other People
WHY: Romantic and tender, it really dives deep into love in the Twitter age. 
WHO: Lily Myers
WHAT: "Shrinking Woman"
WHY: Um, have you seen her viral "Shrinking Woman" video? If not, stop reading this and watch it now. The Wesleyan student hit the nail on the head about feminism and how women experience and absorb space, feelings, and entitlement. All in three-and-a-half minutes. 
WHO: Mira Gonzalez
WHAT: I Will Never Be Beautiful Enough To Make Us Beautiful Together
WHY: She describes her work as "Poems on the topics of food, drugs, sex, dying, writing, parties, 'major depressive disorder', relationships, a beach, a crab, a sea urchin." So duh, why wouldn't you want to read it?